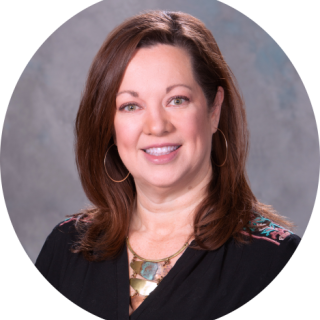 Special Projects Consultant
Jennifer Wright
She/Her
Jennifer Wright joined the RCPD team as a Special Projects Consultant in July 2022. She recently relocated to her hometown of Williamston, Michigan after living in South Bend, Indiana for the previous fifteen years. Jennifer has worked in disability resources and academic advising offices for nearly twenty-five years, at schools including Lansing Community College, Davenport University, Lake Michigan College, and most-recently at Saint Mary's College of Notre Dame. She earned both her bachelors and masters degrees from Michigan State University in the areas of Special Education and Recreational Therapy. Jennifer is very excited to be working with students with disabilities at her alma mater, something that has been a professional goal for her for many years. In her free time, Jennifer enjoys spending time with family and friends, traveling, going to concerts, and reading.
Fun Facts About Jennifer Wright:
What is your favorite quote?




"The wise woman thinks twice and speaks once." -Maya Angelou

What inspires you?




Jennifer is inspired by the transformative process that takes place in students as they pursue and achieve their educational goals. To support students starting with a connection at the beginning of their college career, to then seeing the students through their graduation and beyond, is incredibly rewarding.

What is your favorite music and why?




Jennifer is a big fan of the Dave Matthews Band, having seen them in concert more than forty times.

Before working at MSU, what was the most unusual or interesting job you had?




Jennifer worked as the Patient Services Coordinator for the Muscular Dystrophy Association of mid-Michigan, and served as the Summer Camp Director as part of that role. Jennifer, the camp counselors, and especially the campers were thrilled when MSU's mascot, Sparty, agreed to serve as a special guest for a camp event that summer.