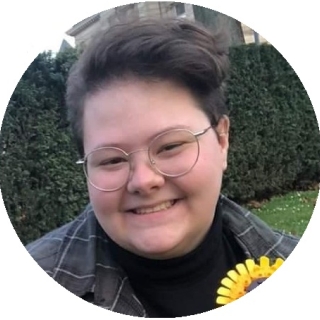 E-Texting Manager
Aeryn VanDerSlik
They/them
Aeryn is a junior at MSU double-majoring in Neuroscience and French. After graduating, they plan to pursue medical school with the hopes of specializing in oncology or neurology. In their free time, Aeryn loves reading, drawing, and playing with their three huskies.
Fun Facts about Aeryn VanDerSlik:
What is your favorite quote?




"On ne voit bien qu'avec le cœur. L'essentiel est invisible pour les yeux." -Antoine de Saint-Exupéry, Le Petit Prince. This is a quote from one of my favorite books, which translates to "One can only see clearly with the heart. The essential is invisible to the eyes."

What inspires you?




I'm inspired by the good that people can do. Sometimes it can be hard to stay positive when we're constantly seeing the bad of the world, but there are so many people out there who are working to bring better to the world, even if only one small step, one single person, at a time. We all have such a huge capability to do good and bring joy to other people despite our differing backgrounds, and I know that there will always be someone out there working to do good despite any odds.

What is your favorite movie and why?




I love the Lord of the Rings trilogy – I'm a fan of anything fantasy.

Name a hidden talent, or one unknown fact about you?




I'm an artist! I've been drawing since I was old enough to hold a crayon and I started pursuing digital art as a hobby a decade ago, in 2012. Art has been one of my biggest passions for many years.

What was your favorite subject in school?




Anything science related! One of my favorite classes I've ever taken was Human Anatomy and Physiology – I had a fantastic teacher, and it's what inspired me to pursue a career in Medicine.