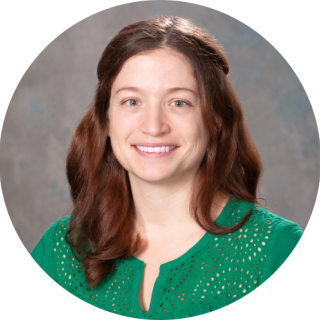 Ability Access Specialist
Hannah Huey-Jones 's phone number: 517-884-1905
Hannah Huey-Jones
Brain Injury Chronic Health Disabilities
She/Her
Hannah Huey-Jones joined the RCPD in the fall of 2022 as an ability access specialist serving people with chronic health disabilities. Hannah received a Bachelor of Fine Arts in Theatre from Millikin University in 2010 and a Master of Education in Elementary and Special Education from DePaul University in 2016.
Prior to starting at MSU, she worked in Iowa as an elementary special education teacher, with a focus on including disabled students in the general school environment through peer and staff education. Before going back to school for her master's degree, Hannah was an actor and improviser in Chicago. Outside of work, Hannah enjoys spending time with her husband, her daughter and their two dogs, singing, running, sharing meals with loved ones, and writing.
Fun Facts About Hannah Huey-Jones:
Before working at MSU, what was the most unusual or interesting job you had?




I was an actor for a traveling dinner theatre murder mystery company.

What is your favorite quote?


"If we treat each other as if we are geniuses, poets, and artists, we have a better chance of becoming that…" Del Close. He's referring to presuming competence in improvisation partners, but this philosophy has served me well in my work as a teacher, coworker, friend and parent. When we approach others as if they have something to teach us, they probably will.

Name a hidden talent, or one unknown fact about you.




I was the lyricist and co-writer for an original musical I wrote with my husband and a friend. We developed the script, songs, and score, workshopped it over several years, and finally mounted a staged production in the spring of 2021.

What are you passionate about?




I am passionate about breaking down barriers that prevent people with disabilities from accessing their world and achieving their goals. My career goal is to center and amplify the voices of disabled people in all conversations about disability.