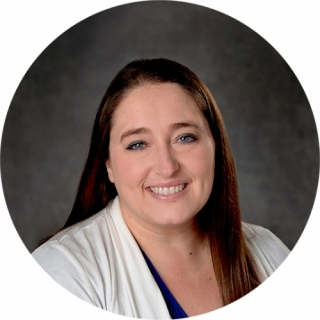 Assistant Director of Case Management, Assessment, & Programmatic Innovation
Shelby Gombosi 's phone number: (517) 884-1900
Shelby Gombosi
She/Her
Shelby has been with MSU since 2008, with a background in administration and student affairs, before joining Team RCPD in Fall 2020. She has a BS is psychology from Cornerstone University and an MA in Rehabilitation Counseling from MSU. Shelby is passionate about working with students with disabilities and advocating for students and faculty/staff, identifying accommodations for their success.
Fun Facts About Shelby Gombosi:
What is your favorite quote?
"Now you understand Just why my head's not bowed. I don't shout or jump about Or have to talk real loud. When you see me passing, It ought to make you proud. I say, It's in the click of my heels, The bend of my hair, the palm of my hand, The need for my care. 'Cause I'm a woman Phenomenally. Phenomenal woman, That's me." - Maya Angelou, Phenomenal Woman

What inspires you?
Seeing people recognize their potential. Nothing makes me more proud than watching someone realize their potential and strive to achieve it. It can be academically, vocationally, even a DIY project around the house - when someone realizes how great they are, it is amazing to me.

What are you passionate about?
I am passionate about helping people be who they want to be. I love seeing students hit that graduation milestone and know that the whole world is out there waiting for them. I love when friends and colleagues get the recognition they deserve or challenge themselves to move in new directions. I find people fascinating!

What is your favorite book and why?
Where the Sidewalk Ends by Shel Silverstein. I read that book cover to cover as a child and it inspired a love of reading and of poetry.

What volunteer or passion projects do you do outside of work?
I have done mentoring with MSU's FAME program and it was incredible. I also enjoy working in my garden and spending time on the water in my kayak.

What is the best piece of advice you've ever been given?
Life is what you make of it, and it's never too late to be the person you want to be. A colleague told me this years ago when I was debating career choices and it has guided my decisions ever since.