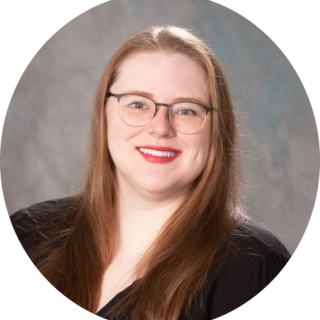 Ability Access Specialist: Neurodivergence (psychiatric/mental health, learning disabilities, & ADHD)
Ellie Brigger 's phone number: 517-884-1907
Ellie Brigger
Learning Disabilities and Attention Deficit Disorder
She/Her
Ellie Brigger (she/her/hers) joined the RCPD Team in September 2022 as an Ability Access Specialist (primarily working with neurodivergent students and employees). She previously worked in a similar role as an Access Coordinator at The University of Colorado Boulder for three years. Ellie practices a student-centered approach, encouraging students and employees to lead the conversation, helping to brainstorm the options available to them, and empowering them to make decisions and develop self-advocacy skills with her support.
Ellie grew up in Ann Arbor, MI and attended Hope College in Holland, MI, where she earned her bachelor's degree in English and Biology (May 2016) and worked at the college's writing center where she developed her passion for helping students learn and grow. She then worked at The Pennsylvania State University as the Tutor Coordinator and Academic Coach for student athletes with disabilities, before moving on to complete her master's degree in Education, through the College Student Affairs Leadership program at Grand Valley State University, in Allendale, MI (May 2019). During her time at GVSU, Ellie was an academic coach for students registered with the Disability Services office, and coordinated the Campus Links Program, a PEERS-based social mentoring program for students on the autism spectrum. She is PEERS: Young Adult Certified through UCLA's certification program. Special interest areas include but are not limited to: successful transition to college and the workplace, disability identity and culture, executive functioning skills and student development, and self-efficacy in practice.
In her spare time, Ellie loves going on adventures with friends throughout Michigan, visiting family in Grand Rapids, and cooking or baking new recipes. She is a fan of the Great British Baking Show; the power of storytelling (through various movie/tv series, videogames, and reading (fantasy and sci-fi)); gardening; matcha tea; and visits Art Prize every year in Grand Rapids.
Fun Facts About Ellie Brigger:
What is your favorite quote?




"What we know matters but who we are matters more." – Brené Brown

Where is your favorite place in the world?




There are too many to count! But the one I want to return to next is Dublin, Ireland. It is a really cool, old city with lots of history and friendly citizens.

Before working at MSU, what was the most unusual or interesting job you had?




During my undergrad, before working at RCPD, I had an internship at one of the MSU Extensions, where I worked with entomologists on USDA studies in orchards. We spent time on various projects, but my favorite was when we caught bees and other native pollinators and did a census of them in various orchards across the state.

What is your favorite book and why?




The Hobbit (JRR Tolkien) – it's an easy read that is entertaining and full of fun characters and interesting conflicts.

What is the best piece of advice you've ever been given?




Friendships should be reciprocal; they take work, and you should receive a much support as you give in any relationship.

Name a hidden talent, or one unknown fact about you.




My odd talent is opening stuck jars.