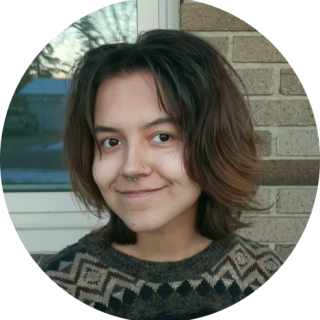 Accessible Media Manager
Sakari Wilcox
They/them
Sakari is a sophomore studying Philosophy and Psychology, with a minor in Spanish. Their career interest areas include psychology, social work, and education. In their free time, they like to read, write, meditate, listen to music, and draw.
Fun Facts About Sakari Wilcox:
What are you passionate about?




I'm passionate about living intentionally, learning continually, listening thoughtfully, and advocating for the well-being of every self.

What is your favorite book and why?




One of my favorite books is "The Book Thief" by Markus Zusak. I read it several years ago; it is a powerful story of love in a time defined by death. Some of my more recent favorites have been "The Myth of Sisyphus" and "The Stranger" by Albert Camus.

What volunteer or passion projects do you do outside of work?




I am the current Vice President of Tower Guard! Being a member has been an invaluable experience – I've learned so much and met so many outstanding people. I also got involved in the MSU Honors Times Two mentoring program recently!

What was your favorite subject in school?




English was always my favorite! I love reading and writing, so my favorite classes were (and are!) those which involve opportunities for both.