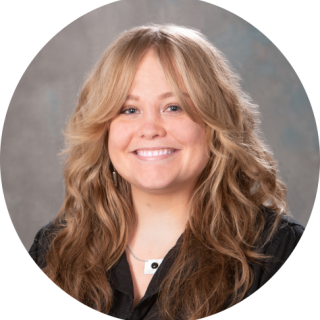 Ability Access Specialist: Neurodivergence (psychiatric/mental health, learning disabilities, & ADHD)
Colleen Floyd 's phone number: 517-884-1917
Colleen Floyd
She/Her
Colleen Floyd (she/her/hers) joined team RCPD in June 2022. Her primary role is working with neurodivergent students and employees at MSU. She comes to this work as a disabled, anti-racist, anti-deficit, scholar-practitioner that grounds her work in disability justice. Colleen attended the University of Wyoming where she studied Political Science with minors in Gender and Women's Studies and Statistics and recently completed a Master of Science in Student Affairs in Higher Education at Miami University. Being affiliated with disability services in both undergrad and graduate school has led Colleen to have a passion for ensuring access and disability education. She is interested in diversity, equity, inclusion, and access (DEIA) initiatives and supporting disability culture and inclusion at RCPD and MSU. She aims to use her personal and professional experience with disability services and accommodations to help students along their journey.
Outside the office, Colleen enjoys hanging out with her partner, their dog, and two cats, listening to Harry Styles, reading, drinking coffee, and endlessly scrolling social media.
Fun Facts About Colleen Floyd:
What is your favorite quote?




"When access is a practice of love it is no longer simply about logistics and something you have to do, but something you want to do" Mia Mingus

What are you passionate about?




I am passionate about students! In undergrad, I served as a student ambassador and orientation leader for four years, igniting a passion for helping students thrive. Higher education can be a challenging and confusing time, but there are people and resources ready to assist. Part of having students thrive is also ensuring an inclusive and accessible environment, so I am continuously doing advocacy work and helping with DEIA efforts. I am excited to be part of the MSU family and working to support the Spartan community.

What is your favorite book and why?




Alison Kafer's book, Feminist, Queer, Crip changed my life! In my second semester of undergrad, I took a disability studies course and was assigned Kafer's book by the incredible Dr. Michelle Jarman. I was recently affiliated with disability services and struggling to figure out what it meant for me. After a life of feeling disconnected from my peers, Kafer's words felt like home. I was able to form an identity as a disabled person and get connected with community. This began my insatiable passion for the field of disability studies and has defined my career.

What is your favorite music and why?




As a certified Directioner since 2012, I have always loved Harry Styles' music! When I'm not listening to him, I typically have some indie pop playing in the background. You can usually find me listening to The Marías, Tame Impala, Djo, or Her's. I also attribute my master's degree to Lil Nas X's album because it helped me get through those late-night writing sessions!

What was your favorite subject in school?




As I mentioned in my bio, I identify as a scholar-practitioner, this means I use theory and scholarship to inform my work. In 2017, I found a home in disability studies. I specifically utilize crip, queer, feminist, and disability theory in my own scholarship and practice and surround myself with related literature. I use this passion for scholarship to further detail how these theories can be translated into practice to help foster accessible and equitable experiences in higher education. If you would like to learn more about disability studies let me know and I am happy to get you connected with some great resources!