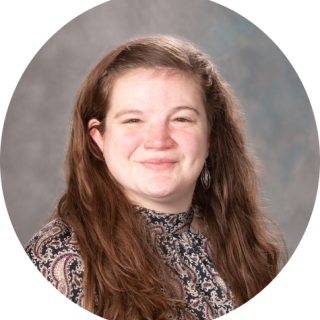 Vocational Rehabilitation Counselor, Careers Collaborative
Tanya Adams 's phone number: 517-331-6193
Tanya Adams
She/Her
Tanya Adams is a rehabilitation counselor from Michigan Rehabilitation Services. Her role involves career exploration as well as informing, equipping, and preparing people in managing disabilities in employment settings. She began her work in the Career Collaborative role on MSU's campus late fall 2021. She is grateful to be a part of such an incredible network of dedicated staff and students!
Prior to this, she worked as a counselor for MRS in the Grand Rapids area for three years, serving multiple high schools in preparing students for their next steps. Previous work experiences have also included working in a high school setting providing accommodations for students with different learning needs. She returns to MSU campus as a proud alum from the Rehabilitation Counseling master's program. Outside of work, she enjoys exploring parks and trails, spoiling her rescue cat, and trying new games with friends and family. If she is not using art supplies, she is either wistfully daydreaming about it or purchasing additional ones.
Fun Facts about Tanya Adams:
What inspires you?
The excited hush of unread books in a library, the scent of a favorite food in the oven, cello music, people talking about what makes them excited, the constellations of legacies past, the engine roar of life stories underway, the absurd noises my cat makes, multicolored pens, and great people who seek out the greatness in others.
What are you passionate about?
I am passionate about people. People's stories, people's interwoven lives and threads. I believe there is something sacred in recognizing that everyone's story includes a "before here and now." I am passionate about carving out spaces where these stories are recognized, even if not shared. Respecting the journeys and efforts in arriving to the "now" and cheering on the movements towards not yet is to leave unspoken room for acknowledging the depths in each of us, acknowledge the impact of time, and appreciate the connection of shared moments.
Before working at MSU, what was the most unusual or interesting job you had?
In high school I was a mascot for Old Country Buffet, which involved a full body costume as a bumble bee!
What volunteer or passion projects do you do outside of work?
In the past, I've volunteered to support elementary school students who struggled with reading. It meant a lot to me to celebrate a student's willingness to keep trying something that was hard while also bringing to life a skill that I love.
What accomplishment are you the most proud of?
Being accepted in and completing my graduate school program.