Welcome Future Spartans!
Are you an incoming freshman at MSU? A transfer student? Maybe you are nervous about having a disability while attending a large university? Not to worry – the MSU Resource Center for Persons with Disabilities (RCPD) is here to help you transition, adapt, and excel as you begin your exciting journey at Michigan State University.
Visiting MSU RCPD
If you are planning a trip to MSU and want to stop by the MSU RCPD office, please contact us here. This way we can set up an appointment time that works for you and our specialists!
RCPD Services
Whether you are still considering becoming a Spartan, or have already been admitted to MSU, the RCPD website provides answers to many of your questions regarding the services we provide.
During your time at MSU, the RCPD will be here every step of the way with resources including an assigned specialist with whom you can meet one-on-one with to discuss academic and disability concerns. The RCPD also provides access to a variety of first-year programming, assistive technologies, resources, scholarships, and a community of peers, faculty, and staff who are determined to help you achieve a fulfilling college experience.
How is College Different than High School?
The accommodations process looks different at MSU than it did in high school. Documentation and disability status do not follow a student from high school to college. If a student needs accommodations at MSU, they must identify and register with RCPD (RCPD will not know a student's disability status until they self-identify).
Here are some of the major things to note about the differences between high school and college:
Applicable Laws
Different laws apply to college and high school.
High School: The Individuals With Disabilities Act (IDEA) is the major disability law applying to high school and is focused on providing a free and appropriate public education that helps the student to succeed.
College: The Americans with Disabilities Act (ADA) applies to college and focuses on access and opportunity to participate in university courses and programming.
Required Documentation
Documentation and disability status do not follow a student from high school to college.
High School: Schools responsible for testing students. Students receive an IEP (Individual Education Plan) and/or 504 Plan. Documentation focuses on determining whether student is eligible for services based specific disability categories in I.D.E.A.
College: Students are responsible for providing disability documentation. High School IEP and 504 Plan do not automatically transfer to college (IEPs and 504s may or may not be sufficient documentation for college). Documentation must provide information on specific functional limitations, and demonstrate the need for specific accommodations.
Parent Role
High School: Parent advocates for the student and has access to student records and can participate in the accommodation process.
College: Student advocates for self and parent does not have access to student records without student's consent.
Self-Advocacy
Students must be self-advocates.
High School: Student is identified by the school and is supported by parents and teachers. Teachers approach you if they believe you need assistance. Primary responsibility for arranging accommodations belongs to the school.
College: Students must self-identify and register with disability office. Primary responsibility for self-advocacy and arranging accommodations belongs to the student. Professors are open and helpful, but most expect you to initiate contact if you need assistance.
RCPD and the student's Ability Access Specialist will be able to assist if questions or concerns arise, but the student is responsible for working with their instructors to implement accommodations after being issued a Accommodation Letter from RCPD.
Accommodations
Accommodations may look and be implemented differently in college.
High School: Teachers may modify curriculum and/alter curriculum pace of assignments. IEP or 504 plan may include modifications to test format and/or grading and offer makeup tests.
College: Accommodations must be reasonable and must not compromise the rigor and/or academic integrity of the class. Professors are not required to modify course design or alter assignment/testing requirements. Grading and test format changes (i.e. multiple choice vs. essay) are generally not available.
What Documentation Do I Need to Get Registered with RCPD?
Disability documentation will not automatically transfer to MSU from your high school. For information about registering with RCPD, see our Get Started page and Documentation Guidelines. Generally, documentation should include a specific diagnosis (if the diagnosis is a specific learning disability, it should indicate the area), a comprehensive summary of functional impacts, and the relevant testing and scores.
Documentation recency is important as it provides current understanding of the needs, challenges, and strengths of a student (within 5 years is recommended). Recency of documentation may also be important for near- or post-graduation standardized testing such as the GRE, MCAT, LSAT, etc. Accommodations for these tests are applied for separately from the university. It is recommended that students explore documentation recency timelines on the relevant testing authorities' websites if there are future plans in place to take standardized tests.
Will the MSU Admissions Office take my disability into consideration when making an admissions decision?
All applicants are held to the same Michigan State University admission standards. Disability issues, like other diversity perspectives, can be discussed as part of a personal statement if an applicant chooses. RCPD cannot interfere in the admissions process, but we are happy to assist with accommodations as soon as a student is admitted.
Contact the Office of Admissions for further information about applying to MSU and admission standards. All disability related documentation should be sent to RCPD.
Differences Between High School and College Flyer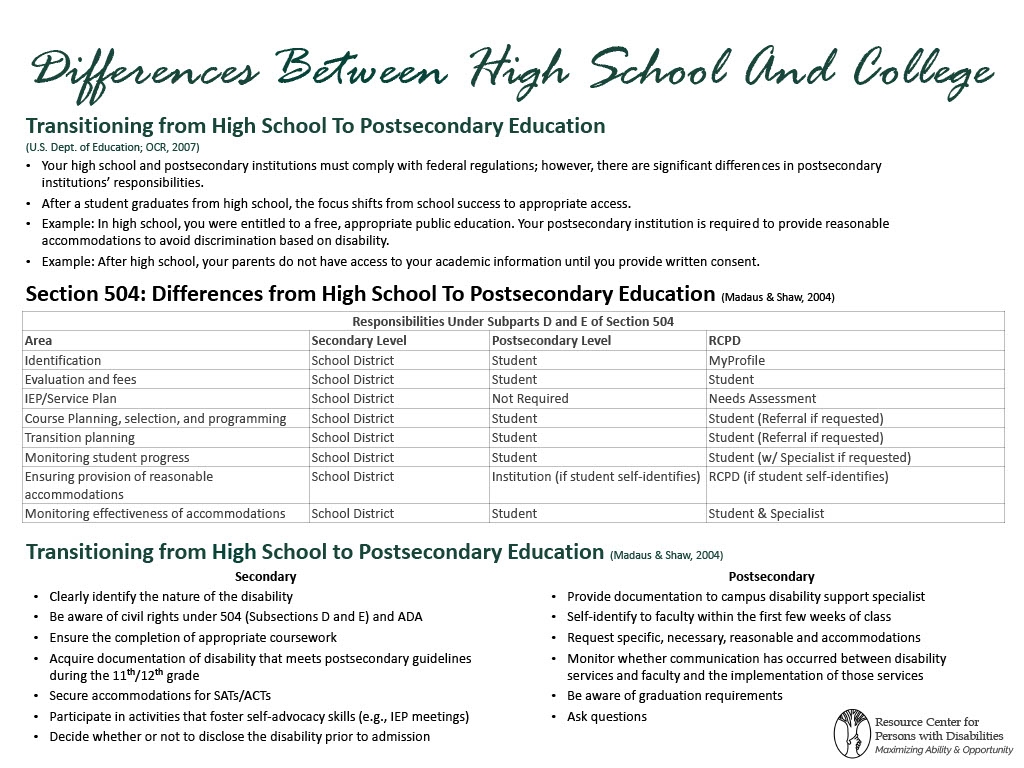 RCPD Registration Process & FAQs for New Students
This presentation covers the RCPD registration process, information and frequently asked questions about our services, how to implement accommodations after you receive your accommodation letter (VISA), and additional programming through RCPD.
Introduction to RCPD - NSO Document
RCPD: Who we are, what we do, and how to get involved!