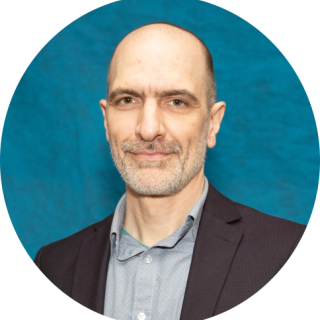 Ability Access Specialist: Neurodivergence (psychiatric/mental health, learning disabilities, & ADHD)
James Madaski 's phone number: 517-884-1911
James Madaski
He/His
James has an MSW degree with a concentration in Organizational and Community Practice from Michigan State University. Before working for the Resource Center for Persons with Disabilities, he served various roles in vocational rehabilitation and career services with people with disabilities, refugees, and low-income families and individuals. A believer in self-empowerment and life-long learning, James views part of his mission to be a strong ally and an advocate for people he serves. You can quote him on this: "Grab life by the horns, find your passion, set goals, and take action!"
Fun Facts About James Madaski:
What is your favorite music and why?




I love all kinds of music, but my favorite kinds of music are probably jazz fusion and prog rock. Jazz fusion music combines jazz improvisation with other styles, such as funk and rock. A lot of prog rock focuses on experimenting with atypical rock compositions (lengthier, concept-driven, odd metered, etc.) and musical virtuosity not necessarily found in most sub-categories of rock music (which I also love!). I really appreciate the skill and complexity demonstrated by musicians playing these styles and I can get pleasantly lost for hours listening to albums in these genres. Chick Corea, Mahavishnu Orchestra, King Crimson, Oz Noy, Jeff Beck, Rush, Genesis, and Yes come immediately to mind as favorites.

Name a hidden talent, or one unknown fact about you.




It is simply my God-given talent that I can make eggs in almost any style really well. I am one with the egg. I understand them…and no one knows why.

What is your favorite book and why?




If you had asked me my favorite book when I was eight years old it would have been all the Chronicles of Narnia. If you asked me when I was thirteen years old, it would have been all the Dragonlance books. If you asked me when I was twenty years old, I would say Alan Watts' The Book: On the Taboo Against Knowing Who You Are or The Power of Myth. At twenty-five I would've said the whole Dark Tower Series by Stephen King. At twenty-eight, I would've said Dune or Asimov's Foundation Series. I guess I cannot pick a favorite book, and different books speak to us in more or less profound ways at different times. What I can say is I have actually read Atlas Shrugged just on principle—to make an informed opinion—and now I have one.