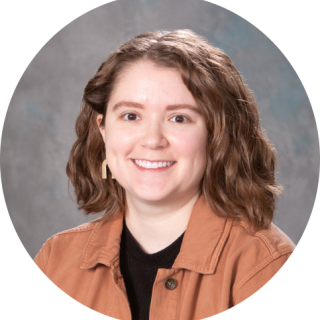 Ability Access Specialist: Neurodivergence (psychiatric/mental health, learning disabilities, & ADHD)
Jessica Lutz 's phone number: 517-884-1904
Jessica Lutz
She/Her
Jessica Lutz (she/her/hers) joined the RCPD team in July 2022 as an Ability Access Specialist for students and employees with neurodivergence. She obtained her Bachelor of Arts from George Fox University in 2013 and Master of Special Education in 2015 from the University of Toledo. Prior to working with the RCPD, Jessica spent most of her professional life working as a special education teacher in the K-12 setting students with various diagnoses (Learning Disabilities, ADHD, Autism, etc.). Jessica describes herself as having a lifelong enthusiasm for education and ensuring all students have access to it. Attending college can be difficult for anyone and Jessica is passionate about removing barriers and helping students achieve their goals.
Fun Facts About Jessica Lutz:
What is the best piece of advice you have been given?




I think the best piece of advice I have been given comes from my mom! When I was a teenager she told me something along the lines of "No one else is inside your head, you have to tell people what you are thinking and what you want." I think back to this advice often, especially when it comes to advocating for myself professionally or even personally, but especially when it comes to advocating for students or advising them on how to advocate for themselves. Advocating for yourself can be scary, and I think this simple advice really puts it into perspective.

What is your favorite music and why?




I love listening to all types of music, it just depends on my mood! Most of my favorites have a strong sense of nostalgia tied to them from various times in my life: Talking Heads, Sufjan Stevens, Harry Styles, and of course Queen B herself, Beyonce.

Name a hidden talent, or one unknown fact about you.




I love house plants! Many people say they cannot keep them alive, so I guess my hidden talent is that I can, though I don't do anything special! I have a variety of plants in my home and I really enjoy the way they are able to make a space feel peaceful and bring the outside in.