Dear Friends and Prospective Donors,
Disabilities of all types provide challenges that initially seem insurmountable. How we define ourselves, the actions we take, and who we meet along the way define what we become. Disability creates a difference that can either shut people down or stimulate growth and success. Thousands of success stories start here at MSU and we welcome your help. We are a community of students, staff, donors and friends welcoming ambitious people with accessibility, scholarship, experiential learning, and ultimately career and life success. We grow possibility and redefine disability from inability to challenges that demand creativity and effort toward leadership. Approaching disabilities as challenges fuels creativity and innovation; these are the very skills needed by tomorrow's leaders and problem solvers.
We Request Your Partnership
Leadership in advancing ability and opportunity involves a drive to do better. Donors help us welcome students with innovative programming, scholarships and staffing. We ask you to join Team RCPD with an investment in ability. Working together, there is much to celebrate yet more to accomplish. I welcome a chance to discuss your ideas about how we can collaborate to make a difference in the lives of ambitious Spartans.
Sincerely,
See How Gifts Make a Difference
Gilbert Gift Empowers RCPD: The Gilbert family is among the many Spartans going one step further to ensure MSU's lasting legacy. Dan Gilbert—CEO of Quicken Loans—and his wife, Jennifer Gilbert, donated $15 million to MSU in October of 2016. Read more on RCPD's Ability Blog.
A Transformational Gift from One Family to Another: During fall 2017, the RCPD gained three full-time Ability Access Specialists: Lina Wu, Lindsay Hill, and Ashley Maloff. These Ability Access Specialist positions are brand-new to the RCPD, thanks to Dan and Jennifer Gilbert. They made a substantial gift to MSU's Empower Extraordinary Campaign in October of 2016. A portion of that gift was dedicated to the RCPD, and we're thankful to maximize the Gilbert family's generosity to further our mission of making MSU accessible to all.
The Bosco Careers Collaborative: The Careers Collaborative was launched in 2014 through private gifts from Michael and Kathy Bosco matching state and federal funds in partnership with Michigan Rehabilitation Services (MRS). The Collaborative is strengthening leadership with a focus on career transition for students with disabilities. Read more here.
See more gifts and stories below!
Endowments: Your Gift Counts
Your partnership will contribute to leadership in world-class efforts to fully engage students with disabilities in the promise of an MSU education. Each of the following endowments represent significant programmatic efforts where your investment makes a difference.
Celebrating Community Investment: Donor Recognition
Featured prominently in the reception area, the Tree of Giving displays community and investment toward life success. It is a message of ability for students and families arriving at MSU with real challenges, vivid hopes, and great potential. We recognize contributors with inscribed leaves, rocks, and acorns.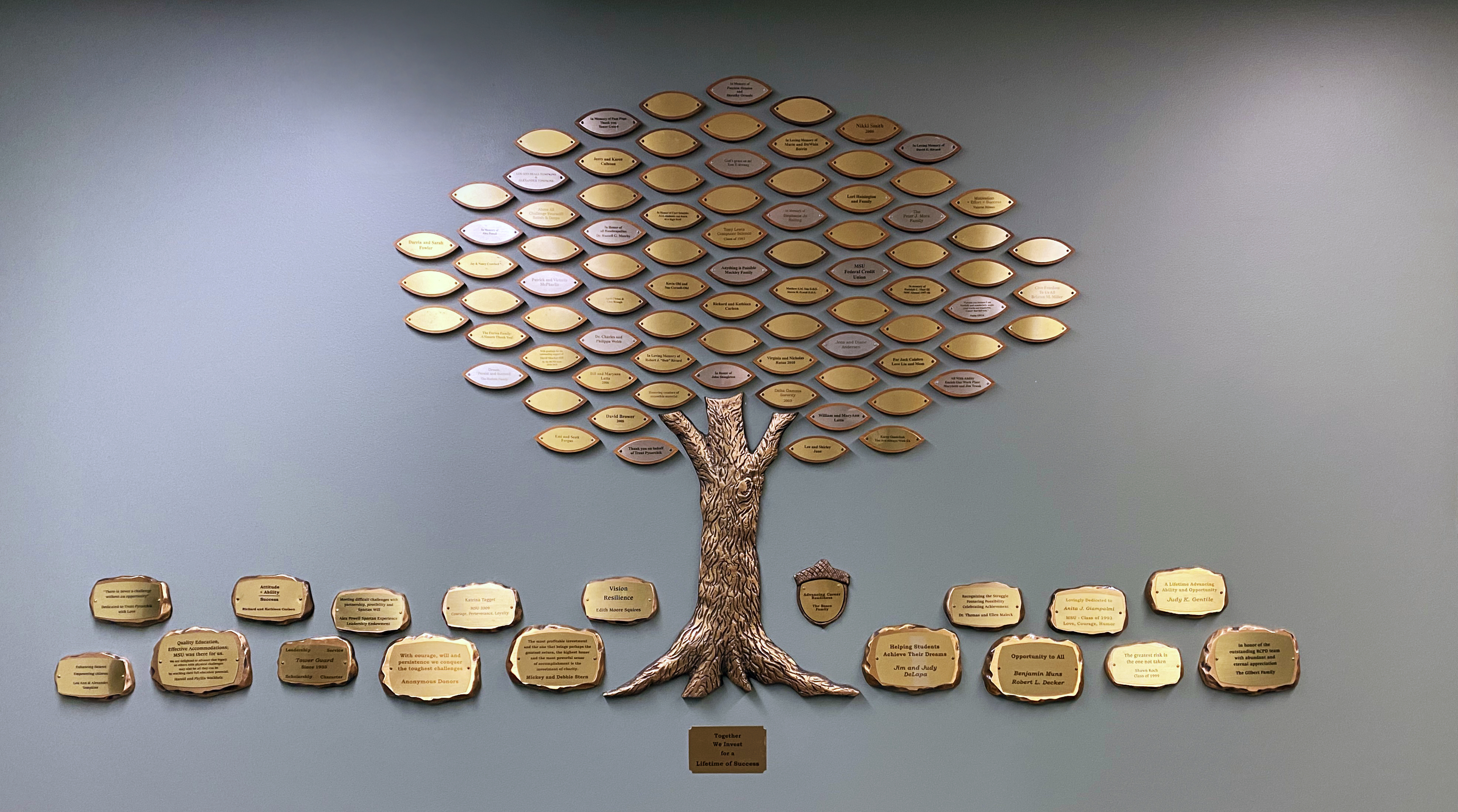 Donation milestones:
Brass leaf

: $750

Silver leaf

: $2,500

Acorn

: Expendable donation at the current MSU endowed fund level

Small rock

: Establishment of a new endowment

Large rock

: $100,000
(Donor levels are subject to change)
Each of our signature programs began as an idea. If you would like to help us advance, we invite you to share.
Michael Hudson, Director
517-884-1903
With courage, will, and persistence we conquer the toughest challenges.
To make a contribution online, choose a program or scholarship from the menu along the left side of this page, and look for the "Make a Gift" link. It will take you to the secure MSU online giving page for that program or scholarship.
If you prefer, you can mail your contribution to:
Resource Center for Persons with Disabilities
Attn: Michael Hudson, Director
Michigan State University
Bessey Hall
434 Farm Lane, #120
East Lansing, MI 48824
Please indicate a fund designation with your correspondence.
To discuss giving opportunities or learn more about supporting RCPD programming, please contact Michael Hudson.