The field of assistive technology and accessibility is continually advancing and innovating. As assistive technology gains new capabilities, it is becoming even more valuable in providing for more inclusive and diverse opportunities for individuals with disabilities. Assistive Technology is vital in fostering independence, providing access, and allowing equal opportunities for advancement in education and workplace settings.
At the Resource Center for Persons with Disabilities, exploring advancements and leading innovation in assistive technology is a top priority. It is our goal to think creatively and collaboratively in order to lead innovative assistive technology programs and initiatives.
Braille Technology Advantage
Focus Blue Braille Display
The Braille Technology Advantage program launched at MSU during the Fall 2020 semester. The program provides Focus Blue electronic braille displays to blind students, that use braille, at no cost to them. This allows students the opportunity to have more immediate access to braille materials, without the added challenges of paper braille printing, delivery, and transportation.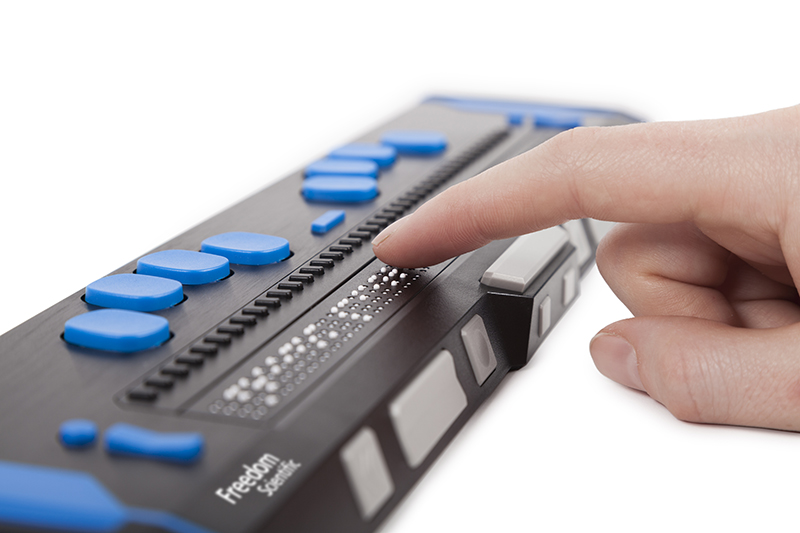 Canute 360
Canute 360 is the world's first multi-line Braille e-reader. One of the big advantages to the Canute 360 is that it features a nine-line display, with each line comprised of 40 cells of Braille. It is compatible with .BRF and .PEF file formats and can display Braille text, mathematics, music, or any other six-dot braille code.
Braille users will find many uses and possibilities with the Canute 360 beyond simply reading books.
Tables become more readable when up to 9 lines can be displayed.
Mathematics often contains long and complex equations which run over multiple lines.
Music scores are invariably best understood when multiple lines can be read.
Canute reads BRF (Braille Ready Format) files, so displaying different languages in the same document is both possible and practical.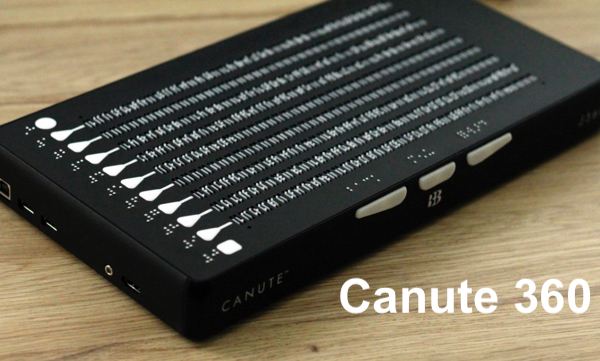 Braille Technology Advantage News:
Notetaking Technology Advantage
Munch [at MSU]
Through a partnership with RHS and IPF, RCPD has created an iOS app called Munch. The Munch app is designed to make dining at MSU simple, by helping you find food you want to eat, make informed decisions about what you eat, and connect with new friends along the way.
Key App Features:
Sort dining menus/offerings by dietary preference, food category, and nutritional content.
Search for exactly what you want and then log it to the health app on your iPhone.
Favorite foods that you love and Munch will send you a notification the next time it is offered in any cafeteria.
Munch App News:
MSU Guide
Guide is an exciting new way to explore and find your way around the Michigan State University (MSU) campus in East Lansing.
MSU Guide is an iOS app Designed at the Resource Center for Persons with Disabilities (RCPD) to help those with visual, spatial, and mobility disabilities discover their surroundings at Michigan State University in East Lansing, MI. It is also great for anyone exploring campus to assist in finding your way or learning more about campus. Guide is interactive and provides real-time location-aware information about campus landmarks while remaining accessible and useful to all.
Guide is uniquely ready to help students, employees, and visitors identify important campus landmarks using 3 core tools available when walking campus:
WAND - Point your phone at any building on campus to discover its name and more information including wheelchair accessible entrances.
MAP - A map that lets you view campus landmarks. Tap to drop a pin, then click on it to view a compass that locks on to the closest landmark under the pin.
SEARCH - Use the iOS home screen search function(Spotlight) to locate any campus building by name. Once you search and identify your building, simply select it and we'll lock onto it so you can always check where it is relative to where you are without needing a map. You can even use navigation from Spotlight results to view detailed directions to a landmark.
We welcome feedback, suggestions and any issues you may be having with the app at guide@rcpd.msu.edu.
Download MSU Guide from the Apple App Store
MSU Guide App News:
Through RCPD, I gained access to an app that would tell me when the cafeterias are less busy, so I could feel more comfortable going to eat.