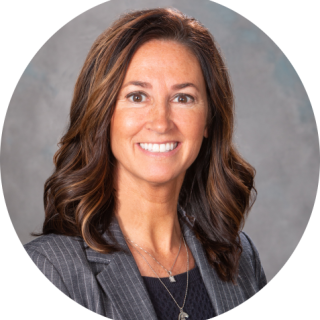 Real-Time Captioner
Susie Hoffmann 's phone number: ​(517) 884-1918
Susie Hoffmann
She/Her
Prior to joining team RCPD as a Real-Time Captioner in 2016, Susie was seen around Michigan State's campus as a freelance captioner. For the past 14 years, Susie used her skills to assist students with disabilities at East Lansing High School. She began her career in captioning with CART services after documenting depositions as a court reporter in East Lansing for two years.
When Susie is not working, she enjoys spending time with her two daughters and husband. She grew up and lives in Dewitt, Michigan and enjoys living close to some of her extended family. Susie's heritage is largely German, and her family owned Martha's German Bakery as she was growing up. She and her husband also frequently travel to Germany to visit with more family. Together they like walking, reading, baking, and exploring Germany.
Fun Facts About Susie Hoffmann:
What is your favorite quote?
"Try to be a rainbow in someone's cloud." - Maya Angelou
Where is your favorite place in the world?
Any beach by an ocean.
What are you passionate about?
I love to cook/bake, spend time with my family, read, run and also do yoga.
Before working at MSU, what was the most unusual or interesting job you had?
Taking depositions as a court reporter. Each case was unique and you never knew what was going to happen or be said.
What is your favorite book and why?
The Outlander series. I love historical fiction and this one brought you back in time in a unique way and also made you love all the characters.
What is your favorite music and why?
I like to relax to the oldies like Simon and Garfunkel, Neil Diamond, and Cat Stevens.