In 2017 Detroit business leaders Dan and Jennifer Gilbert made a transformational gift to MSU that recognized Team RCPD as vital, energized, and committed to maximizing ability and opportunity. Reflecting on an exceptional partnership with Angela Sebald, they empowered us to reach higher across our mission. New Ability Access Specialists, made possible by this gift, strengthened our team by deepening work on key initiatives, increasing focus with each student, and ultimately extending MSU leadership. In reaffirming our ability-centered approach, we envision possibility, redefine disabilities into surmountable challenges, and apply MSU knowledge to develop tomorrow's leaders.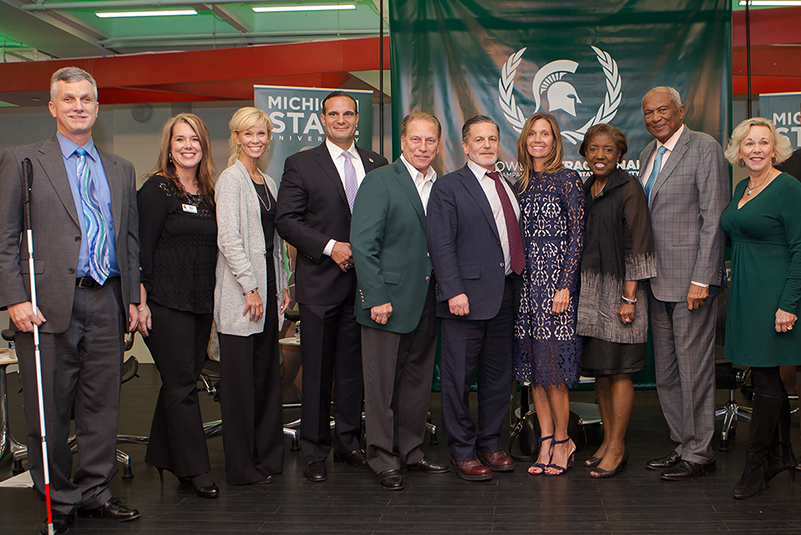 The Gilbert family gift is transformative as it extended our foundational work in solving disability challenges with new focus on helping our community re-center on ability. Beginning in 2017, our former "Disability Specialists" became "Ability Access Specialists" in light of the new capacity the Gilbert gift brought to our mission. Indeed, we are using this resource and others that follow to help each student focus on and reach their fullest abilities through higher education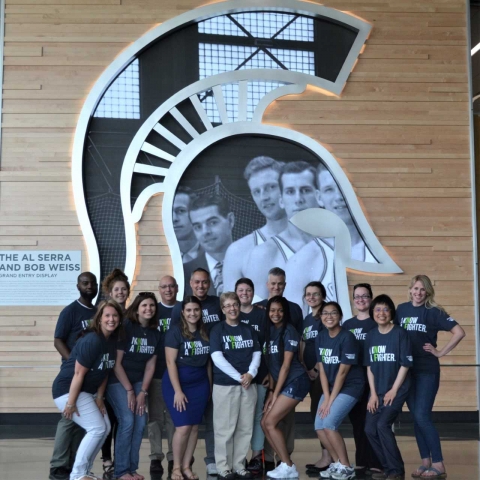 RCPD Ability Access Specialists supporting Neurofibromatosis (NF) awareness. This photo was taken at the Breslin Center in the Gilbert Pavilion, and includes the three new specialists made possible through this gift.
See How Gifts Make a Difference
Gilbert Gift Empowers RCPD: The Gilbert family is among the many Spartans going one step further to ensure MSU's lasting legacy. Dan Gilbert—CEO of Quicken Loans—and his wife, Jennifer Gilbert, donated $15 million to MSU in October of 2016. Read more on RCPD's Ability Blog.
A Transformational Gift from One Family to Another: During fall 2017, the RCPD gained three full-time Ability Access Specialists: Lina Wu, Lindsay Hill, and Ashley Maloff. These Ability Access Specialist positions are brand-new to the RCPD, thanks to Dan and Jennifer Gilbert. They made a substantial gift to MSU's Empower Extraordinary Campaign in October of 2016. A portion of that gift was dedicated to the RCPD, and we're thankful to maximize the Gilbert family's generosity to further our mission of making MSU accessible to all.