If you are someone who finds starting or completing academic tasks challenging, body-doubling may be for you!
Body-doubling, (also called co-working or accountability partners-- we picked the fun name) is when group of two or more people study or complete homework simultaneously, either in the same room or virtually. Having others in the same physical or virtual space can help you with productivity because you have someone present working at the same time and keeps you accountable.
RCPD is offering the opportunity to participate in a Body-Doubling group on Zoom starting November 1st. Groups will be held every Tuesday 5 pm-7 pm and every Thursday 4 pm-6 pm for the remainder of the semester.
If you would like to attend the body doubling sessions, join the Zoom during the time that works for you!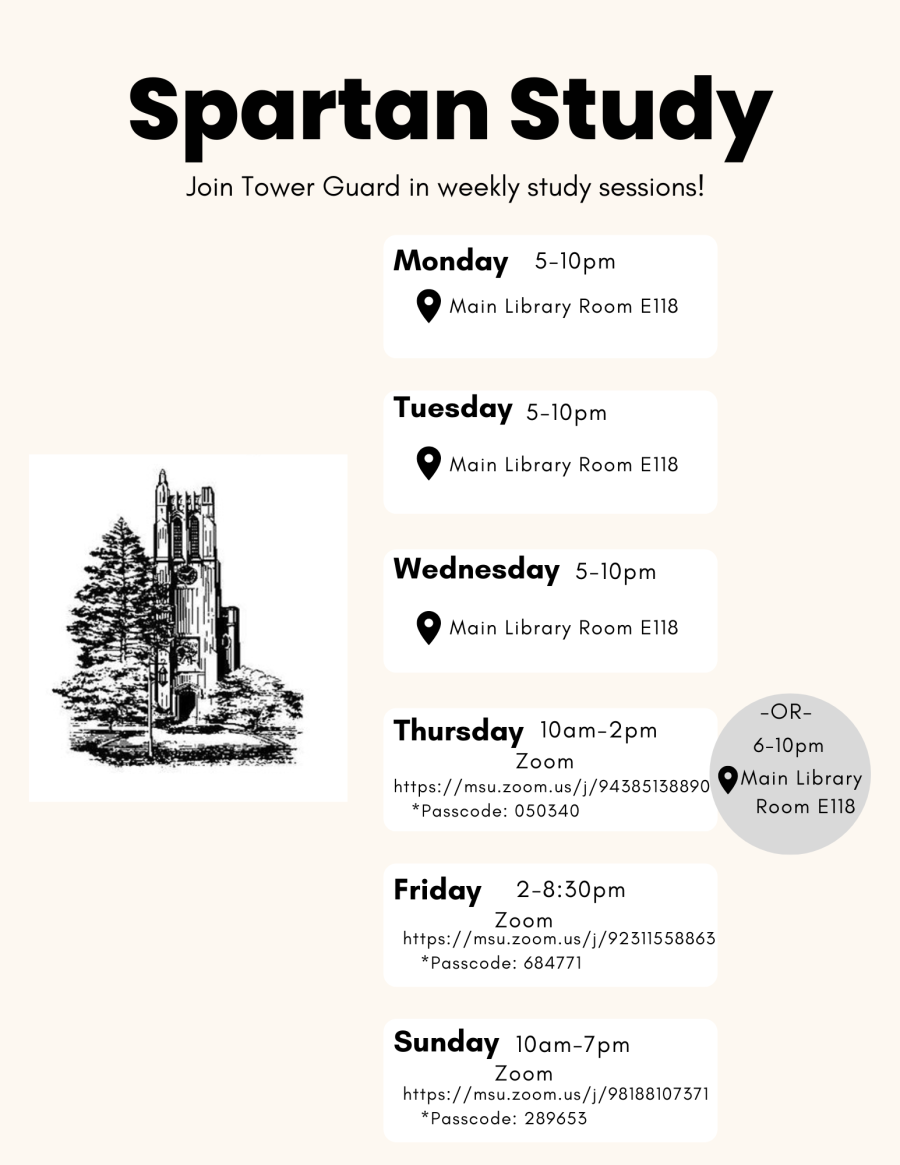 Join Tower Guard in weekly study sessions!
Monday: 5 - 10pm
Tuesday: 5 - 10pm
Wednesday: 5 - 10pm
Thursday: 10am - 2pm
Zoom
OR
6 - 10pm Room E118
Friday: 2 - 8:30pm
Sunday: 10am - 7pm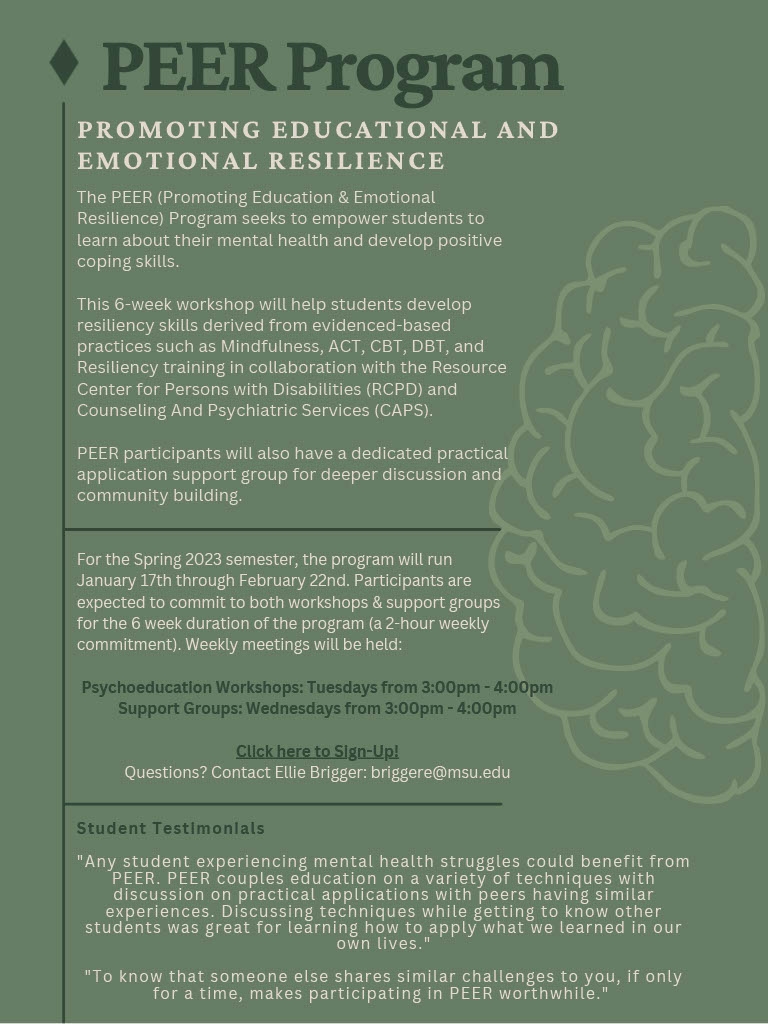 Program for Students with Mental Health Conditions – PEER: Promoting Education & Emotional Resilience
PEER Program signups are now open for the Spring 2023 semester! The PEER (Promoting Education & Emotional Resilience) Program seeks to empower students to learn about their mental health, develop positive coping skills, and work through navigating challenging barriers.
This 6-week workshop will help students develop resiliency skills utilizing techniques derived from evidenced-based practices such at Mindfulness, ACT, Executive Function building, CBT, Emotion Regulation with DBT, and Resiliency training in collaboration with the RCPD and Counseling and Psychiatric Services (CAPS). PEER participants will also have a dedicated practical application support group for deeper discussion and community building.
For the Spring 2023 semester, the program will run January 17th through February 22nd. Participants are expected to commit to both workshops and support groups for the 6-week duration of the program (a 2-hour weekly commitment). Weekly meetings will be held:
Psychoeducation Workshops: Tuesdays from 3:00pm - 4:00pm
Support Groups: Wednesdays from 3:00pm - 4:00pm
Questions? Contact your RCPD Specialist or program coordinator, Ellie Brigger: briggere@msu.edu.
Adaptive Recreation Events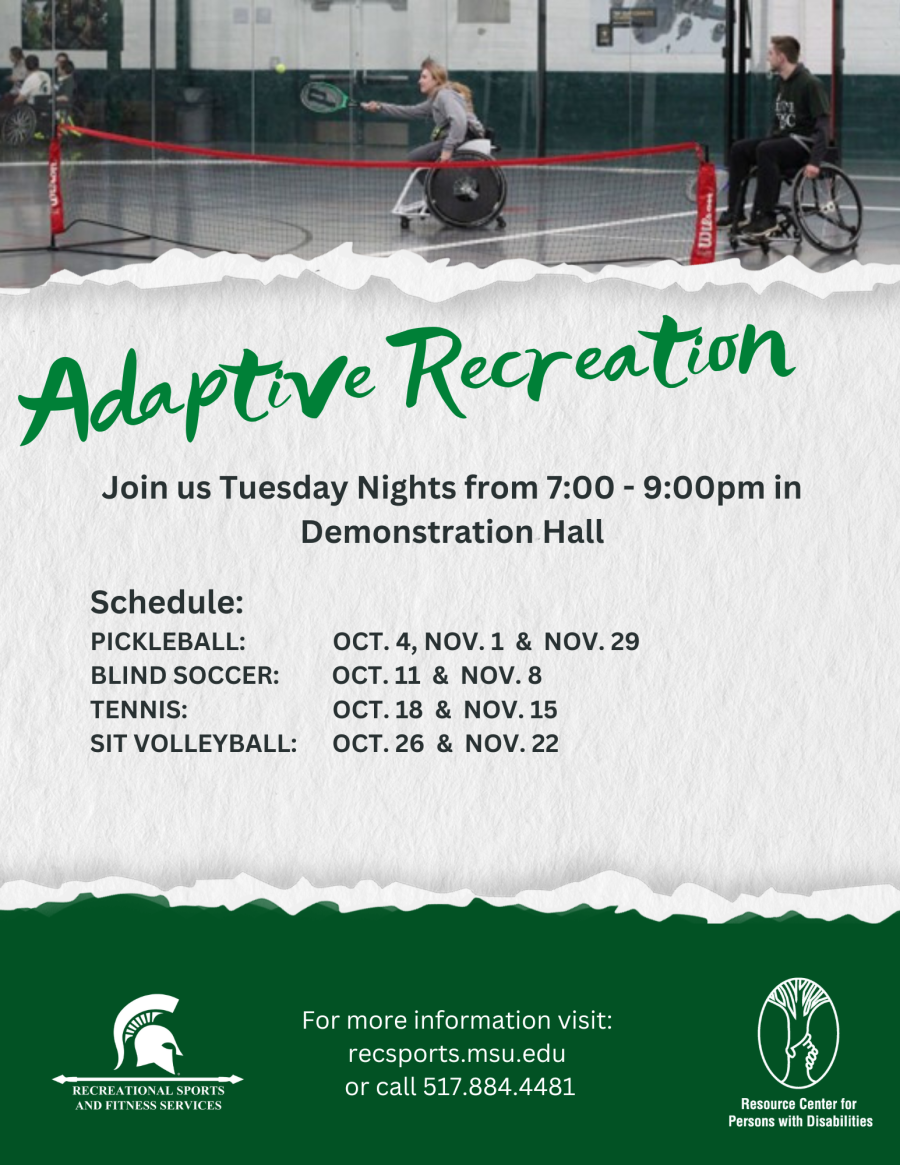 Adaptive Recreation, Join us Tuesday Nights from 7:00 - 9:00pm in Demonstration Hall
Schedule:
PICKLEBALL: OCT. 4, NOV. 1 & NOV. 29
BLIND SOCCER: OCT. 11 & NOV. 8
TENNIS: OCT. 18 & NOV. 15
SIT VOLLEYBALL: OCT. 26 & NOV. 22
For more information visit: recsports.msu.edu or call 517.884.4481
Council for Students with Disabilities (CSD) Events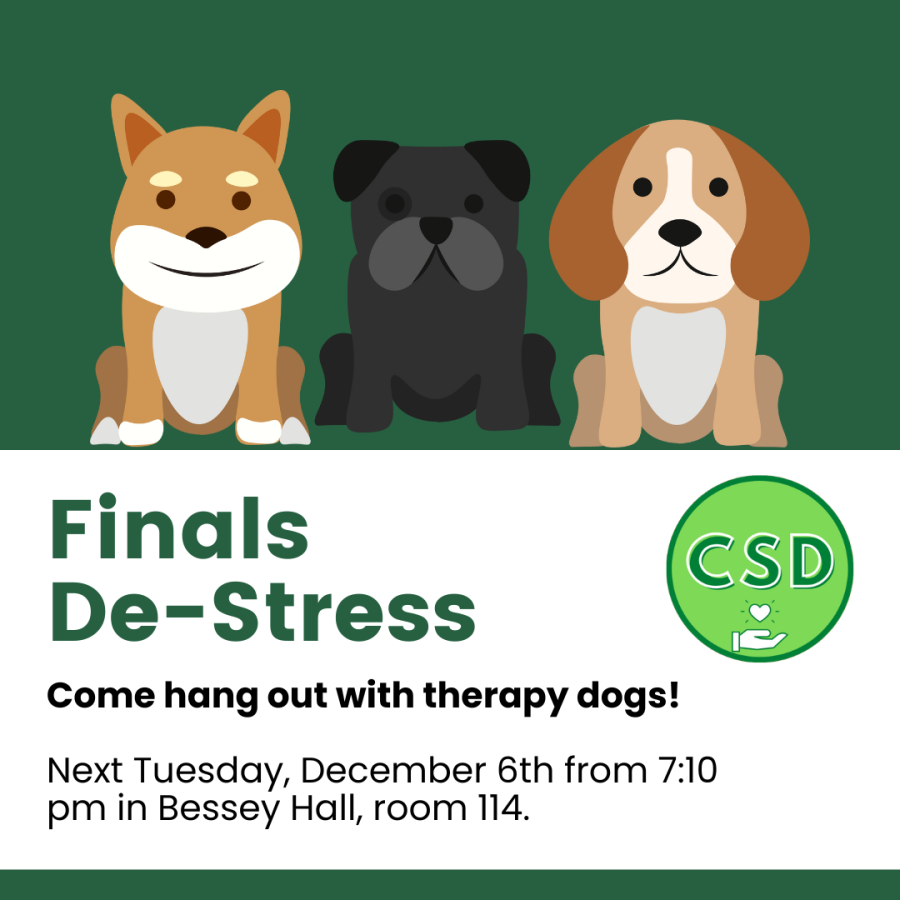 CSD invites you to our final meeting of the semester! We will be bringing therapy dogs for what should be a pawsome finals de-stress! We'll be in Bessey Hall, room 114 next Tuesday, December 6th from 7:10 pm - 8:10 pm. Snacks, crafts, and other fun activities will be provided.