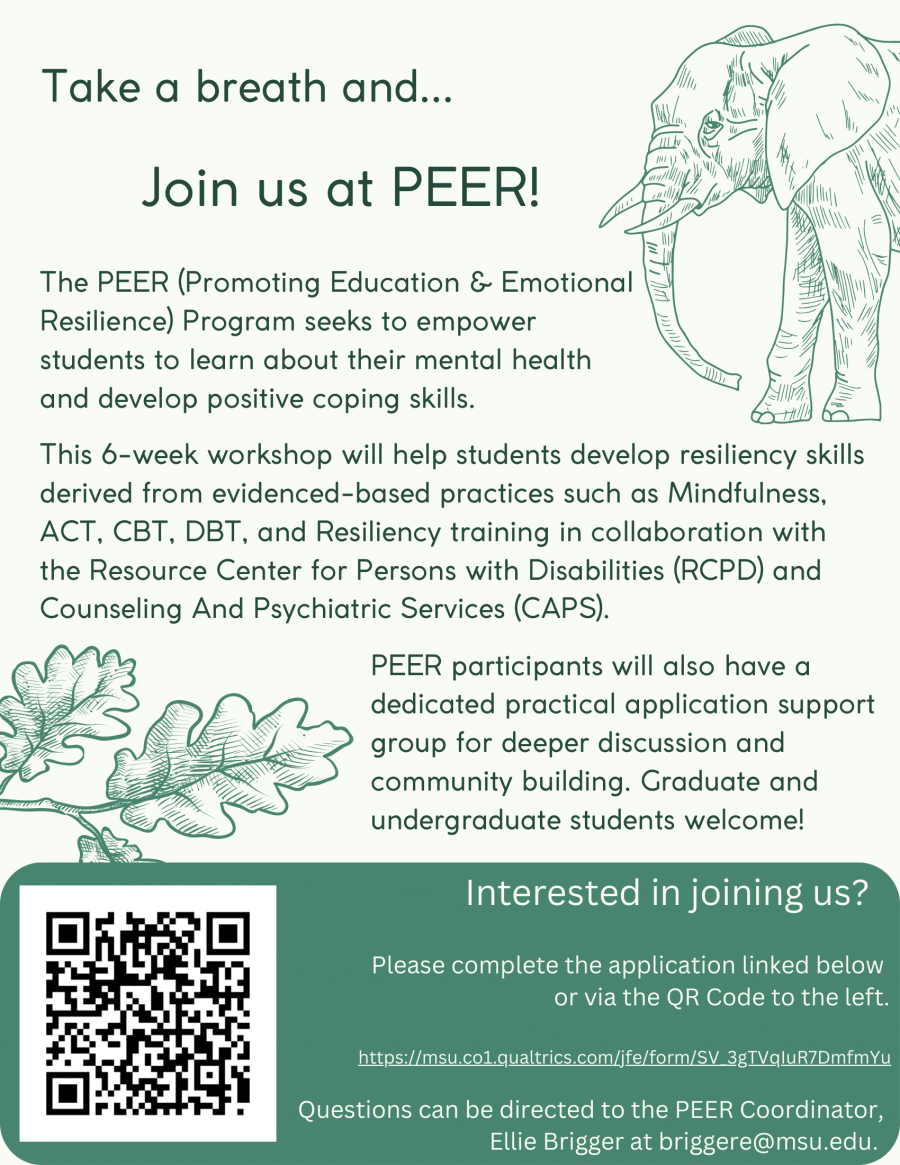 PEER: Promoting Education & Emotional Resilience
Program for Students with Mental Health Conditions – PEER: Promoting Education & Emotional Resilience
PEER Program signups are now open for the Fall 2023 semester! The PEER (Promoting Education & Emotional Resilience) Program seeks to empower students to learn about their mental health, develop positive coping skills, and work through navigating challenging barriers.
This 6-week workshop will help students develop resiliency skills utilizing techniques derived from evidenced-based practices such at Mindfulness, ACT, Executive Function building, CBT, Emotion Regulation with DBT, and Resiliency training in collaboration with the RCPD and Counseling and Psychiatric Services (CAPS). PEER participants will also have a dedicated practical application support group for deeper discussion and community building.
For the Fall 2023 semester, the program will run September 11th through October 16th. Participants are expected to commit to both workshops and support groups for the 6-week duration of the program (a 2-hour weekly commitment). Weekly meetings will be held:
Mondays from 2:00pm – 3:30pm over Zoom
Questions? Contact your RCPD Specialist or program coordinator, Ellie Brigger: briggere@msu.edu.
ADHD Community Groups
Back by popular demand! Our ADHD Community Group starts up again next week! We will have two sessions: graduate and undergraduate. Our groups are informal and led by peer facilitators. This is a place for you to connect with peers through shared experiences, conversation, and advice. All who identify with the diagnosis of ADD/ADHD, and/or identify with the symptoms of ADD/ADHD are welcome to join. No medical documentation is required! Last semester, we covered topics like time management/organization, helpful tips, relationships, sleep, emotions, and more. The group will decide which topics to cover as the semester goes on!
Registration is limited. Please email Kelsey Foote (footeke1@msu.edu) and Jessica Lutz (lutzjes1@msu.edu) if you cannot register and would like to be placed on a waitlist. Here are the details:
Check back for Fall 2023 details!
Spartan Study
Check back for Fall 2023 details!
Spartan Ties
Spartan Ties is a fun, interactive weekly meet-up hosted by MSU's Tower Guard student volunteers in partnership with the RCPD, providing an opportunity for students registered with the RCPD to meet new friends and try new things. No specialists, no advisors, just students! Events will cover a range of topics and locations, such as meals, casual conversation, and stress reduction.
Current dates and times are listed below and will be updated each month. Please note, you do not have to commit to attending every session; students may participate in as many or as few sessions as they like.
Check back for Fall 2023 details!
Adaptive Recreation Events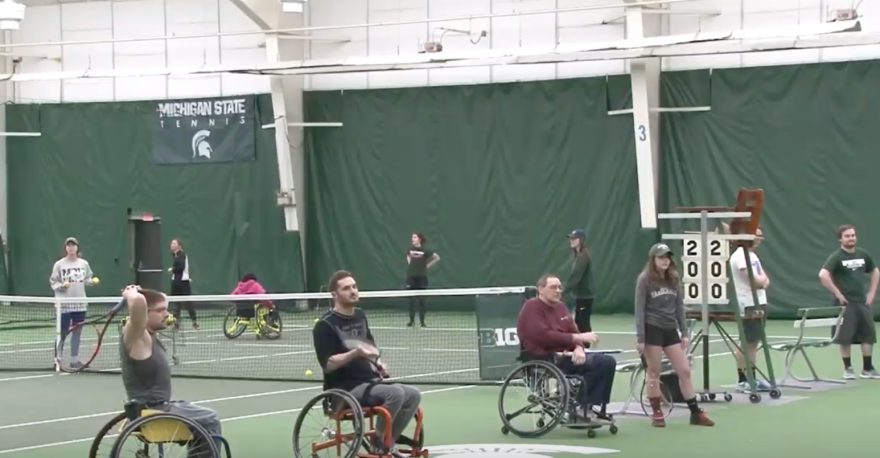 MSU Adaptive Sports & Recreation Club schedule
Check back soon for fall information!
Movement for All Abilities
EveryBODY benefits from subtle movement, breath, mindfulness, and sensory input to navigate stress and experience safety, self-compassion, confidence, and community. The simple truth is that it takes a unique set of tools to ensure that everyBODY has access to spaces that honors all aspects of body, mind & heart. Choose what class works best for you.
Navigating Stress in Structured Spaces - what you'll find:
Sensory Aware Environment
Trauma-Sensitive Approach
Photos of people doing the movement
Sequences of movements that are color coded (e.g. red cards are for standing, orange cards are for lunges)
A "check list" so you know the order and completion of the practice
Additional visual supports (optional) for motor planning
Safe space for Neurodivergent Minds & Bodies
Requirements: Water bottle & loose fitting clothing.
Navigating Stress in Adapted Spaces - what you'll find:
A sensation-based class honoring subtle movements that are universal to all
Trauma-Sensitive Approach
This class does not judge breath or movement; instead asks you to stay curious and open-minded to NEW experiences
Laughter, music, aromatherapy, stories, proprioception, and touch are incorporated to support sensations of ease, grounding, and balance
Getting on a mat is available if you have your own assistance
Safe space for bodies with disabilities
Check back for future dates/times!
Council for Students with Disabilities (CSD) Events
Check back for Fall 2023 details!
You can follow CSD on Instagram (@msucsd) or Facebook (MSU Council of Students with Disabilities) to keep updated on meetings, events, and resources!