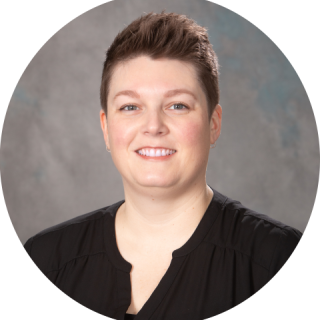 Ability Access Specialist, BOND Program Coordinator
Lindsay Hill 's phone number: (517) 884-1912
Lindsay Hill
She/Her
Lindsay Hill joined the RCPD team in January 2017. Lindsay is passionate about helping students successfully navigate higher education and the transition to successful employment. Her primary responsibilities include working with students, staff and employees to find the right accommodations they need to find success at MSU. She also leads the BOND program for students with ASD; facilitating a transition program prior to fall semester, teaching a fall seminar, and hosting monthly social skill building events. Lindsay has been a Spartan for life, earning her Bachelor's degrees in Psychology and Speech and Language Pathology from MSU in 2002. She spent more than 10 years out of state, primarily as a high school special education teacher after earning her first Master's degree , and then returned home to further her education. She is a graduate of the Master's program in Rehabilitation Counseling at MSU and enjoys working closely with the program to help train new graduate students.
Fun Facts About Lindsay Hill
What is your favorite quote?
"May today there be peace within… May you trust that you are exactly where you are meant to be. May you not forget the infinite possibilities that are born of faith in yourself and others. May you use the gifts that you have received, and pass on the love that has been given to you. May you be content with yourself just the way you are. Let this knowledge settle into your bones and allow your soul the freedom to sing, dance, praise and love. It is there for each and every one of us." Teresa of Ávila
Before working at MSU, what was the most unusual or interesting job you had?
After college, I moved to Trinidad and Tobago with my soon-to-be husband and worked with many children with disabilities both in private schools and homes. I connected with both the Autism Society of TnT and the Cerebral Palsy Association and provided basic speech Language pathology services.
What is your favorite movie and why?
I am one of those people that loves to rewatch movies over and over; movies like A League of their Own, Dirty Dancing, and Harry Potter. In the days of cable it was fun to watch them whenever they came on TV and while I have embraced the on-demand, Netflix culture, there is nothing quite as satisfying as flipping through channels and finding one of your favorites playing once again.
What is the best piece of advice you've ever been given?
One of my favorites from a former teacher: "A building is created brick by brick and while you may not be able to build the the whole thing yourself, you can figure out which bricks you can contribute. Without your bricks, the building would be incomplete."