Since the mid-1990s, RCPD and the College of Engineering have partnered to spearhead projects that address accessibility challenges for persons with disabilities. This work positively affects countless lives while informing future engineers of the ways that accessible and universal design principles are marketable and life-changing.
Each semester, ECE 480 faculty and senior students collaborate with RCPD's Assistive Technology Specialist to tackle an array of engineering challenges, with one to two projects devoted to improving accessibility. Projects are typically proposed by persons with disabilities and then sponsored by corporate or private entities interested in accessible design. People with disabilities also serve as part of the expert team that guides concepts to completion.
Are you a person with a disability who has an idea for a future project? If so, tell us about the challenge at hand and how a team of electrical and computer engineering students can become involved in addressing it. Note that all submissions are public domain and that we cannot guarantee confidentiality or recognition.
For more information about the College of Engineering's Design Day visit their website or explore RCPD's archives below. Check out this Fall 2016 article about the impact of the MSU Guide App!
RCPD Design Day Projects – Spring 2019
Sponsored in Part by Harold F. & Phyllis N. Wochholz and Marathon Oil. 
The first-place winner was the Jungle Power Pod: A Photovoltaic Battery-Powered System for Common Portable Electronic Devices
The Jungle Power Pod is a low-cost system for operating electronic devices.

It is a universally designed device that is accessible to persons with visual and hearing impairments.

This technical solution is intended for use in hospital rooms at the Bombardopolis Health Center in Haiti and remote households around the world.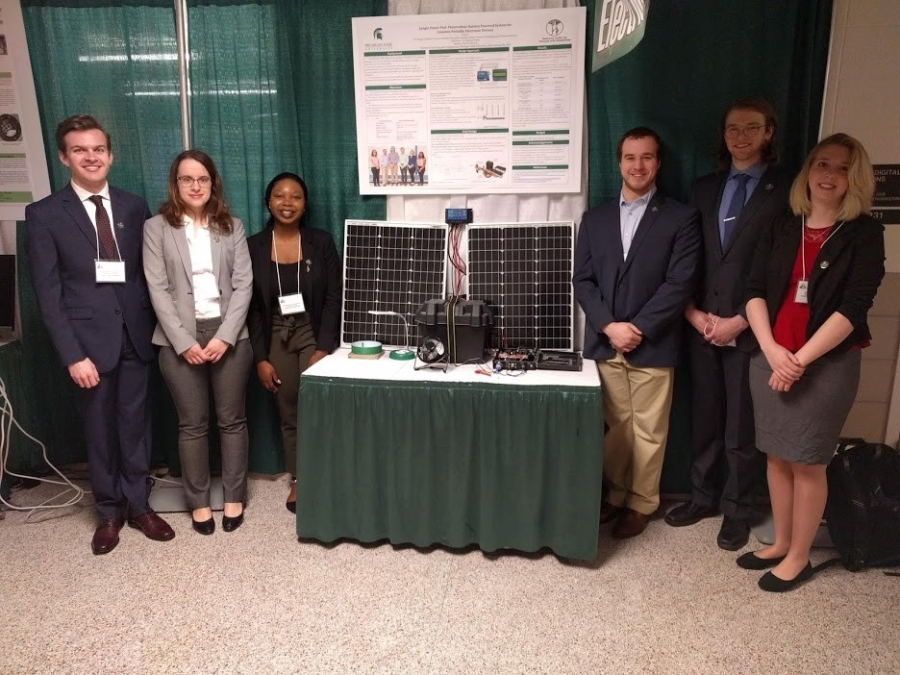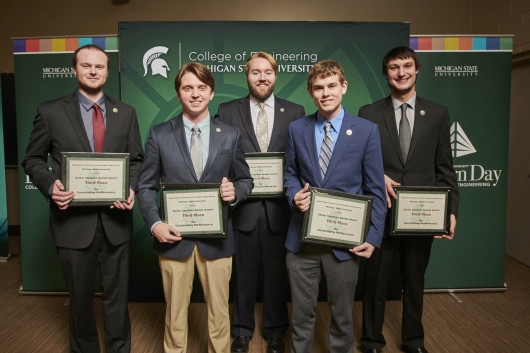 The third place team was a collaboration between MSU Bikes and RCPD, producing the

Intelligent Defense System: a portable sensor that mounts under the seat of a bicycle or can be handheld and alerts the user of approaching vehicles.
This device will be able to detect approaching vehicles from behind. Side and front sensors can be considered in future projects.

If a vehicle is approaching and possible collision is predicted it will alert the user in the following ways:

An alarm or voice sound

Flashing light (including flashes toward the approaching vehicle)

A wireless signal could send information to a cell phone that the user is carrying or has mounted on their handlebars. The cell phone would then be able to alert the user with sound and light.

Simplicity, reliability, and low cost will make this a product that has a good chance of high sales and mass production thereby saving more lives.
Spring 2018

For many years the RCPD has been developing assistive technology to help students at Michigan State University and around the world. Many collaborative projects with the College of Engineering, The Artificial Language Laboratory, and other departments at MSU have provided innovative solutions that have enhanced the lives of individuals.

Technology is currently being replicated in India and is helping many individuals with blindness study:

medical science
physical therapy
massage therapy

Spring 2018

View photos of the project in Haiti.

ECE 480 students during the spring 2018 semester will specify a power system and design a power control monitoring system for the OIH hospital in Bombardopolis Haiti.

This will be used by the hospital to monitor the solar panels, wind generators, batteries, voltage inverters, engine generators and room power availability.

A permanent wall mounted display panel in the hospital with a picture of the hospital floor plan and the power generation sources (wind mills, solar panels, batteries, generator) with a red -yellow- green LED could indicate where power is available on the hospital floor plan, this will provide a fast way to diagnose trouble areas.

This microcontroller based panel should be independently powered with its own battery so it will continue to function even if the whole hospital looses power.

The challenge is finding a design that is capable of withstanding a hurricane, may need to build custom units. ​

Spring 2018

ECE 480 students during the Spring 2018 semester will work with Lee and his team to build the electronic control interface that will operate a motor in a 3-D printed hand to actuate grip

Previous project used RC type servos for actuation, these proved unsatisfactory, improved system needed

Minimum function would be to control only one actuator to provide gripping. If time permits other degrees of freedom could be provided, such as individual finger movement or wrist rotation.

About Lee

Former RCPD student, Lee was born with missing left arm below his elbow
Hasn't worn a prosthetic since the age of 14, felt he didn't need one
Wearing a prosthetic would help him build muscle on his left side and balance the way he moves
Student would like to custom build his own

Fall 2017

Sports wheelchair that fills need for athletes who are affected by upper body muscle asymmetry but who possess relatively complete lower body functionality.

Team started with a standard sports wheelchair and integrated a device that allows the chair to be powered by the athlete's legs rather than by his or her arms​.​

Device does not compromise the integrity of the wheelchair frame and allows the user to steer and brake easily despite his or her input limitations.

Spring 2017

This "rowing" powered tricycle lets the user with motoric disability define where to apply strength in a short range of motion.

This system was created as part of a collaborative effort of the MSU College of Engineering and the Resource Center for Persons with Disabilities through their support of the Adaptive Sports and Recreation Club.

​While this unique propulsion system was custom designed to accommodate the athletes that will be using it, many other visitors on Design Day enjoyed zooming down the halls of engineering, see below. This universal designed system will undoubtedly be a long-lasting solution for the club.

Fall 2016

Goal was to create a safe, durable, and ergonomic posterior posture walker that easily moves with the user during a sports application.

Intent is to allow users to utilize their full body when exercising, rather than being constrained to a wheelchair.

Device is intended to be used by persons with partial control over their lower limbs.

Can be used on a variety of surfaces such as a track, turf, and a basketball court.

New design included ergonomic handgrips, a foot shield for the back wheels, and a quick switch to lock/unlock the front wheels.

Spring 2016

2018 UPDATE:

New design has moved ​the camera to the gun where it is mounted similarly to a scope.

The camera is able to see the target and bullseye.

A microprocessor uses image recognition and sound feedback to guide the user to the target.

​Upgrade is not finalized, the microprocessor will eventually be moved to the gun along with the camera to make a complete system that can be used anywhere.


2017 UPDATE: Check out the final test video for this project on the right side of the page! Read about the project on WKAR.

Aims to provide improved accommodations to blind individuals who wish to participate in recreational activities at the Demmer Center, such as archery and small caliber target practice.
Current spotting scopes for precision pointing devices are heavy, making quick, precise movements impractical. These current systems do not guide the user towards the target but require cumbersome groping techniques and extensive human guidance for success.
Project team members plan to replace the cumbersome spotting scopes with a directional multimodal feedback system using haptic signals and simultaneous audio changes that guide accurate target identification.
This device will abolish the need for groping because the feedback will always point the user in the direction of the bullseye.
This feedback can also give users external information like target distance, size of target, and wind speed.

Spring 2016

The RCPD continues to collaborate with Asian Aid, assisting people with disabilities in India, Sri Lanka, Nepal, and Bangladesh. An easily manufactured wheelchair motor design is being created that can be made and sold in India. This will help support orphanages and a free medical clinic.

MSU Adaptive Sports Club also hopes to utilize this project to assist in building human-powered tricycles for use on campus.

Students in ECE 480 successfully converted an automotive alternator to a motor in Spring Semester of 2015.

Visit their webpage for more details.

This semester, students are designing a more robust PCB circuit that converts inexpensive automotive alternators into brushless DC motors for use in electric wheelchairs and bikes.

The improved PCB circuit will upgrade control for field strength, incorporate regenerative braking, and enable reversing.

Fall 2015

The RCPD in collaboration with Asian Aid assists people with disabilities in India, Sri Lanka, Nepal, and Bangladesh. An easily manufactured wheelchair motor design is being created that can be made and sold in India to help support orphanages and a free medical clinic.

MSU Adaptive Sports Club also hopes to utilize this project to build human-powered tricycles.

Team 9 from ECE 480 designed and built a circuit which converts inexpensive automotive alternators to brushless DC motors.

The circuit has a variety of technical components ranging from rotary position sensors to MOSFET rotor field strength drivers.


Spring 2015

ECE 480 students partnered with RCPD and Asante Solutions, Inc. to create an intuitive and functional insulin pump prototype for all users.

Within the United States' diabetes population, over 5 million diabetics have a form of retinopathy, which leads to vision loss.
Currently available insulin pump controls are not accessible to the blind restricting independence and forcing users to share personal information several times a day.
The team created an accessible insulin pump prototype that provides independent access to today's state-of-the-art medical technology.
For more information, visit ECE480 Team 3's page.

Spring 2015

David is a bright, successful Michigan State University undergraduate student who has a visual and motoric disability. He uses a walker for assistance while traveling on campus.

David recently fell down an unfamiliar flight of stairs on campus when he did not see the drop-off as he approached. He then used this experience as inspiration for the RCPD/ECE 480 Capstone Team, Smart Walker Device project. The team designed and built an intelligent sensor and feedback device to attach to David's walker consisting of two sensors with microcontroller integration and a rechargeable power supply that enables drop-off detection from a safe stopping distance. As there is no comparable device currently on the market, the design and methods to produce the Smart Walker Device will be a breakthrough for the assistive technology industry, as well as for users with disabilities. Quality of life for users across multiple demographics including senior citizens, stroke patients with vision loss and/or balance impairment and veterans with vision loss and/or balance impairment due to traumatic brain injuries will improve by offering them a Smart Walker Device that ensures their safety, as well as offering them further confidence and personal independence.

The Smart Walker Device was designed to assist visually impaired walker users to move about with greater confidence.

The device will alert the user of upcoming drop-offs by triggering an auditory alert system so the user has enough time to stop

This Smart Walker Design was created for MSU student, David who experiences a visual and motoric disability. David was using his previous walker in an unknown area of campus where he fell down a flight of stairs.

David, the RCPD, and the College of Engineering built the Smart Walker to ensure David's safety and personal independence

For more information visit ECE 480 team's 4 page


Spring 2015

EGR 100 students demonstrate to Piotr Pasik methods for transferring from a wheelchair to a 3-wheeled bike

EGR 100 students created devices that help the MSU Adaptive Sports Club members participate in cycling, hockey, rugby, and other activities at MSU.

Piotr Pasik, Adaptive Sports Club Coordinator, worked with the RCPD and EGR100 students to create wheelchair straps, hand powered bicycles and transfer devices.


Fall 2014

In the United States, a large percentage of diabetics have decreased vision due to diabetic retinopathy. Every year, RCPD secures funding and challenges engineering students to create feasible universal solutions and showcase them at the renowned Engineering Design Day.

A leading manufacturer of insulin pumps, Asante and global company, Marathon helped sponsor this innovation

This device verbally announces functions necessary to control and make use of the device.

For more information visit ECE 480 Team 4's page.

Fall 2014

EGR 100 students developed accessible electronic teaching tools to help young people learn the basics of electronics.

Assistive Technology Specialist Stephen Blosser, took the projects to several schools in Andrea Pradesh, India; including a school for the blind in Bobbili, and the Kollegal School for the deaf.

In true RCPD spirit, innovative engineering projects, reach for full participation of persons with disabilities, getting an education, participate in life, become self-sufficient, and tackle challenges.

Spring 2014

Currently there are no existing devices that utilize a refreshable display in order to display 3D images.

Team 5 constructed a device that is able to receive image files, analyze and process the image in terms of color intensity, and then ouput the results via a 3D pin matrix display, with color intensity determining the height of each pin.

The refreshable nature of this device means that it has numerous practical applications.

For more information visit ECE 480 Team 5's page.

Spring 2014

ECE 480 students created a Bluetooth Low Energy (BLE) beacon to assist blind people in navigating around campus.

The RCPD looked to use the iOS7 Apple iBeacon technology for assistive navigation, allowing iOS 7 and Android based smart phones to precisely calculate their position inside a building.
The devices will be able to detect the beacons, calculate distance from the beacons based on the received signal strength, and display notifications and navigation information based on their location.
For more information visit ECE 480 Team 6's page.

Spring 2014

Tactile Graphics and Braille are essential components to making education accessible to the visually impaired.

ECE 480's Team 8 designed a specialty printer that can be used to produce tactile graphics and maps for blind users/students at MSU.

This designed tactile graphic printer should produce more durable images and cost significantly less.

For more information visit ECE 480 Team 8's page.

Fall 2013

The RCPD wants to implement the program used to scan textbooks to aid blind students, in a school in India, but the power grid is very unreliable causing frequent power outages.

The team took on the challenge to design an expandable power supply for a laptop computer lab that will use solar power to keep a battery bank charged in order to supply power to as many as 30 laptops.

After designing the system, the team's solution is able to power two laptops for eight hours and charge the deep cycle batteries using solar power.

For more information visit ECE 480 Team 6's page.

Spring 2013

Research indicates that persons with disabilities are less likely to vote, in part because of accessibility issues with voting machines.

ECE 480 students decided to create a detented, double axis joystick with haptic feedback control for individuals with mobility disabilities or dexterity difficulty.

The joystick involves an integral display that will be used to operate electronic voting systems, diminishing any discomfort and additional time that it took persons with mobility disabilities to vote.

For more information visit ECE 480 Team 5's page.

Spring 2013

Sponsored in part by Marathon and Chrysler, the Haptic Interface Phase II continues the efforts of Phase I to create a reasonably priced method of translating graphic images from a computer screen into a format that individuals who are blind can access.

This haptic interface uses solenoids which magnetically charge metal bars that raise and lower pins through voltage pulses.
Users felt that the vibrations in Phase I were distracting, so Team 6 strived to create higher resolution images while using non-vibrating pins, maintaining the same efficiency of the interface.
For more information visit ECE 480 Team 6's page.

Fall 2012

Designed by ECE 480 team for college student Branden Bennett who has cerebral palsy which can lead to interferences with speaking, typing, and other motor skills

The detented, adjustable, programmable joystick includes features such as an adjustable number of detents, adjustable force threshold, and software controlled damping

The joystick will allow Branden and others with cerebral palsy to navigate computers and other technologies

To learn more about this project check out the ECE 480 team's website!

Fall 2012 ​

Students were motivated to create the Haptic user when they observed the lack of reasonably priced products or effective methods to portray 2-D images to people with visual impairments.

The Haptic Interface employs "vibrating pins through the use of in-house solenoids and almost entirely in-house parts"

ECE 480 students created a haptic device that enables blind users to: read graphs, charts, drawings, and other images tactilely from their computer screens

To learn more about the project check out the ECE 480 team's website!

Spring 2012

EGR 100 students created accessible science experiments for students who are deaf in Kollegal, India.

Students developed lab equipment and corresponding accessible instructional material, including captioned videos. Projects facilitate the following science lessons:

How to solder
How to read a vernier caliper
How to use an oscilloscope
Practice measuring mass
Measuring sound techniques, using a voice meter

Fall 2011

The 3D models have arrived at the school in India. Read about how this exciting project is creating a world of opportunity for students who are blind.

MSU Engineering students have expanded their work of maximizing opportunity and ability beyond U.S. Borders.

Approximately 50 EGR100 students developed accessible 3D anatomy models for students who are blind in Bobbili, India.

The 3D models are equipped with talking labels which are activated by livescribe pen technology to facilitate interactive learning.

Spring 2011

This universal design project is a navigation system that will enable people who are blind or visually impaired and others to move inside buildings knowing moment by moment where he/she is and what points of interest are nearby.

The goal of this project is to prototype feasibly priced hardware that will locate, within 10 feet, a person carrying a portable electronic beacon and a cell phone or other portable internet device within a building. This location will be reported to a server via networked receivers to guide the user inside the building.

Spring 2011

Doug is a transitional resident at Hope Network in East Lansing who wants to become more independent in his ability to cook.

ECE 480 students created a robotic arm and joystick control interface. This interface will allow Doug to operate the robot arm in his kitchen.

The robotic arm will move on a track mounted on the wall behind his counter top. This wall mounted unit will move over the workspace, sink, cooktop and possibly into the dishwasher and refrigerator.

Fall 2010

ECE 480 students designed and created a smart grid ready, accessible wheelchair charging device. The device optimizes charging cycles to occur primarily during "off-peak" hours when electricity costs are lower.

The device features accessible technology to allow for ease of use by those who are disabled or otherwise impaired. The charging optimizer allows users to simply enter the desired charge completion time and leave the charger to handle charging optimization autonomously.

Fall 2010

ECE 480 students re-engineered an accessible manufacturing device that was designed to cut pleated ribbon to length and be operated by someone with cognitive and visual disabilities.

The machine will be employed at a company called Lettuce Duit located in Galien, MI where the cut ribbons are used to construct prize ribbons.

The ECE 480 team improved the machine by making it more robust, easier to maintain, and faster at cutting ribbons. Specifically, the team added variable speed control to allow the machine to run faster or slower as required. They redesigned the interface and control systems to allow the machine to be reprogrammed when needed.

Spring 2010

A demonstration device called an "Accessible Home Energy Audio Dashboard" (AHEAD) was constructed by students to model how individuals with varying disabilities will interact with Smart Grid devices. The AHEAD is an accessible energy management system (EMS) that will receive commands from users. It will interact with their smart meter, appliances and other energy consuming devices.

The next phase in this project is to install fully functional prototypes into apartments or homes of users with disabilities. This will provide users with home automation and environmental control allowing them to live independently and frugally. The RCPD is currently seeking sponsors to fund the project.

Spring 2010

Students successfully constructed a working device called the Synchronized Audio indexed Note Taker (SAiNT). This device consists of a keyboard with an audio recording module. The SAiNT is used to record a lecture, meeting, conference, movie or similar audible experience while a person types notes on what is happening. It also records the text being typed and synchronizes it to the audio recording.

The SAiNT enables visually-disabled individuals that rely on recorded audio and other users to quickly search and navigate recorded audio recordings.

Fall 2009

The environmental parameter of temperature is a challenge that has an impact upon many different aspects of the life of the disabled. In many disabilities the temperature regulating mechanisms are dysfunctional.

Students designed and completed a working prototype of a portable electrically powered heating/cooling device that is being used by Neal Langford.

The device uses a solid state Peltier module to heat or cool water that is circulated through small flexible tubing woven in sweatshirts or jacket liners. The system monitors Neal's core temperature and adds or removes heat when needed. The system power is provided by Neal's wheelchair batteries.

Spring 2008

ECE 480 students in conjunction with the ALL created an accessible production machine enabling a blind and cognitively disabled worker in a manufacturing facility operate machinery.

Demonstrated universal design and voice feedback to enable persons with disabilities to find employment in micro-enterprise environments.

Spring 2008

ECE 480 students manufactured a sip and puff interface for a quadriplegic who needed to use several different applications on his computer and telephone on a daily basis.

The team created the sip and puff environmental control system for him that was fully programmable and enabled him to configure the interface to do different tasks independently.

Spring 2007 and 2008

The game of beep baseball requires fast and accurate localization ability of the beeping baseball.

ECE 480 students created several beeping devices that enhanced the ability of users to hit and field balls more quickly.

The different sounds and sound creating devices were evaluated in conjunction with the MSU Adapted Sports Club.

Spring 2007

ECE 480 students successfully constructed an adjustable force control system for a quadriplegic woman who is unable to use standard computer input devices.

She was able to use this system to operate her electric wheelchair, navigate her computer operating system, communicate with her family and write a book of poetry describing what her life is like and the many challenges she faces.

The Proportional Chordic Keyboard was the recipient of the best of show award as determined by visitors on Design Day.

Fall 2007

ECE 480 students created an MP3 player that when text is highlighted and selected is read aloud.

The MP3 player has an algorithm that was developed for displaying synchronized lyrics and can be adapted or modified to serve as a portable book reader with highlighted text.

The Portable Audio-Visual Book Reader received the Professor's Choice Award at Design Day.

Fall 2006

Farmers with disabilities are challenged to climb storage bins where they store grain, soybeans and corn to visually monitor how full these containers are.

ECE 480 students prepared a device that automatically measured the depth of these bins. The readings were accessible for farmers through a wireless link to a farmer's handheld monitor.​

Fall 2006

Some wheelchair joystick users often have a difficult time using a mouse, touchpad or keyboard for computers.

ECE 480 students constructed a wheelchair joystick add-on unit utilizing sensors that monitor the position of a magnet in the handle of the joystick.

When the user wishes to control the cursor on their computer screen they simply turn off their wheelchair and the joystick then becomes a mouse control device.

Fall 2005

Persons with visual impairments or mobility disabilities have limited opportunities to obtain proper exercise. ECE 480 students worked with the MSU Intramural Fitness Center to outline ways in which exercise machines can be made accessible.

Students developed a wearable, talking PDA that accompanies a visually impaired exerciser that provides feedback on heart-rate and performance through the use of Bluetooth communications.

Exercise machines at MSU Fitness Centers were adapted with Bluetooth transmitters needed to send signals back to the user.

The Accessible Fitness and Exercise Equipment invention was the Professor's Choice Award at Design Day.

Spring 2005

ECE 480 students created a screen reader accessible Web designer tool that enables engineers to easily create methods for persons with disabilities to access equipment in their own homes and offices.

The project was demonstrated in using microwave ovens that are accessible to visually impaired individuals via the web.

Spring 2004

The Artificial Language Laboratory (ALL) is working with a young man with a motoric disability. As a result of a brain injury the student is visually impaired and experiences motoric disabilities. The student has successfully used a custom chordic keyboard to type and do schoolwork on a computer.

ECE 480 students in consultation with the ALL and the student successfully constructed a wireless (Bluetooth) chordic keyboard.

The Wireless Keyboard uses solid-state force sensing resistor keys that are activated by an adjustable force.

The Wireless Chordic Keyboard received second place in the Design Day competition.

Winter 2004

Students successfully placed a voice prompter within the existing LED read outs for a Duet Whirlpool washer.

The washer is able to clearly announce each function as it's selected and can run through a full range of selections.

The Accessible Talking Whirlpool Washer received the third place prize in the Design Day competition.

Fall 2004

The Accessible talking Whirlpool dryer works in a very similar fashion as the Whirlpool dryer.

Students placed a voice prompter within the existing technology of a Whirlpool dryer and implanted intelligent use of audio feedback.

The Accessible Talking Whirlpool Dryer received the first place prize in the Design Day competition.

Fall 2004

In conjunction with the Artificial Language Lab, the Fish Hawk Corporation, and the Michigan AgriAbility project, students from ECE 480 were able to create an audible sensor for fishermen with visual impairments.

Students were able to create circuits that were connected to sensors on the fishing boat that would provide auditory feedback of important data needed by fishermen such as trolling speed, down rigor speed, lake depth, down rigor depth, surface water temperature, and down rigor temperature.

The Accessible Talking Fishing Board Instrument System received the second place prize in the Design Day competition.

Fall 2003

The beamforming microphone array evaluation system is an assistive listening device for hard of hearing professors to aid communication with students in noisy classrooms.

The microphone uses an IR control that enabled a hard of hearing professor on MSU's campus to interact with students.

The Beamforming Microphone Array Evaluation System received the third place prize in the Design Day competition.