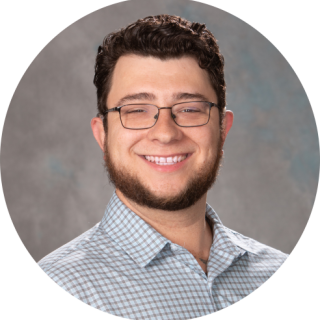 Assistant Director of Assistive Technology Innovation
Tyler Smeltekop
He/Him
Tyler Smeltekop is a lifelong Spartan, completing a B.A. in Professional Writing at MSU in 2008, then served the MSU Libraries after graduation as the Course Materials Program manager for 12 years. In 2018, he completed a Masters in Library Science with a focus on User Experience, to better serve the goals of the Library to improve access to affordable/no-cost and accessible course content. He joined the RCPD team in September 2022 to serve as Assistant Director of Assistive Technology Innovation, aiming to expand on the MSU Community's access to accessible technology, course content and equitable experiences across campus. His lived experience as a Deaf person using hearing aids, cochlear implants, lipreading and American Sign Language has led him to the conviction that no one single tool or tactic is sufficient, and that disability accommodation is a compassionate, creative process tailored to each individual's needs.
Fun Facts About Tyler Smeltekop:
What is your favorite book and why?




A Sand County Almanac by Aldo Leopold. It makes the compelling case to slow down, pay attention, and not to take things for granted, while advocating for responsible nature conservation and enthusiastic environmentalism.

Where is your favorite place in the world?




If I am travelling, you will be sure to find me in the closest National or State Park on a trail; spending a week in and around the Appalachian Mountains in Tennessee was a revelation. Otherwise, my absolute favorite place in the world is my kitchen, where I cook, hang out, and spend time with my family.

What is your favorite quote?




"Above all, I have been a sentient being, a thinking animal, on this beautiful planet, and that in itself has been an enormous privilege and adventure." Oliver Sacks, Gratitude

What are you passionate about?




There is no feeling for me quite like participating in a collaborative effort with motivated, dedicated people in pursuit of removing barriers and improving accessibility. I am driven by the affirmations that stem from this work; that the differences between us make us better as a whole, that compassion and vulnerability must be a part of helping others, and that none of us are alone if we share and work toward a common goal.