Rebecca Fadler
For Adi Mathew, a graduate student and double major studying Computer Science and Human Computer Interaction, working in the RCPD has been an adventurous road. Five years ago, Adi met the RCPD's Assistive Technology Specialist, Stephen Blosser, who was working on a joystick for students with Cerebral Palsy that would minimize the effects their tremors had on mouse utilization. After that, Adi took on project after project until he had found his home at the RCPD.
Since arriving at the RCPD, Adi has done some incredible work including designing the MSU Guide App. The app uses location services to tell users where they are on campus in a manner that accommodates their preferred mode of interaction with a mobile device. Adi explained that "the purpose of this app is to help people who are new to campus familiarize themselves." While the app was originally designed with visual impairments in mind, it is also helpful to sighted students, faculty, and visitors who are looking for a building that they are not familiar with visually.
Adi noted that "the challenge is designing an app so that anyone who uses it thinks that it was designed for them." The diverse group of people at MSU means that the app must accommodate all sorts of abilities. So, the app also includes features for varying degrees of mobility. This is called switch control, which means that users can use head motions to control the app instead of touch.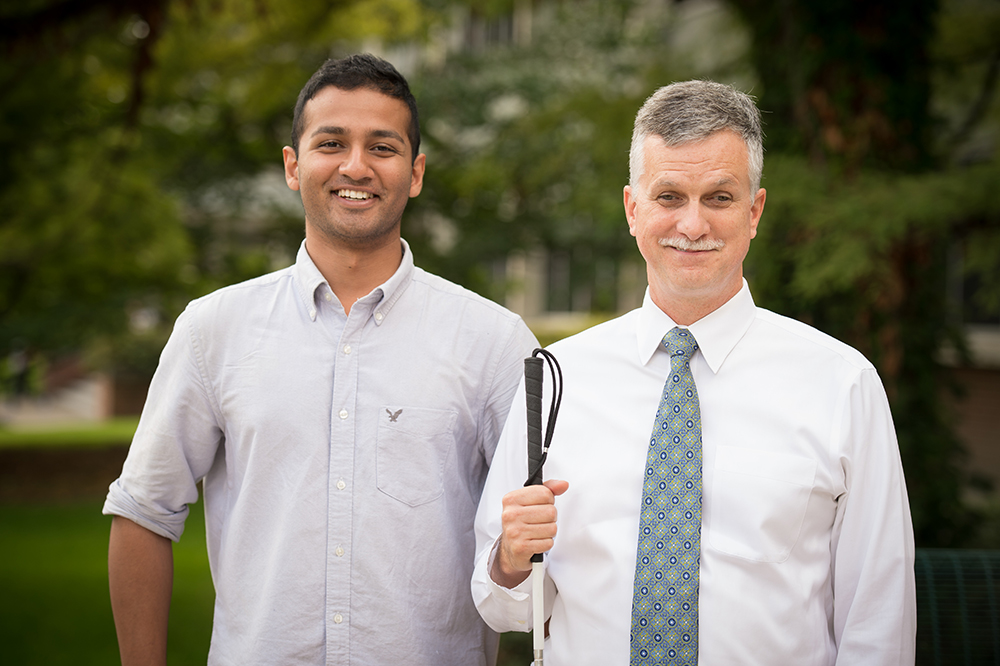 Adi Mathew with RCPD Director Michael Hudson
Currently, Adi also just completed a year long research project called the MSU Mobility App. This project became possible when Adi's talents with the Guide App were noticed on a broader campus level, strengthening an existing partnership between the RCPD and the Engineering Department at Michigan State. To learn more about this partnership, read about Engineering Design Day here.
Complementing the MSU Guide app, the MSU Mobility App was created to help campus planners design a campus that accommodates the needs of people with varying mobile needs. The benefits of such data supported planning have the potential to help all campus visitors. Imagine knowing exactly where a traffic jam is when you are running late for an exam! In designing his apps, Adi values user safety and privacy above all else and works diligently to ensure that the privacy of individual users is protected.
Adi is a valued member of the RCPD. We celebrate his five years of devotion to accessible technology at our office.
Download the MSU Guide App here.
Download the MSU Mobility App here.