Throughout the Resource Center for Persons with Disabilities (RCPD), students and staff alike know that when they encounter a problem which calls for a creative solution, the person they can turn to is Stephen Blosser. Whether it's figuring out why they can't print, using assistive technology, or even fixing a bike wheel, Stephen's expertise makes him the perfect resource.
Stephen Blosser, Assistive Technology (AT) Specialist for the RCPD, has been a pioneer at MSU for 41 years. As of December 31st, 2019, Stephen retired from his AT Specialist role, which had him working closely with MSU associates, assistive technology users, parents, aides, teachers, and healthcare providers. Fortunately, he will continue working as a Consultant on various projects for the RCPD, starting with an initiative for Accessible Mathematics which he has been connected to for several years. In celebration of this change as well as Stephen's many accomplishments, he was honored in December with a tribute luncheon held by his colleagues.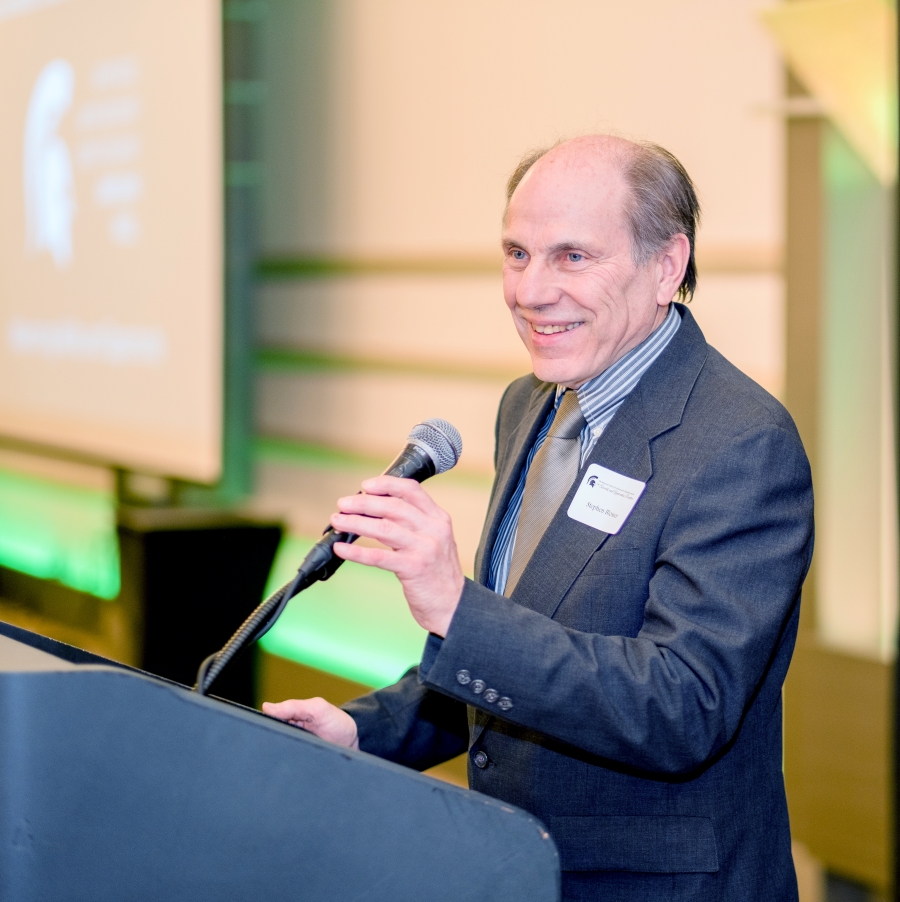 An engineer by both education and passion, over the years Stephen has strengthened the partnership between the MSU College of Engineering and the RCPD through his involvement in Engineering Design Day. His coordinated efforts have resulted in such interesting projects as the Accessible Talking Whirlpool Washer and Dryer, which features an implanted voice prompter with audio feedback, and the Synchronized Audio Indexed Note Taker (SAINT), a keyboard with an audio recording module for lectures, meetings, and movies, allowing an individual to type notes of what is happening. This device also enables individuals with visual impairments that rely on audio to quickly navigate recordings. These projects create state of the art assistive technology, innovative devices that can dramatically improve the lives of people with disabilities, empowering students and employees through the enhancement of learning, living, and recreation.
Stephen's efforts to improve accessibility were especially evident during the Fall 2019 Engineering Design Day. In a partnership with Orphans International Helpline (OIH), a power control monitoring system was designed that will be used by hospitals to monitor solar panels, generators, and other technologies. With MSU Bikes, an intelligent defense system was developed, which is a portable sensor that alerts people with visual impairments of approaching vehicles. MSU Adaptive Sports was also represented, developing a sled hockey transfer platform that increases player safety and independence during transfer to/from personal assistance mobility equipment (wheelchairs, walkers, etc.) to a roller hockey sled.
Stephen Blosser is passionate about providing opportunities to people with disabilities so they can lead fully independent lives. This is why he will continue his work of educating global and local communities in better serving the needs of individuals with disabilities. "I have started a new chapter in my life as I will try to bring some of the 'au courant' assistive technology to people needing it in other parts of the world," says Stephen, who is currently serving as an engineer in the construction of a hospital for Orphans International Helpline in Haiti.
Stephen's phenomenal work has positively affected countless lives while informing future engineers of the many ways in which universal design and accessible environments are marketable and life changing.