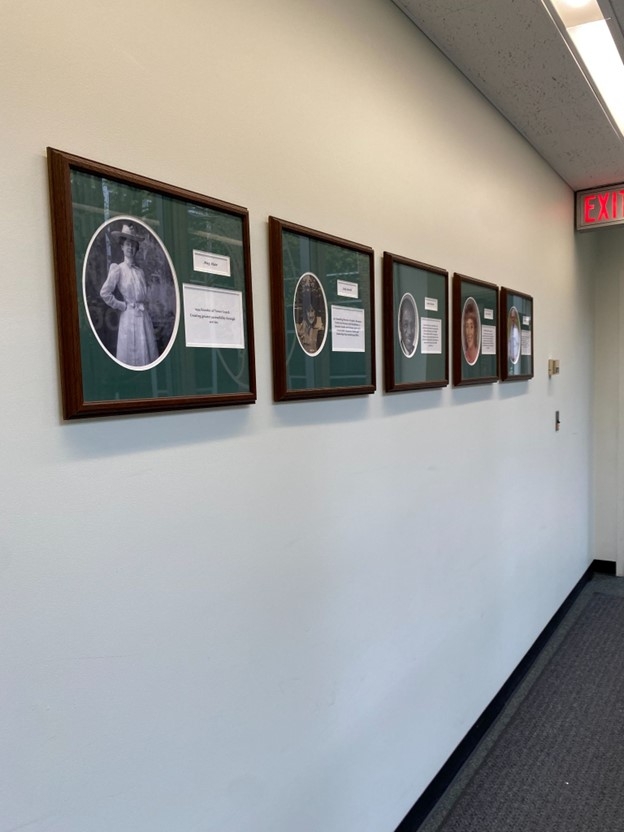 While Chip and Joanna Gaines are busy flipping houses in Texas, the RCPD has been busy with our own DIY project. It's not a house with many rooms to remodel, but the RCPD entryway boasts a long hallway wall to welcome visitors and staff alike. The entry hallway wall has always served as a way to introduce visitors to its rich history by welcoming them with pictures of RCPD honorees—past and present. Prior to the remodeling of the entryway, the photos of honorees were displayed in various frame sizes with dark cherry colored wood frames. The photos did not include any specific tactile or accessibility touches, but they proudly hung, in a linear fashion, on the hallway entry wall to greet all those who entered the RCPD office.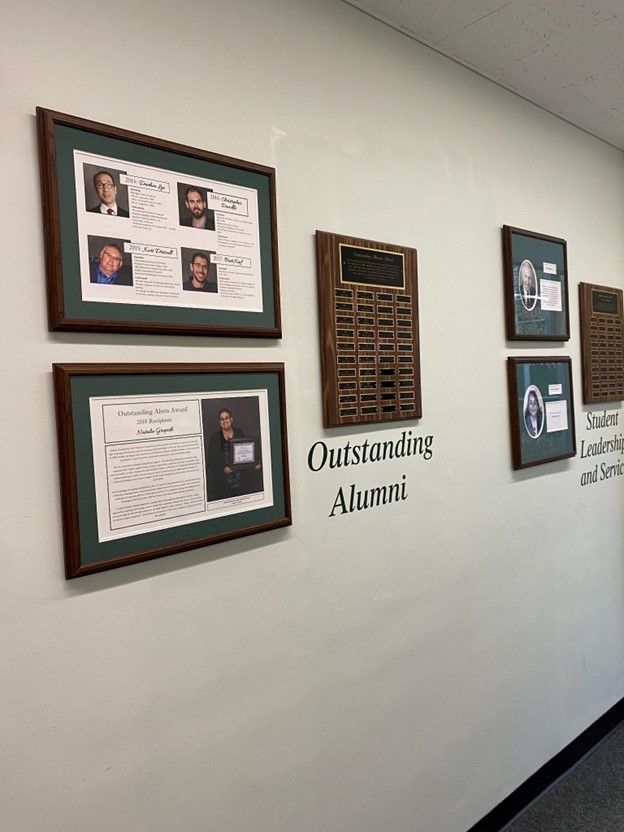 Over the course of nine months, a team of RCPD staff Colleen Floyd, Kiersten Manos, Lynne Swerhone, and MSU student Erin Vollertsen, Art Education Major, have turned their idea of creating a more modern and accessible entryway into reality. With a fresh coat of muted green colored paint, the wall became a blank canvas for the team to brainstorm ideas and come up with a new design that felt more modern and accessible.
The new entryway wall display now features sections of RCPD past and present honorees who all hold one of the following honors: Spirit of Ability, Outstanding Alumni or Student Leadership and Service. The display also includes a new accessible herbarium feature created by Alex White, MSU graduate. Each section has updated black wood frames (in sizes 18"w x 16"t or 22"w x 14"t) that are nicely arranged on the wall with decorative planters as accents. Clear acrylic standoff signs adorn the display which include Braille for accessibility.
The black wood frames and clear acrylic standoff signs were customized for RCPD by a local business, Framer's Edge in Okemos, MI. The owner, LeeAnn Buckingham, has been a working artist for over 30 years and the single owner of Framer's Edge since it opened in 1998. She loves sharing her passion of art with customers and holds various awards such as: receiving an Achievement Honor Roll Award in 2009 from Michigan Commission for the Blind and has served as state commissioner for BSBP (Bureau of Services for Blind Persons). She was also named Greater Lansing Woman Magazine's 2010 Business Woman of the Year.
More About Each Featured Section of the new RCPD entryway is outlined below: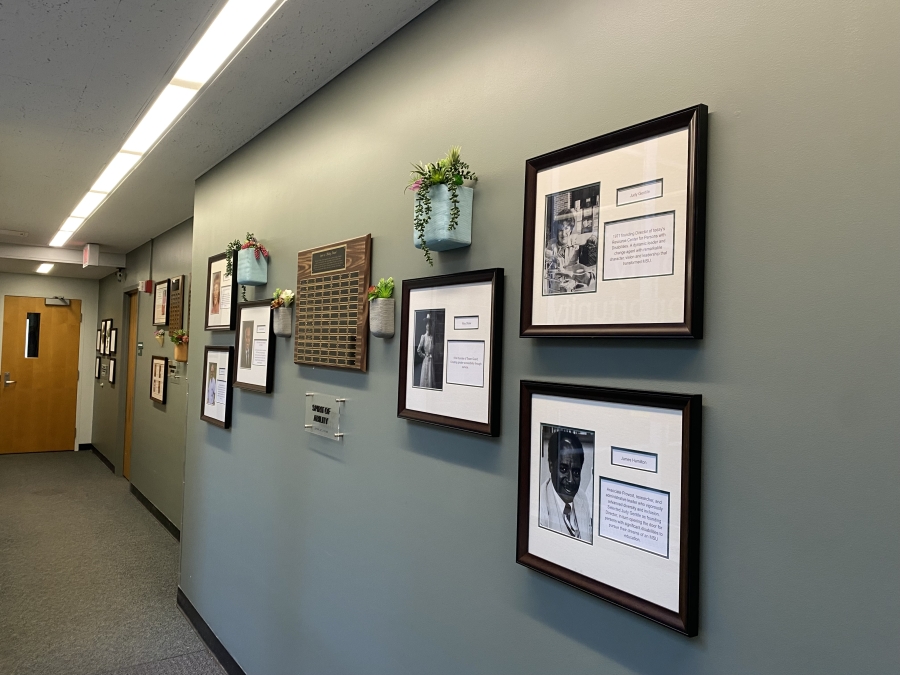 Spirit of Ability
The Spirit of Ability Award commemorates the empowering heritage of founders who saw beyond disabilities. They opened higher education to people whose disabilities were commonly perceived to preclude excellence.
There are currently six honorees framed on the wall, all of whom worked toward empowering those with disabilities.
The most current honoree inducted into the Spirit of Ability honors is RCPD's own Caleb Sandoval who was an energetic RCPD Ability Access Specialist that unexpectedly passed away in March of 2022. An endowment was created in his honor to continue his legacy of creating vibrant environments that welcome, fortify, and compassionately challenge each person to reach their fullest ability. You can help us memorialize Caleb's impact with a gift to this endowed fund. Awards from this endowment will continue on in perpetuity and carry forward the legacy of excellence that Caleb embodied every day.
To read more about the six Spirit of Ability honorees, click here.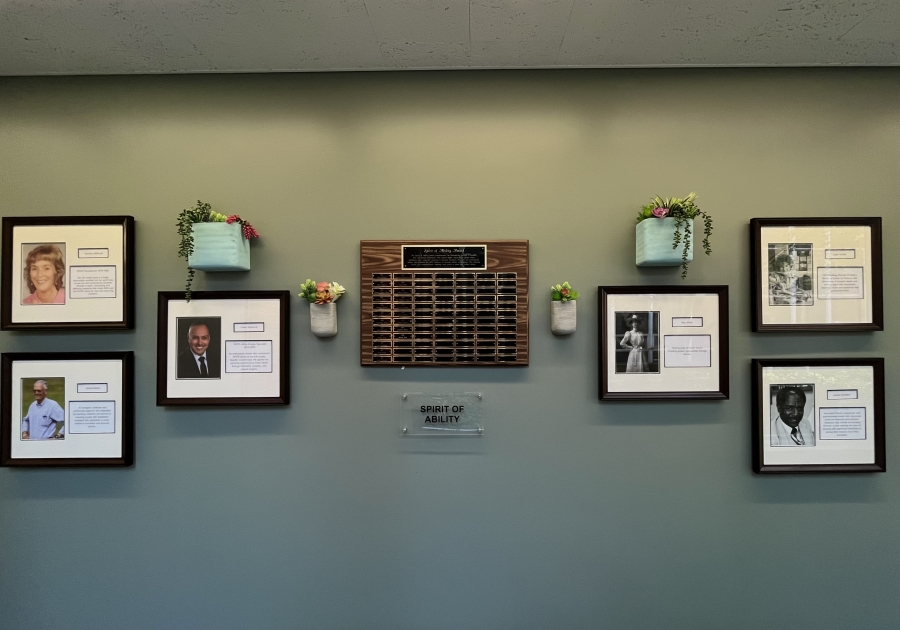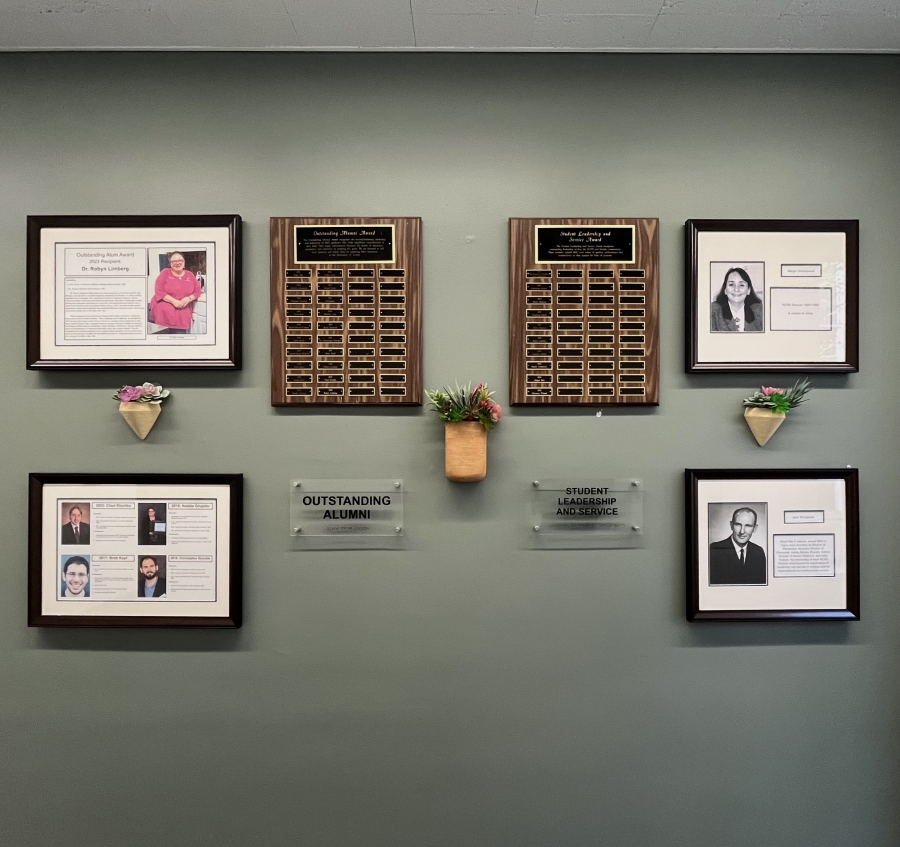 Outstanding Alumni
The Outstanding Alumni Award recognizes the accomplishments, leadership, and dedication of MSU graduates who make significant contributions to their field. Their many achievements illustrate the power of education, persistence, and creativity in reaching life goals.
To read more about our outstanding alumni, click here.
Student Leadership and Service
The Student Leadership and Service Award recognizes outstanding leadership within the RCPD and broader community. These students uphold MSU core values of quality, inclusiveness, and connectivity as they prepare for lives of purpose.
To read more about Student Leadership and Service, click here.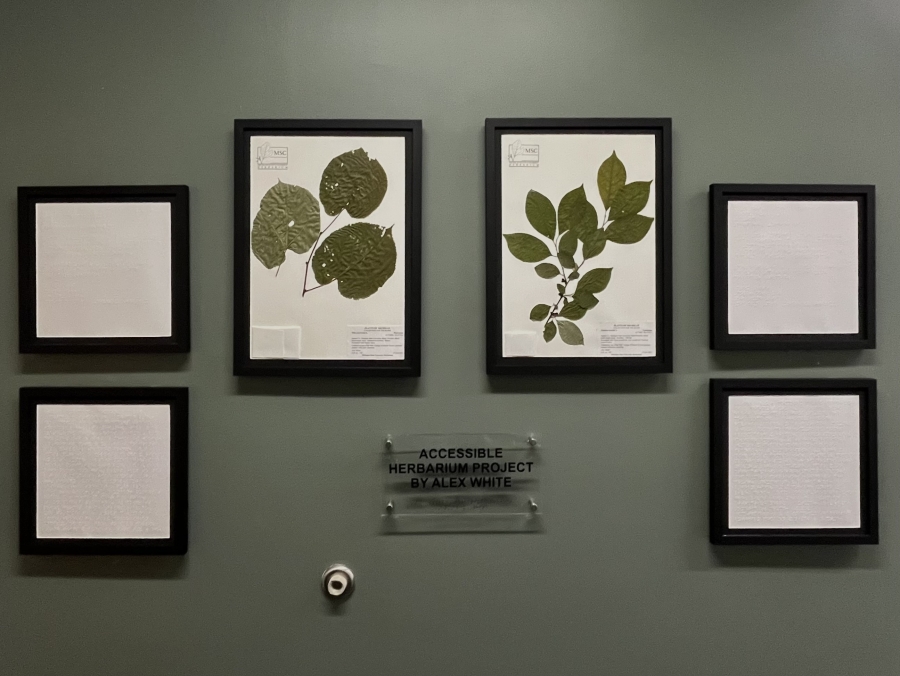 Herbarium Feature
Two framed plants from the MSU Herbarium are showcased on the entryway wall as well. Created by Alex White, an MSU graduate, who brought the frames to life with an accessible, tactile design done in Braille that names each plant and provides a detailed description. For more information about the MSU Herbarium, visit their website here.
The RCPD entrance is now a fresh, modernized, accessible, and welcoming space that aims to share the RCPD history—founding to future—through photos of the people who have helped continue the very important work of the maximizing ability and opportunity for all Spartans. Stop by and see it for yourself in person!