When outstanding first year students at MSU are selected to be in Tower Guard, they inherit a legacy of service spanning decades. Since 1934, Tower Guard members have dedicated their second academic year to volunteer opportunities which facilitate access and equal opportunity for students with disabilities. Originally an all-female organization, in 1977 the group became co-ed. And in the fall of 2020 there was another novel addition: Impact Teams.
In years prior, Tower Guard service involved a variety of diverse activities such as converting paper documents to digital format, reading and scribing for exams, tutoring, fundraising, and promoting awareness about disability issues. Those same activities remain an integral part of the Tower Guard experience, but now members also have the ability to join an Impact Team. Functioning as smaller "breakout" groups within the larger membership, these teams are dedicated to a singular purpose, providing participants with a chance to focus and gain expertise on an aspect of disability services. For the 2020-2021 class, this has included nine separate teams.
The E-Text Team leads the process of remediating paper documents into accessible digital formats (known as "e-texting"). All Tower Guard members are responsible for producing e-text, but the members of this team help the others by being experts on the process, answering questions, and checking work. "I particularly enjoyed the E-texting impact team because I knew the work we were doing to make textbooks/documents accessible had a direct and positive impact on students' lives," said team member Zoe Dunnum, "and it provided the equal opportunity for all students to succeed academically during their time here at MSU."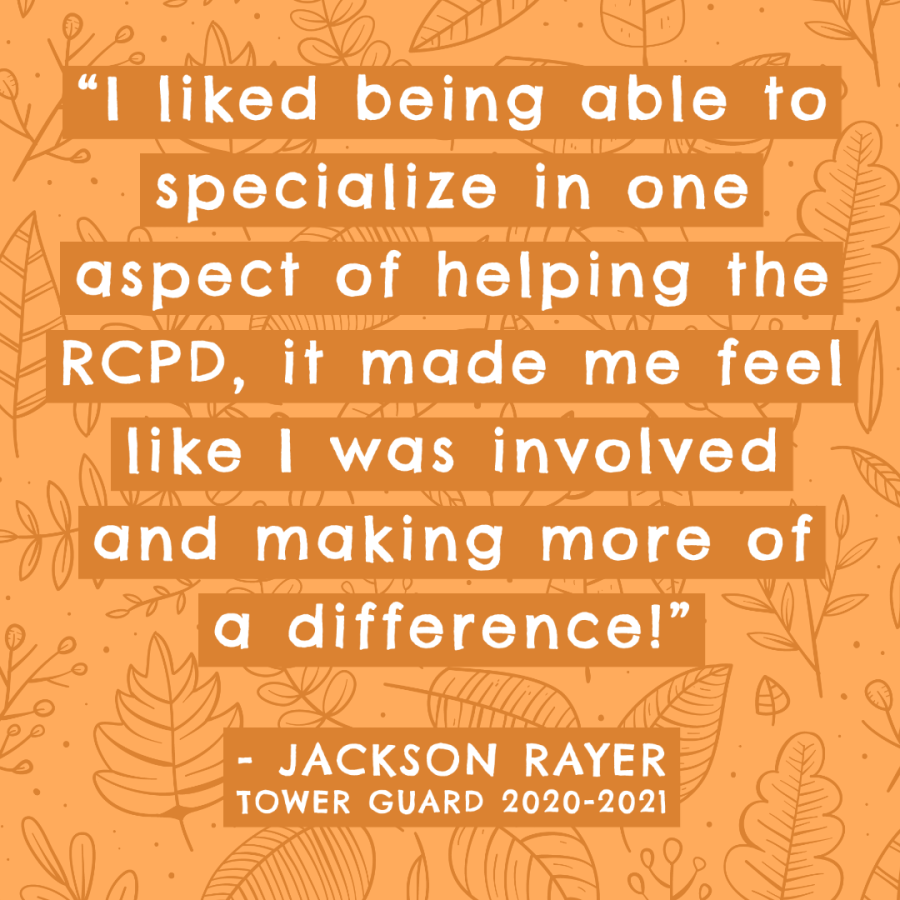 The Braille Team engages in a 16-week workshop to learn how to read and write Unified English Braille. Upon completion of the course, team members can begin assisting the RCPD with any braille production needs.
The Tactile Graphics Team converts images into accessible, tactile format. This can include things like maps, charts, schematics, and geometric figures. In the 2020-2021 year, this team also assisted with converting images into descriptive written format, specifically producing several graphic novels into a text-only version. Tower Guard Akanksha Kapur said of this team: "It gave me first-hand experience and perspective on realizing how inaccessible some items for school are for students with disabilities. I never thought about how a graphic novel or a math textbook could be inaccessible for individuals with visual disabilities."
The Assistive Technology Team's focus is on learning how to use devices, software, and/or equipment that help people work around disability-related challenges. After learning how to use the technology themselves, they can then begin to teach others those same skills through tutorials, walk-in hours, or informational meetings. With all activities being remote during the 2020-2021 pandemic, the inaugural Assistive Technology Team organized an effective online workshop where RCPD students could learn about different technology resources.
The 3D Printing Team learns how to use the RCPD's 3D Printer and its related design software to creatively assist with accessibility using cutting edge methods. This first year's group had the added challenge of being entirely remote and separate from the physical printer, but they persisted and became highly proficient in 3D design. Thanks to their support and determined efforts, the RCPD successfully partnered in a student project to create 3D music notes for the blind and visually impaired.
The Building Community (RCPD) Team is responsible for facilitating two important Tower Guard programs: Spartan Ties and Spartan Study. Spartan Ties, during a "regular" year, is a weekly opportunity for RCPD students to make friends and network by joining other students for dinner at various dining halls on campus. During the pandemic, this was morphed into a weekly online gathering to chat and play games. Spartan Study is a group tutoring opportunity for RCPD students, covering several core course topics which change each semester based on need and ability. "We had to redesign Spartan Ties and Spartan Study this year," said team leader Tushya Mehta, "but I believe that through our efforts we were able to form a community that helped us immensely, it provided us with both educational and social support, and just coming together every week helped us destress and have some moments of joy!"
The Building Community (Tower Guard) Team is in charge of keeping the sense of community alive within Tower Guard through fun events and initiatives. When the general membership was unable to physically be together during the pandemic, this group's purpose was crucial to ensuring that everyone had a positive and fulfilling experience. By hosting frequent, casual, virtual gatherings this team was able to help everyone feel connected to each other even from a distance.
The Wayfinding Team works to create word maps of buildings on campus. A word map is a written document describing in great detail information which isn't typically found on a standard map, such as directions around the interior of a space or locations of accessible entrances.
The Public Relations (PR) Team supports public relations efforts for both the RCPD office and the Tower Guard organization, including components of article writing, graphic design, photography, and social media management.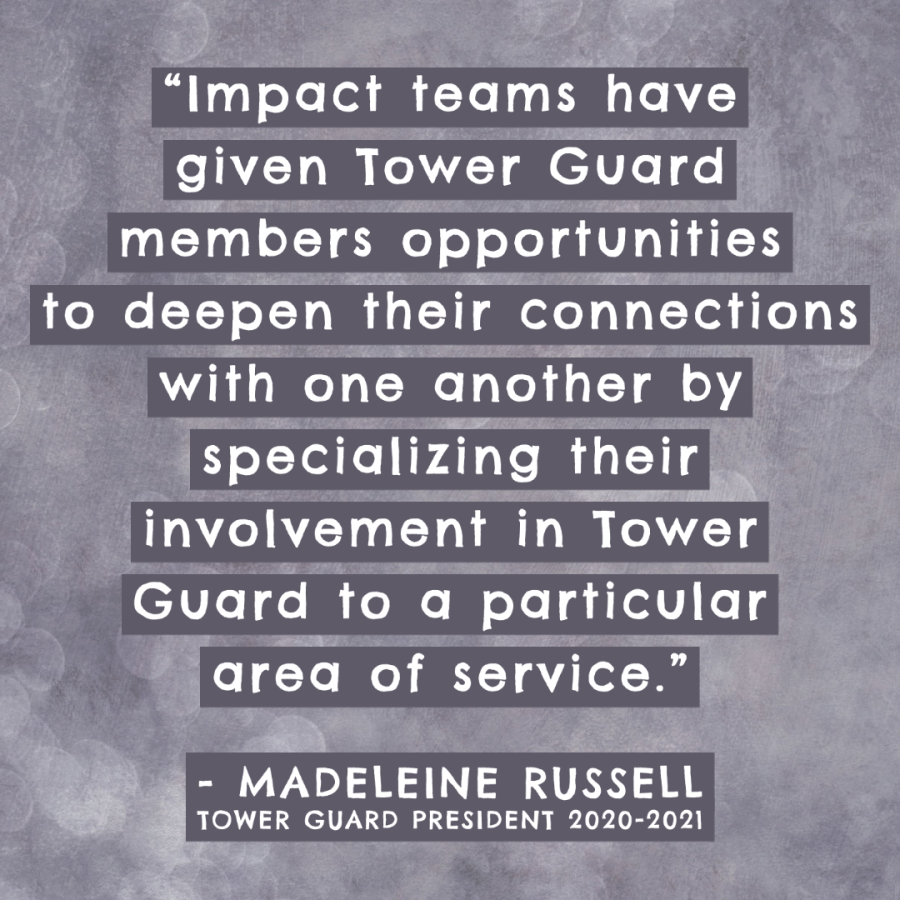 The Impact Teams, like all Tower Guard activities, are volunteer based and non-compulsory, but members are encouraged to take part. Team sizes range from small five-person quintets to massive thirteen-person troupes, and in the 2020-2021 year 95% of Tower Guard members engaged with an Impact Team. Team members are encouraged to take ownership of their duties and their tasks, and to try out leadership roles as they gain expertise on their subjects and provide instruction to others.
2020 was a particularly challenging year to introduce a new facet to Tower Guard's storied legacy, but members of this prestigious organization are chosen based on their exemplary qualities of leadership, scholarship, service, and character. That they have risen so gracefully to meet the obstacles of remote operations, to engage with each other and the Impact Teams, to find friendship and opportunities for growth, all while still providing vital support to the RCPD and assisting student with disabilities at MSU, is a testament to the spirit of a volunteer.