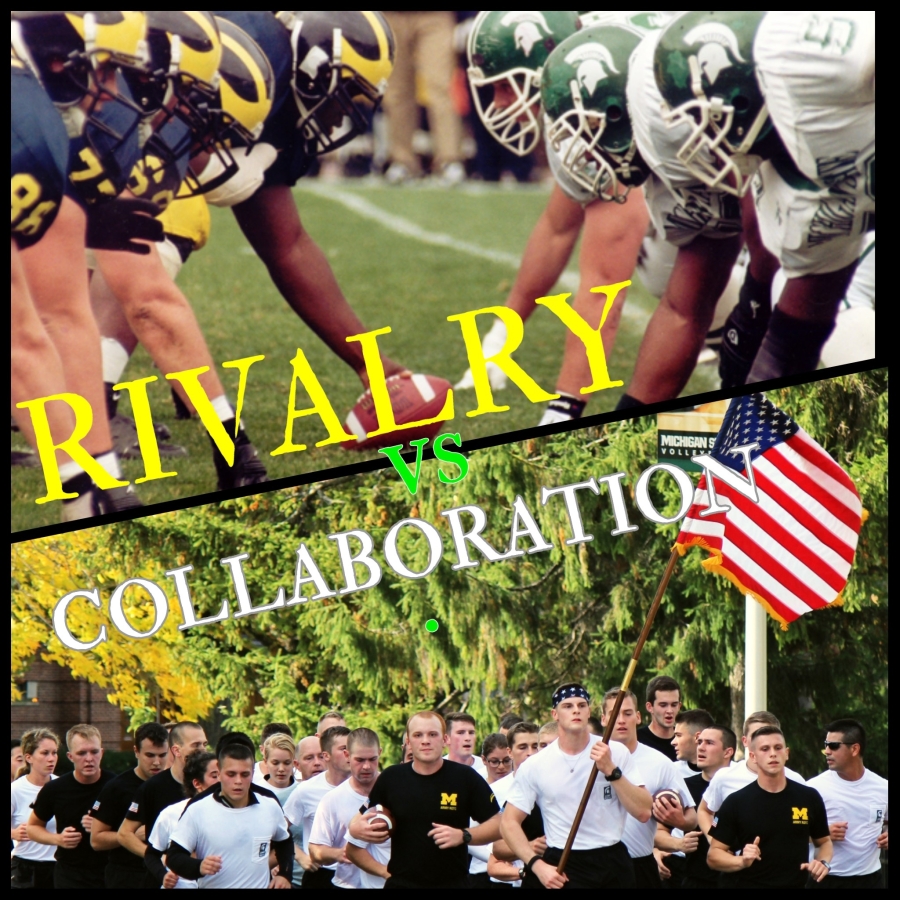 Welcome to week three of the 2021 Alex's Great State Race Gratitude Campaign! Let's take a step back and remember the rivalry that is celebrated on the day of this wonderful event. Get a recap of the Campaign in our February 1st Ability Blog post.
The Michigan State – Michigan football rivalry began in 1898, when MSU was known as Michigan Agricultural College and represented by the "Aggies" rather than Sparty. In the 1950s, MSU entered the Big Ten Conference, and the teams became conference rivals. Throughout the following decades-long rivalry, there has been plenty of heartbreak and resentment. But what we often forget to acknowledge are the opportunities for collaboration we are provided by having two world-class universities in our state, separated by only a few highways and barely an hour of driving (or about 10 hours of running, as we know at Alex's Great State Race). Being so close, we often see rivalries turn to alliances…
… families split by team loyalty unite to throw elaborate tailgates
… high school friends accepted into two different universities cheer for opposing teams but gather for post-game pizza, congratulations, and condolences
… two top-notch universities work together to meet goals in research, education, and services for students with disabilities
Alex's Great State Race has always focused on the collaborative spirit between MSU and U-M. While Alex Powell was attending MSU and working with the Resource Center for Persons with Disabilities, he was also receiving treatment at the University of Michigan's Cancer Center. See our week two post to learn more about Alex and his legacy.
While those who generously donate to Alex's Great State Race choose which "side" to give to, everyone knows the overarching goal is not winning a competition, but to support students with disabilities. Donations sent to MSU go to the Resource Center for Persons with Disabilities, and those to U-M go to the Services for Students with Disabilities office. Funds provide tuition support, care packages, tutoring, and more.
Without this historic rivalry, our Race might look very different today. During this third week of our Gratitude Campaign, we honor the partnership of two universities working toward a common goal of student support. Join us in welcoming AGSR partners from University of Michigan and Michigan State University who would like to share their stories of gratitude...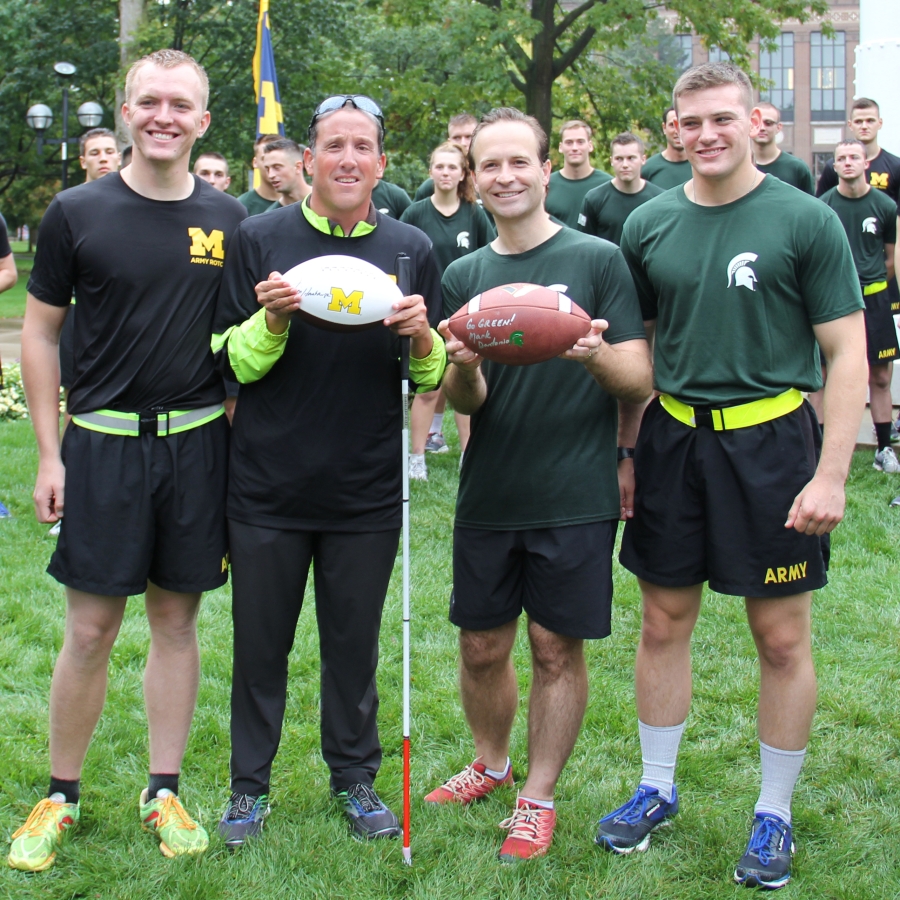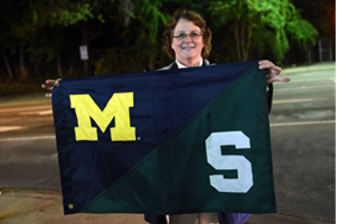 Hello! My name is Jill Rice. I am on the Michigan side of the Alex's Great State Race committee. First of all, I want to thank Juliana and Steven Powell for entrusting both Universities to be in on this great race! People have asked me what it is about Alex's Great State Race and why I still love being on the committee after seven years. First of all, it's the look of determination on the runners' faces. Despite the weather, they start their 64-mile journey early in the morning, and when they finish up, that final 64th mile is worth all of the hard work. It is great to see the camaraderie that forms along the way. This committee is so fun to be on. I have made a lot of new friends.
As we say, "Friends on Friday, Rivals on Saturday."
The University of Michigan asked their Army ROTC cadets a few questions about Alex's Great State Race...
What does AGSR mean to you?
"In honor of Alex Powell, AGSR is a fantastic opportunity to do something that has an impact for those in our communities - specifically students with disabilities!"
"It instills a sense of pride as a participant and promotes unity between the two Universities. It's an important event, and I appreciate being a part of it."
"For me, AGSR is a valuable opportunity to build esprit de corps with my fellow cadets while honoring and celebrating Alex Powell's legacy. We often call AGSR 'the game ball run,' but it's so much more than just running footballs between Ann Arbor and East Lansing! Coming together with our rival school's ROTC program to support an important cause really gives me a sense of being part of something much larger than myself and I'll remember that experience years after I graduate."
"All other 364 days of the year UM and MSU are rivals but for this 1 day we put aside our differences and come together for a cause we can all get behind! Alex had connections to both universities and keeping his memory alive is something we all owe, regardless of affiliation."
"Being part of AGSR was a great experience to bring myself closer to those in the program and to challenge myself while honoring the life of someone who made an impact in their community."
"To me, being a part of AGSR means remembering we are all one army and we're ultimately all on the same team."
What is your favorite part about AGSR?
"The bond we all feel during and after running so many miles is definitely my favorite part of AGSR!"
"I enjoy the camaraderie I feel when running with fellow cadets. We embrace the suck together."
"It was surprising how fun running 7+ miles was, the spirit of the event and the other cadets made the distance feel so much shorter."
"The cumulative effort and team spirit."
Thank you...
"Thank you to the Powell family for continuing Alex's legacy through such an incredibly fun and charitable event."
"I want to thank MSU ROTC for doing this with us and for continuing this tradition."
"Thank you to all of the sponsors and partners, like Dean Trailways and Bruegger's Bagels, whose generosity makes this event possible!"
"Thank you to each individual that decides to participate and dedicate their time in this event."
"Thank you to LTC Dye and LTC DeGeorge for keeping this event going for the last few years despite the logistical challenges."
"Thank you to UMich AROTC for giving me the opportunity to participate, and thank you to the lovely organizers of AGSR for putting on such a fun and memorable event!"
Michigan State University
Caleb Sandoval, RCPD Specialist and AGSR Co-chair
LTC Jason DeGeorge, MSU Army ROTC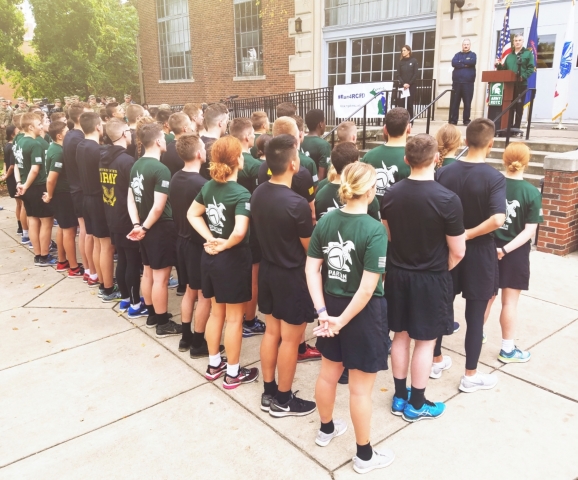 We Thank Our ROTC Cadets
After the fifth annual Alex's Great State Race in the Fall of 2018, the combined MSU/U-M Army ROTC cadet corps stands in formation. They listen to speeches offered by disability service office directors from both schools during the Landing Ceremony on the steps of MSU's Demonstration Hall.