Tradition is a foundation of Michigan State University. Despite all the uncertainty, cancelled events, and difficult times of the past few months, the MSU Homecoming tradition remains an important facet of the Spartan experience. For the past 70 years, having the opportunity to represent MSU as a member of the Homecoming Court has been considered one of the highest honors for graduating seniors. The members of the 2020-2021 Homecoming Court were carefully selected from a highly qualified group of candidates and we are excited to share three special individuals with the Spartan community – Jasmine J., Kellie W., and Jordan P.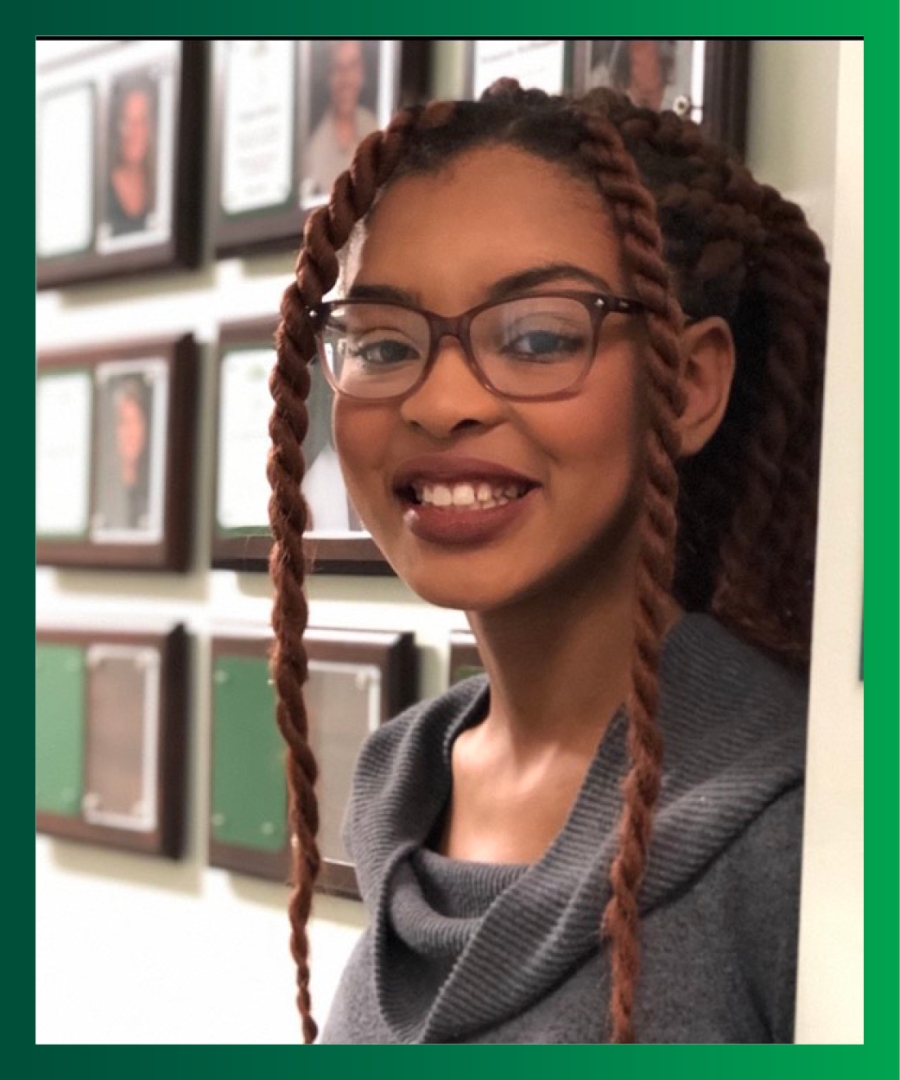 As a student who is committed to representing those with disabilities, Jasmine J., a graduating senior in the College of Social Science, has thrived in both her academic and social aspirations on campus. While majoring in Political Science, with minors in Educational Studies and African & African American studies, she has spent time focusing on the intersections of racism and ableism, advocating for change at MSU and beyond. Jasmine was also recently awarded the RCPD Pysarchik and Samaritan  scholarships for this upcoming academic year.  With all her achievements, her involvement and activism sparked her selection by the 2020-2021 Homecoming Court Advisors and Alumni Office.
"My research for the past two years has essentially been criticizing Michigan State University's handling of race. It was kind of validating that I can be whoever I want to be, and the University still looked at me as someone who can represent them," says Jasmine. "I felt like that does says a lot about them. They are willing to let someone that is critical of them be a representative of the University."
Interested in pursuing law and eventually becoming a professor, Jasmine's studies were ignited by her curiosity about how teachers learned to teach, specifically around issues of disability and race. Jasmine, who has sickle cell disease, is looking to break the many stigmas surrounding disability and hopes that her future career in law will dismantle misconceptions and bring further justice to members of each diverse community.
"I wanted to be a lawyer since I was in the first grade. Education is something on the forefront of my mind very much, after a law career," says Jasmine. "I really want to be a civil rights attorney. I really want to do that, but there are some further steps that are manifesting themselves."
With her involvement in the Council of Students with Disabilities (CSD) as co-President, the Treasurer of the Black Alumni Student Association, Undergraduate Research Ambassador, and past position as the CSD Liaison for Tower Guard, the sophomore honor society, Jasmine has remained active on campus to ensure both integrity and inclusion. Utilizing her campus positions, she remains passionate about the ability to represent students with disabilities. She finds that it is important to recognize that a lot of high achieving students can have disabilities, regardless of whether those disabilities are visible.
"I want Michigan State to be a place where intersectionality is not just a big word, and that people truly understand what it means to have multiple identities and how those things interact," says Jasmine. "I want Michigan State to make decisions with different marginalized identities in mind."
Kellie W., a graduating senior in the College of Natural Science, has dedicated her spirit and leadership to working with underrepresented populations, both on and off-campus. With a major in Biochemistry and Molecular Biology, and a minor in Bioethics, Kellie focuses her love of life sciences on ethics issues in medicine and medical treatments. Due to her conscious efforts, she has become an advocate for the many minority groups in our Spartan community, which contributed to her Homecoming Court selection.
"I was thrilled when I learned that I was selected to be a member of this year's homecoming court. I am excited to represent Michigan State, even if it is in an unconventional way, as the University has provided me with many incredible opportunities during my undergraduate career," says Kellie. "Michigan State created a home for me on the other side of the country from my family. They provided me with the opportunities to succeed, and I am excited to share my experiences with others."
Having been involved in the Council of Students with Disabilities (CSD) as the secretary, vice president, and co-president, her leadership positions have been essential in helping to understand who she is and what she stands for. Kellie has had the opportunity to lobby for equity and equality for the various abilities across campus. Outside of CSD, Kellie has had the privilege to work with other clubs and entities on campus, such as Briggs Ambassadors, Honors College First Year Council, Honors Students Actively Recruiting, Honors Times Two, Osteopathic Medical Scholars Program, and Pre-SOMA. She has also served as a mentor for the OsteoCHAMPS program, a student representative on the Sexual Violence Advisory Committee, and more. Being so thoroughly involved on campus has further connected her to the community and humbly opened her eyes to a passion for "equity for all."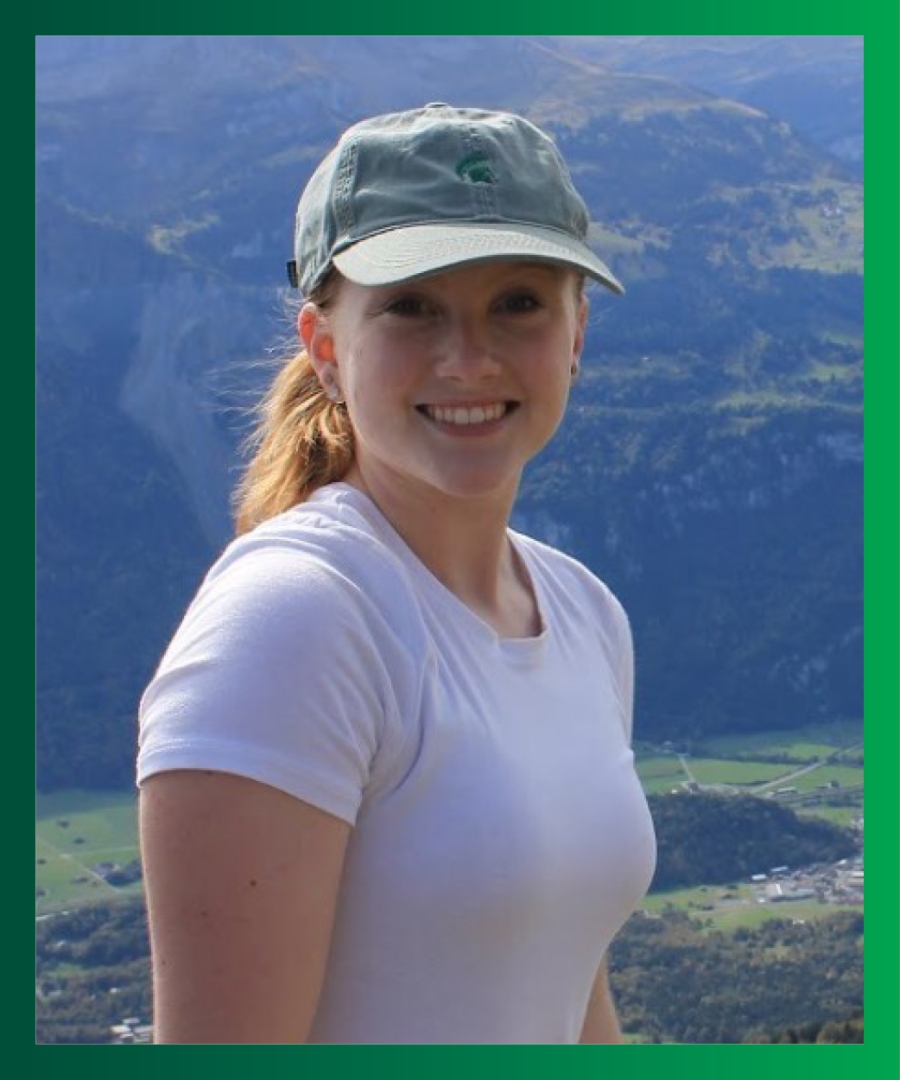 "I plan on pursuing a career in medicine, where I hope to work with minority populations and work toward an equitable healthcare practice. I also plan to continue with my advocacy for those of all abilities, says Kellie. "People of all abilities are all human, with their own unique attributes that make the world work. I always say that if everyone was the same, life would be boring. Being different from societal standards does not make a person any less than another."
In hopes of attending medical school or expanding into medical research post-graduation, Kellie's goal is to leave MSU with a lasting plan for inclusivity of ability by training the next generation of CSD leaders. Having been supported by and supportive of her fellow student leaders and executive board members, Kellie appreciates the value of creating a more inclusive environment on campus. Going forward, she looks to take her experiences and interactions with underrepresented populations into her professional career.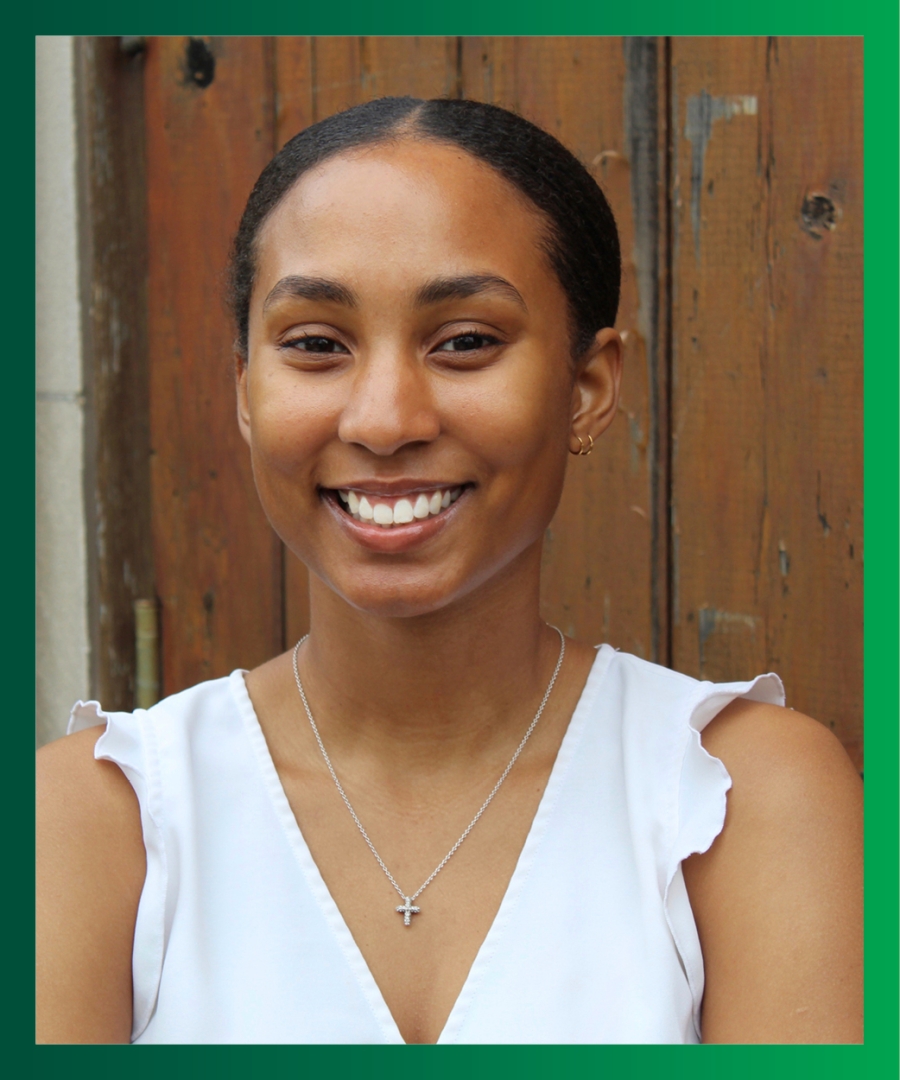 While interested in taking on the financial perspective of consumers and communities, Jordan P., a graduating senior in the College of Social Science, has remained focused on working with her fellow Spartans to invoke positive changes in the MSU community. As a future leader, Jordan, an Economics major, with a Quantitative Data Analytics and Leadership minor, has selflessly shown a passion for her MSU community through her involvement and the commitment shown to both her academics and campus organizations.
"I was ultimately super grateful to be selected for  Homecoming  Court. I felt like the years of hard work and stress finally paid off. I know there were so many amazing candidates to have this position, but I was very happy to receive such an honor."
With a wide range of campus involvement such as being an Intercultural-Aide, the ASMSU Student Body President for Finance and Operations, a Department of Economics Undergraduate Learning Assistant, and a Department of Statistics Undergraduate Learning Assistant, Jordan has continued to remain a scholar in the Econ Scholar, Financial Markets, and Bailey Scholar programs. These experiences not only have helped shape her world views but also given her the ability to interact and share ideas with individuals from all walks of life.
"Through these interactions, I've had my own perspectives challenged for the better and now work with intentionality. The people at MSU make my experience the most memorable and, thus, I choose not to limit myself to who I interact with in various communities."
After learning about the RCPD and one of the departmental focuses on invisible disabilities, Jordan found the right resources to help her further her success as a student. With the acknowledgment of her hidden disability, she takes with her the learned experiences, lessons, and notes that have led to her earning her degree. As graduation approaches, Jordan is preparing to work as an Investment Banking Analyst in Chicago and fulfill her long-term objectives of launching her own start-up company, delving into venture capital. However, she first looks to become more outspoken, encouraging better mental health practices, especially during the virtual academic environment resulting from the global pandemic.
"It's easy to feel isolated and internalize your problems when quarantined or learning from home, so I hope utilize my campus positions to re-emphasize the importance of taking care of our mental well-being and not sacrifice parts of ourselves for the sake of a grade or commitment," says Jordan. "Overall, when I graduate, I will take with me the learned experiences of all those I've interacted with during my time here, as well as the lessons and notes I've taken away about myself and who I want to be as a leader. I'll consistently view the people and community at the end of every decision I make and advocate for all viewpoints."
The longstanding tradition of MSU's Homecoming Court represents the diversity and reputation of the University's student body. These students, who were nominated by an individual or organization, were hand-selected for their academic achievements, community involvement, leadership, and never-ending Spartan pride. Despite the transition to a virtual format, we will still use this time to "look back on our MSU legacies as we create our own traditions for the future." With that, we seek to uplift the accomplishments of these empowering young women, highlighting their commitment to enhancing MSU. Having demonstrated what it means to be a Spartan, these students will represent MSU well during this year's events and traditions.