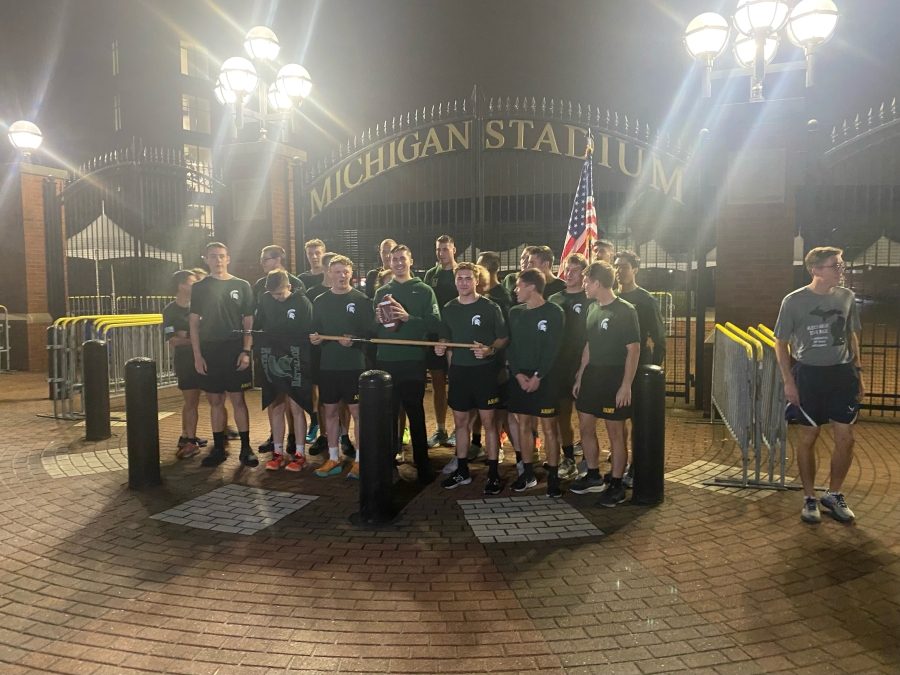 Each year, two Big 10 Powerhouses, The University of Michigan and Michigan State University, meet at the 50-yard line for one of the most anticipated rivalry football games in the state—a tradition in which both Wolverine and Spartan fans rejoice. For the last 10 years, another tradition has continued in which members of U-M and MSU Army ROTC come together for comradery instead of rivalry to honor the life of Alex Powell through the Alex's Great State Race. This race brings Wolverines and Spartans together to raise funds and awareness for student disability services all while honoring the life of Alex Powell.
Celebrating its 10th year, a team of ROTC cadets from the Spartan Battalion and the Wolverine Battalion, along with adaptive athletes, will come together on the day before the MSU versus U-M football game – Friday, October 20 – to participate in Alex's Great State Race. The race is a 64-mile run/roll departing from U-M's Crisler Center in Ann Arbor, at 3 am, and proceeding to MSU's campus in East Lansing, landing at Demonstration Hall, in which the game ball for each school is carried from one campus to the other. This year's departure ceremony will feature a send-off from UM VP of Student Life Dr. Martino Harmon.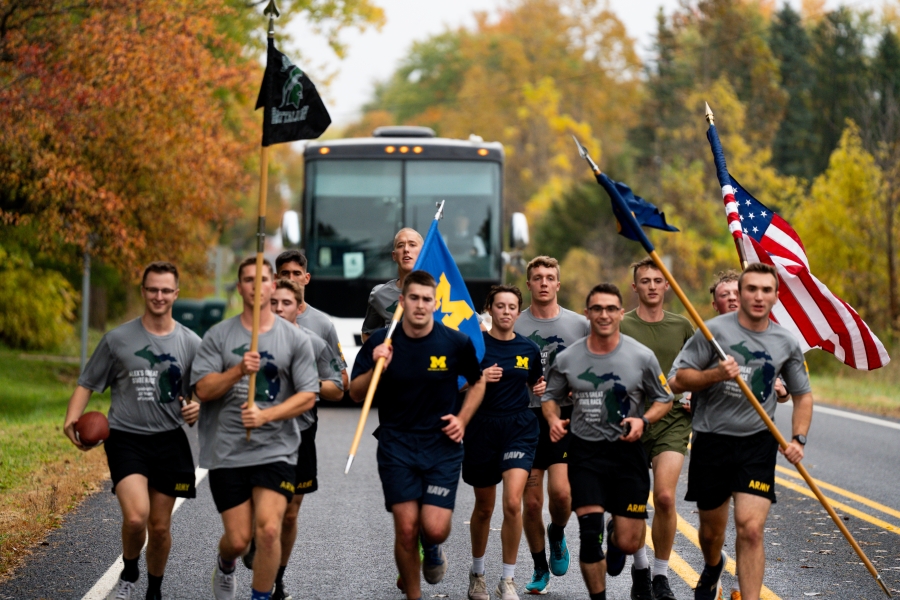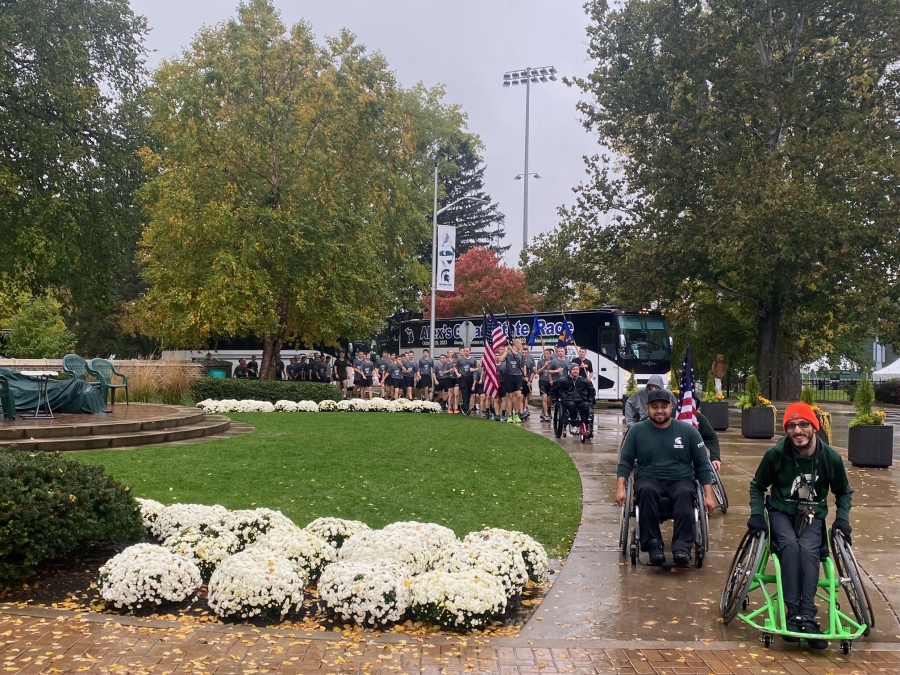 Again, this year, a group of students and athletes with disabilities, many representing both schools' Adaptive Sports programs, will join the ROTC cadets, to run/roll the last five miles of the race with Michigan Supreme Court Justice Richard Bernstein. The official game ball for the U-M vs. MSU football game will be presented to MSU Interim President, Teresa Woodruff, at the finish line. Dustin Giannelli, profoundly deaf motivational speaker and disability advocate, will also join the racers this year.
The event is an effort to raise awareness and funds for MSU's Resource Center for Persons with Disabilities and U-M's Student Accessibility and Accommodation Services in memory of MSU student Alex Powell, who died May 8, 2011, from cancer.
As Powell contemplated his acceptance to MSU, a lifelong dream of his, he received the devastating news that he had a rare, aggressive form of cancer. During his freshman year at MSU, the disease began to take its toll, so he turned to MSU's Resource Center for Persons with Disabilities for assistance. The center helped Powell develop accommodation strategies and communicate his needs to each of his professors. Powell also established a connection to the University of Michigan during this difficult time, as he received cancer treatments there. The positive experience they had with both institutions is what spurred Powell's parents, Juliana and Steve Powell, to create this annual tradition.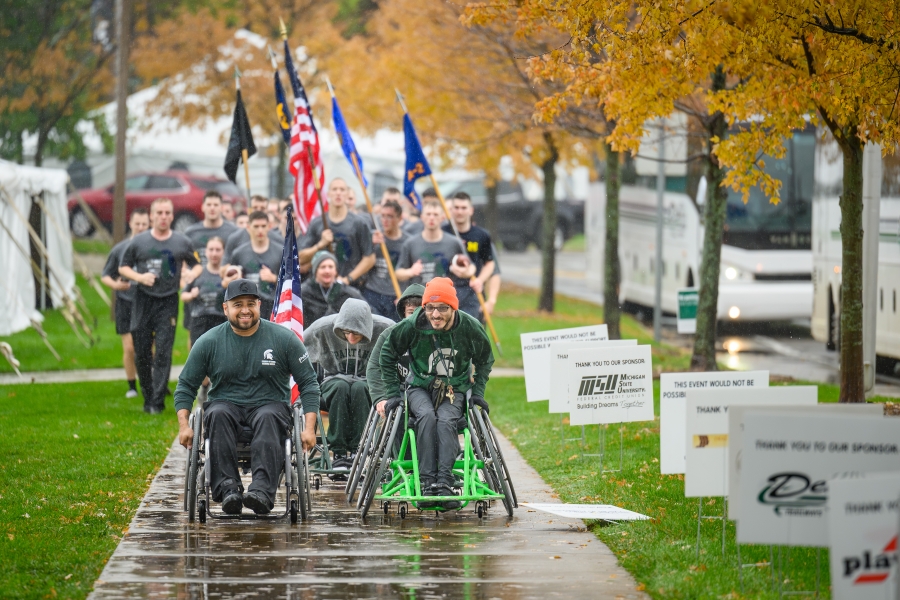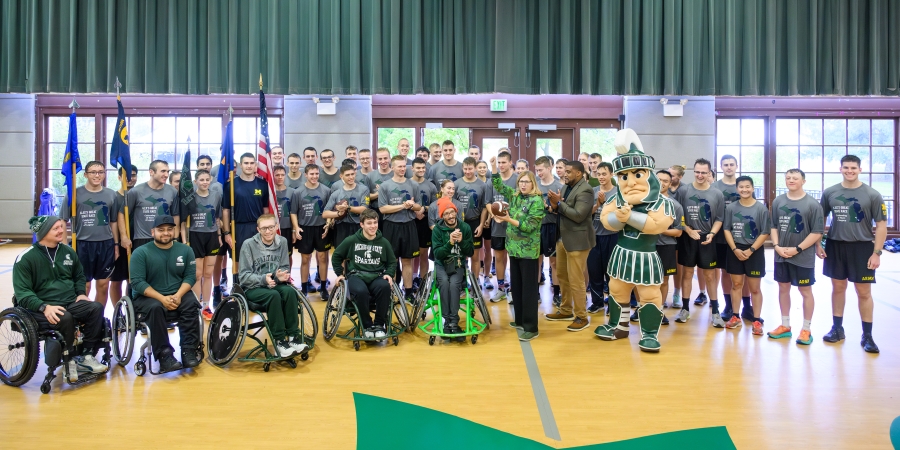 "Creating Alex's Great State Race has helped me heal after Alex's death, while at the same time honoring his memory in a way that I believe he would be proud of," Juliana Powell, said. "Life-changing events occur when we least expect them. We were very fortunate to find the right resources through MSU and the University of Michigan to help Alex achieve his goals and dreams while he fought cancer. We received outstanding care and support from both universities. This event is designed to create awareness and funds that will help both universities continue their tradition of excellence in student disability services."
Wolverine and Spartan fans welcomed runners/rollers at Demonstration Hall on MSU's campus in East Lansing as they crossed the finish line. To learn more about Alex Powell and the annual Alex's Great State Race visit, alexsgreatstaterace.org.