Written by Sabrina Seldon, Tower Guard class of 2022-2023 PR Chair.
Tower Guard held its May's Morning Sing induction ceremony on April 8, 2022, at the MSU Union. Anna Lehr, 2021-2022 Tower Guard Vice President, coordinated the event under the guidance of Liz Fuller, former RCPD Leadership Development Ability Access Specialist and previous lead Tower Guard advisor.
Originally the event was planned to be held outside of the Beaumont Tower; however, due to weather implications, it was moved inside. This was a smart decision, as the weather that day was composed of rain and snow. Regardless the show went on, and the ceremony was orchestrated phenomenally.
Following tradition, inductees are unaware whether they have been accepted into Tower Guard before May's Morning Sing. In the interview process, candidates are asked to share the contact of a family member and two friends who are not in Tower Guard. This is so former Tower Guard members can communicate the induction ceremony to the family and friends of inductees, asking them to keep it a surprise. Together they work to get inductees to the ceremony at 6:00 a.m. Most college students don't wake up at that time, especially on a Friday, so convincing is needed. The early start time is one of the unique things about May's Morning Sing. Taking place early in the morning, so there is no time interference with anyone's schedule.
This year's class of inductees had a different experience in how they were surprised. For MSU sophomore Tabby Basha, waking up early was motivated by her roommate's birthday wish.
"It was my roommate's birthday that day, and she told me that she really wanted to take an early morning walk around campus to watch the sunrise. I was living in the River Trail Neighborhood, so we walked all the way through the middle of the campus and all around, and we ended at the Union, where I saw everyone," Basha said.
MSU sophomore Layla Ismail had a different experience as her friend's made up an incentive to wake her up.
"My friend said that they were giving away iPads. At first, I did not believe them. I was looking it up since they woke me up at 5:00 a.m.," Ismail said. "My one friend made a fake text thread to get me out since I was not budging, and then that kind of sold me. We got there, and we went in, and I heard people talking about Tower Guard, but somehow, I didn't connect the dots until I had my name tag on," Ismail said.
The opening ceremony included speeches by Michael Hudson, Director of the MSU Resource Center for Persons with Disabilities, and Dr. Teresa Woodruff, Provost and Executive Vice President for Academic Affairs. An acapella performance from Spartan Sur and Capital Green followed.
During the reception, family members and inductees enjoyed a complimentary breakfast as heartfelt speeches by Michael Jenkins, Tower Guard Advisor, and Jessica Lemond, RCPD Student, followed. Both congratulated the new class on their induction and reiterated what Tower Guard is all about upon the distinction it holds.
At the end of the ceremony Maren Case, the 2021-2022 Tower Guard Historian, shared an audio-visual representation of Tower Guard history and the 2021-2022 year of service. The visual warmed the hearts of former and newly inducted members as it encapsulated what Tower Guard is all about.
The ceremony received positive feedback from family members and inductees all around.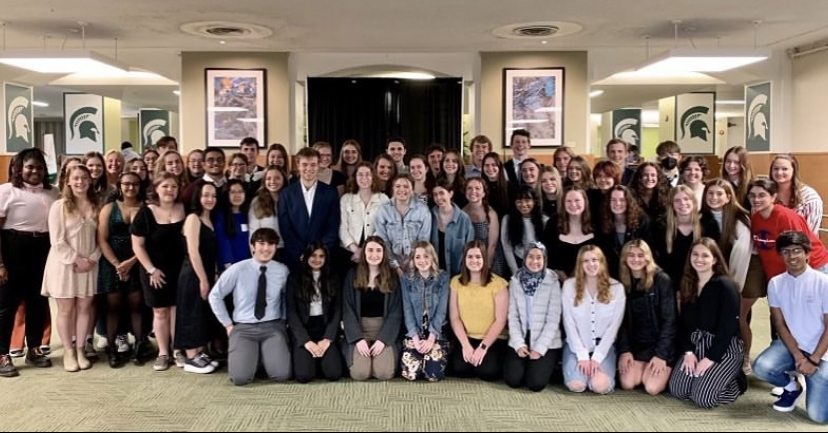 "It was amazing to see everyone celebrating that they got in because everyone is in the same boat as me of being really confused and tired, but we were all just really happy to get in. It was honestly an honor to be at the ceremony. I loved that the former Tower Guard was there just to see their bond and realize that I would make those bonds in a year," Basha said.
"I felt really accomplished at May's Morning Sing; it was really good at emphasizing how much of an honor it is to be in Tower Guard. The speakers that came up brought to light how much of an accomplishment it was to get in and how much of an impact it will do. And how much direct work I could do or everyone together, so it felt really empowering," Ismail said.
The Tower Guard Class of 2022-2023 had their first general meeting on September 28, where they learned how the year would be organized. In addition, the class participated in the MSU Homecoming Parade, representing the RCPD. The class is filled with dedicated students who work to keep Tower Guards' purpose alive. Welcome, Tower Guard class of 2022-2023, and thank you for your commitment to the RCPD!