Fall semester starts with a sense of novelty; new classes, school supplies, living spaces, and friends. The RCPD gained our own "new" this fall with three full-time Ability Access Specialists: Lina Wu, Lindsay Hill, and Ashley Maloff.
These Ability Access Specialist positions are brand-new to the RCPD, thanks to Dan and Jennifer Gilbert. They made a substantial gift to MSU's Empower Extraordinary Campaign in October of 2016. A portion of that gift was dedicated to the RCPD, and we're thankful to maximize the Gilbert family's generosity to further our mission of making MSU accessible to all.
"Dan and Jennifer Gilbert's support is a transformational boost to our mission. It provides vital new staffing that enables a quicker response to student needs and promises to accelerate our innovative activities," RCPD Director Michael Hudson said.
As an outcome of the Gilberts' generous gift to MSU, we have a larger team dedicated to ability access. Lina, Lindsay, and Ashley have joined forces with other specialists to even out their workload, giving everyone in the office more time dedicated to innovating and improving ability access in higher education. This stronger team brings a new sense of confidence and we are able to re-center our approach to a more "ability first" mentality, changing our position names from "Disability Specialist" to "Ability Access Specialist."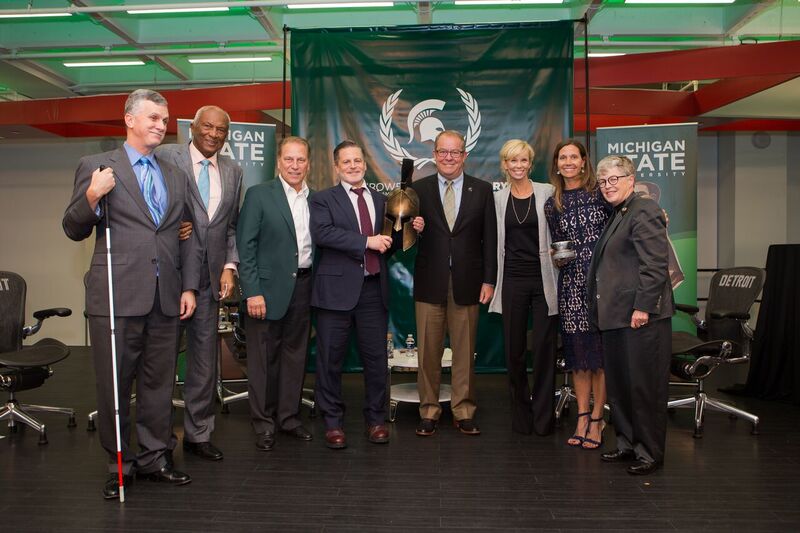 (Left to right) Michael Hudson, Trustee Joel Ferguson, Coach Tom Izzo, Dan Gilbert, Athletic Director Mark Hollis, Coach Suzie Merchant, Jennifer Gilbert, and MSU President Lou Anna K. Simon at the Gilbert Gift Announcement Ceremony in 2016.
Although they fill new full-time positions, Lina and Lindsay are familiar faces at the RCPD; Lina starting as a part-time Ability Access Specialist for Accessible Media 4 years ago, and Lindsay serving as a Graduate Student Intern in January of 2017. Lina's main responsibilities as an Ability Access Specialist for Accessible Media include teaching students how to use accessible technology like the Scribe Pen, courtesy to the Carlson Accessible Media Program, as well as training Tower Guard students in E-Texting and Braille. Lindsay Hill also fills vital roles at the RCPD as an Ability Access Specialist for students on the Autism Spectrum and those with Brain Injuries, as well as the coordinator for RCPD's BOND program.
Ashley Maloff joins the RCPD from Purdue University, returning to her undergraduate roots at MSU. She has been an asset to us as a new Ability Access Specialist for Chronic Health, teaming up with Caleb Sandoval to assist students with health-related obstacles in the classroom.
"Being diagnosed in high school with a chronic illness of my own, I know firsthand how important higher education is for reaching goals and overcoming the hurdles that accompany having a hidden disability," Ashley said. "During my time as an undergraduate student at MSU, the RCPD provided me with knowledge, confidence, and resources needed for me to be successful. I am honored to return home to RCPD to support MSU students and employees."
Lina, Lindsay, and Ashley's passion for helping others shines through, and we couldn't be happier to welcome them "home" to the RCPD.
"It is quite a luxury to be able to choose a place of employment that fits so perfectly with your passions and desired work style," Lindsay Hill said. "I'm so fortunate to have found those things with this team."
For more information on how to make a positive impact like the Gilbert family, visit our contributions page.