By 8pm in the month December, the sun has long since set, taking the light and warmth of the day along with it, but for the pediatric patients of Beaumont Hospital, there are lights still twinkling and there is warmth in their hearts.
Moonbeams for Sweet Dreams, created by the Beaumont Children's Pediatric Family Advisory Council, is a program where members of the community stand outside the hospital shining lights up at the windows of pediatric patients, who shine them back. Many of these young patients may feel isolated and distant from the rest of the world, unable to leave their rooms, but that lonely feeling was nonexistent this holiday season thanks in part to Michigan State University's Tower Guard, who participated in the event. With the help of Michigan State University Federal Credit Union and the MSU College of Nursing for their flashlight donations to Tower Guard's efforts, these patients were able to go to sleep with smiles on their faces, knowing they are not alone.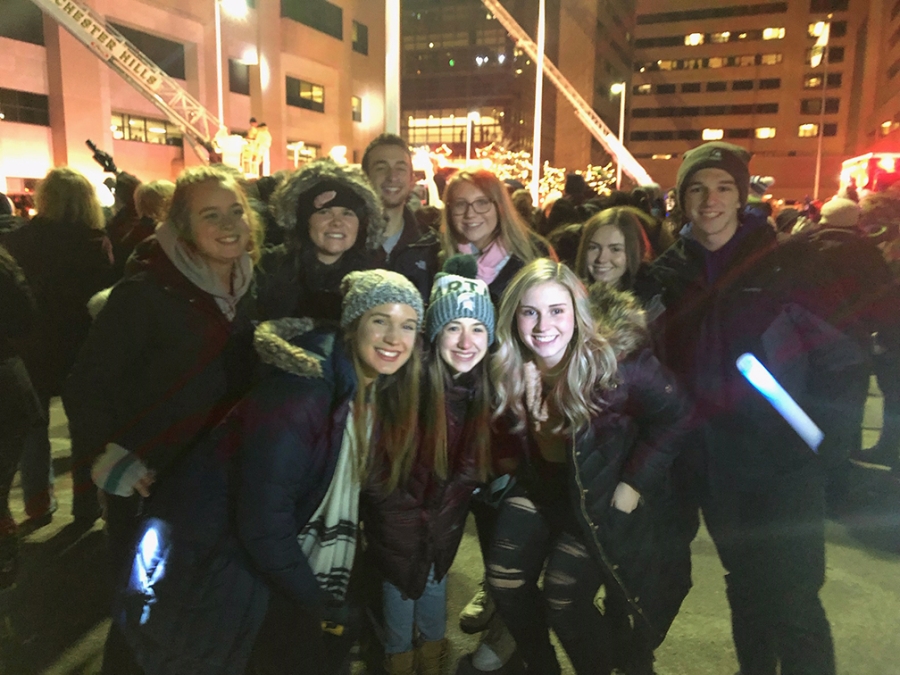 Tower Guard, an organization dedicated to serving persons with disabilities which works closely with the Resource Center for Persons with Disabilities (RCPD) at MSU, truly exemplified their leadership qualities and wholehearted belief in a more inclusive environment through their holiday endeavors. Tower Guard 2019-2020 President, Mackenzie Desloover, states that aside from ensuring that MSU is an accessible learning environment, Tower Guard is largely focused on making everyone feel like they belong.
"Moonbeams for Sweet Dreams was a really special way to help bring smiles and spread holiday cheer to not only the pediatric patients at Beaumont, but also their families," says Desloover, "because having a child or sibling in the hospital is difficult for all involved, especially during the holidays. Participating in Moonbeams for Sweet Dreams was another way for our volunteers to help others feel important and know they haven't been forgotten.
Tower Guard worked to spread even more peace and joy outside of the classroom this season by raising money to purchase presents for pediatric patients in the local Lansing Sparrow Hospital, a newfound tradition. Through their efforts and those of family and friends, Tower Guard was able to raise a total of $1,715. From these heartfelt donations, Tower Guard was happy to provide presents for pediatric patients, Meijer gift cards for the families of some of those patients, and an additional gift card donation to Sparrow Child Life Department for miscellaneous purchases needed for patient education and care.
The RCPD and MSU community are proud of these Tower Guard students and the difference they make to so many during their year of service.