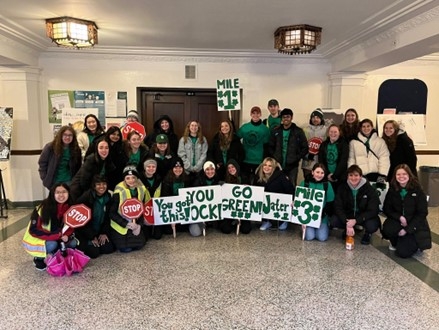 On the morning of Saturday, March 25, hundreds gathered outside the Michigan State University auditorium despite the rainy, cold weather. Community members, faculty and students came out to support the Resource Center for Persons with Disabilities (RCPD) which serves nearly 3,000 Spartans. Tower Guard collaborates with the RCPD to build a more accessible and inclusive environment on campus. 339 participants took part in the race to raise over $12,000 dollars for RCPD endowed programming that provides assistive technology, audiovisual educational materials, leadership development and career readiness opportunities.
Sunyoung You and Mya Towne, Tower Guard Run Chair's, were responsible for organizing the 5K. They started planning the race four months in advance to obtain funding through sponsors and donations. With the help of the 5K committee within Tower Guard they worked to obtain decorations, medals, prizes and snacks for race day.
"The 5K was successful and we had a remarkable result raising money," You said. "I'm grateful for the people who helped, supported, and participated in contributing to the event. We not only helped the RCPD but planning this event allowed everyone to work together, which built a stronger community."
"It was a huge success, and we had a fantastic turnout of participants," Towne said. "The high point of the event was definitely seeing all of the runners cross the finish line and receive their medals and T-shirts. It was such a rewarding experience to see all of the hard work we put into planning the event pay off."
The only downside to the race was the rainy weather and originally there was some concern over whether participants would still come.
"The weather was the biggest disappointment for me during race day," Towne said. "I really wished that the weather would go in our favor, but it didn't turn out that way. Nonetheless, these minor issues didn't detract from the overall success of the event."
Devangi Deoras, an MSU sophomore and Tower Guard member volunteered at the event.
"I am looking forward to meeting more people and really experiencing what the Shamrock 5K run is," Deoras said. "This is the biggest event that Tower Guard holds every year. I've heard a lot about it. This is my first 5K run so I'm extremely excited. I'm ready to cheer people on and make good memories while contributing to the RCPD."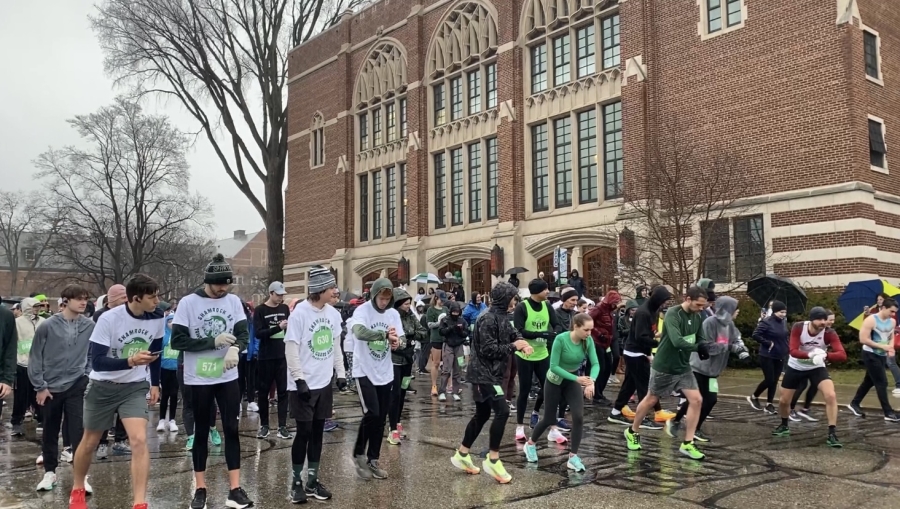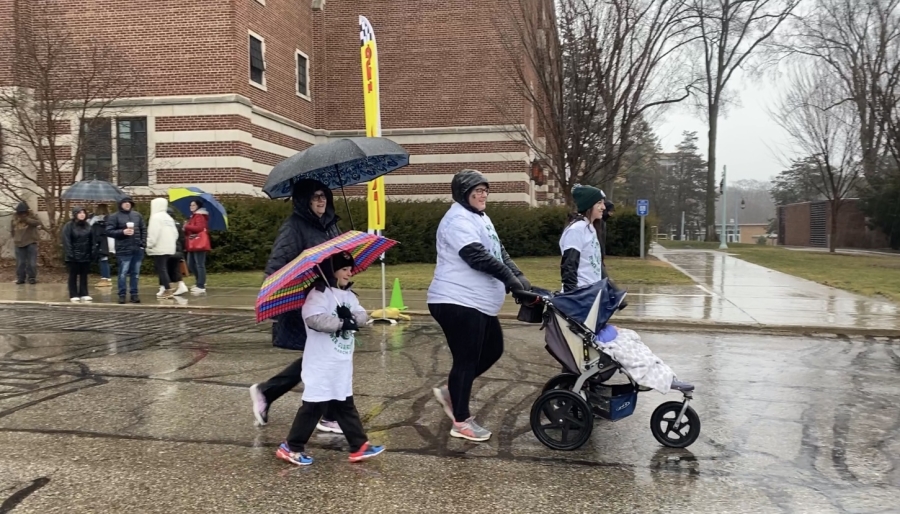 Lisa Griffis, participated in the 5K for a second year appreciating the opportunity to give back.
"My husband and I are happy to support in any way that we can," Griffis said. "We love this race and the campus. Any opportunity to be on campus is just a blessing. I like to participate and just get in the spirit of it and I think that running is a great way to give back to the community."
While planning the race You and Towne faced obstacles but with the support of Tower Guard advisor, Kristin Campbell and previous Run Chairs, Annie Henseler and Sam Tarling they were able to overcome them.
"I appreciate the relief and support I got from them, I truly believe this group of people kept motivating me and helped me not give up when I faced challenges," You said.
You and Towne are grateful that everything came together for race day.
"I'm truly thankful for the successful event, and the attention and generosity we received," You said.
To promote the 5K WILX Channel 10 News broadcasted a story about the race.
"I'm incredibly proud of how the 5K went, and I'm so excited to guide our next year's class in planning this amazing event," Towne said.