Michigan State University is an institution devoted to providing educational opportunities and an inclusive environment. For over 48 years, the RCPD has held to these values by advising and supporting persons with disabilities throughout the MSU community. Through Ability Access Specialists, Team RCPD continues to encourage the growth and advancement of students and their abilities. With that, the RCPD is delighted to announce Tesia Freer as our new Blindness/Visual Impairment and Media Access Specialist.
Initially interested in completing her postsecondary education at Western Michigan University with a degree in Speech-Language Pathology and Audiology, Tesia had pictured herself pursuing a clinically based career. However, after a friendly introduction to the Blindness and Low Vision Studies program at Western Michigan University, and her acceptance into the university's Vision Rehabilitation Therapy graduate program, Tesia set her sights on building a career dedicated to working with members of her community that were blind or visually impaired.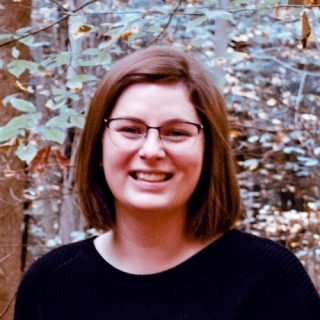 While working with this population, Tesia discovered: "The best part of working with persons with blindness and visual impairments is seeing them shatter people's expectations and prove that they can reach any goal they set their mind to."
In her previous role with the Veterans Administration and now her new position with the RCPD, Tesia is continually working to communicate and develop programs and services that ensure a model of accessibility for students, staff, and faculty. Through accessible media and educational materials, she provides knowledge of educational and employment-related accommodations, and skills and tools used by persons with disabilities. Always looking at new technology, Tesia is exhilarated to uncover how best to benefit students.
With previous experiences focused on the direct, one-on-one instruction of daily living skills and assistive technology, Tesia prides herself on developing greater advocacy and the identification of needs—which continue to serve her well in taking on this position at the RCPD.
"My husband and I are both Michigan natives. I grew up in Manchester and my husband in Kalamazoo. After finishing graduate school, I took a job at the Cleveland VA Medical Center and we lived there for almost 5 years. While in Cleveland, we had our son Miles. While we loved Cleveland, we wanted to move back to the mitten to raise our son closer to family and friends. My family and I are extremely excited to be back in Michigan and being here makes me even more thankful for my new job with RCPD," shares Tesia. "I am so excited to be a part of the RCPD! I look forward to working with a new population of people within the realm of blindness and visual impairment who are working toward degrees and have unique challenges I can help them resolve in order to be successful. I also look forward to being a part of ensuring MSU is accessible for everyone."