The RCPD's Braille Technology Advantage Program provides students with an unparalleled opportunity to read and learn with braille on MSU's campus, with innovative efforts driving the ability for braille to be delivered to students wherever they may be located. Now thanks to the Canute 360, the world's first multi-line braille e-reader, RCPD students are granted even more educational possibilities.
One of the big advantages to the Canute 360 is that it features a nine-line display, with each line comprised of 40 characters. For students committed to an array of academic disciplines or courses, the Canute 360 is a great opportunity for them to read more than one line of braille at a time. Whether it be reading sheet music or mathematic tables, this technology allows the user to read ahead and gain greater access to the material.
One student who got the opportunity to try the RCPD's new Canute was Yoo Jin N. Prior to the pandemic, Yoo Jin found an appreciation for the RCPD's ability to accommodate students, working with her to provide up-to-date technology for those who are blind or visually impaired. Still in the process of getting familiar with Canute 360 for her musical studies, Yoo Jin expresses: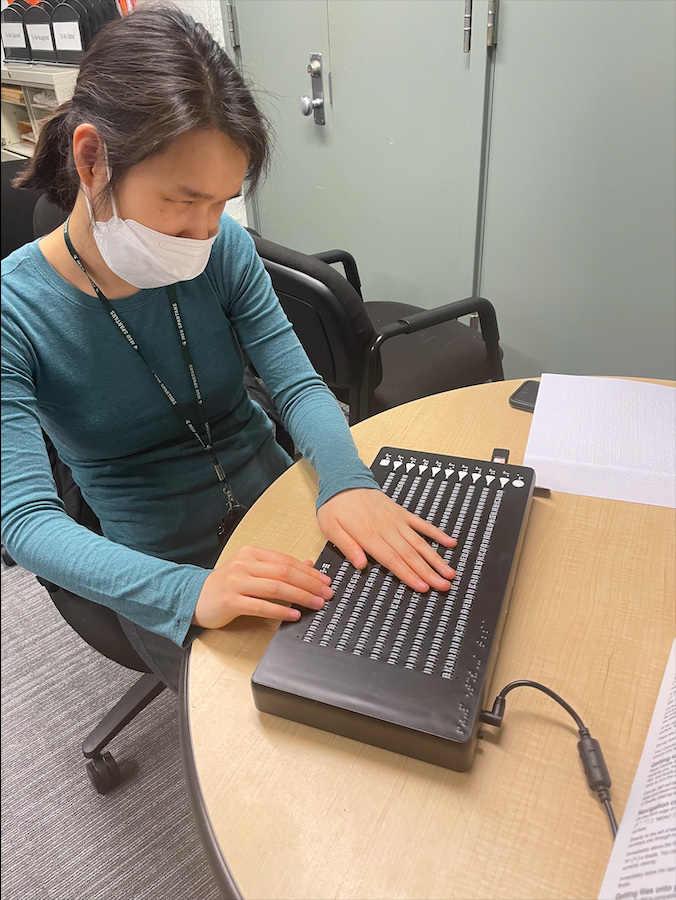 "Since the device has nine-line display, it is very handy for reading graphic contents such as music, tables, or graphs. Growing up reading braille music, I had so much difficulty learning notes line by line with a single-line display. It was fascinating to be able to read left and right-hand part together, simulating experience of sighted musicians."
Compatible with Braille Ready Format (.BRF) and Portable Embosser Format (.PEF) file extension formats, the Canute can display braille text, mathematics, music, or any other six-dot braille code—leaving students with a more possible and practical understanding of their studies.
"Although many braille displays have been in the market, braille readers always had [the] restriction of being able to read only one line at a time," shares Yoo Jin. "This limitation would cause delay in reading speed. Graphic materials had to be typed by hands or embossed in a hard copy, which was time consuming. I believe Canute 360 is necessary for reducing time for both reading and producing materials in an educational setting. More students should use this technology to be able to have a faster access to printed content. Having such accessibility will narrow communication gap between sighted and blind people, caused from difference in format of materials. It would also help blind learners to be successful in achieving academic goals."
Moving past the difficulties of COVID, the RCPD is continuing to explore, provide, and distribute technology solutions to better support students with disabilities in higher education. In the RCPD's innovation efforts, the Canute 360 will greatly expand the opportunities for student success, delivering braille to students wherever they may be studying.