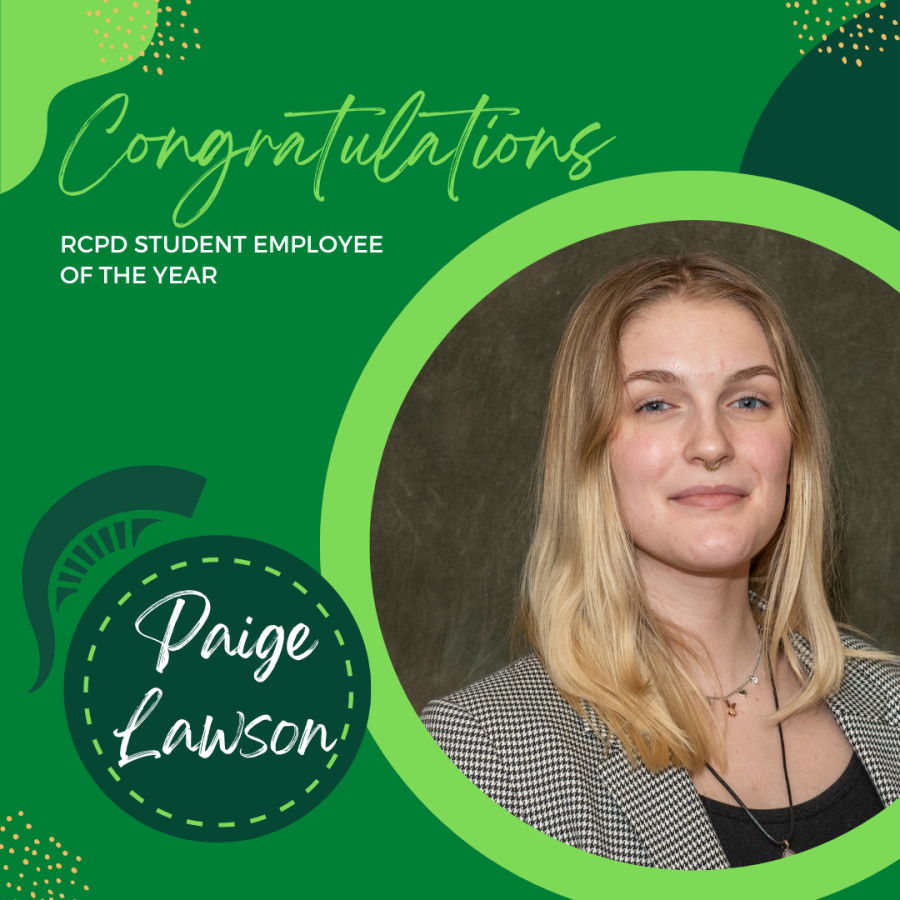 Paige Lawson has been a valued student employee at the MSU Resource Center for Persons with Disabilities since August 2021. She has since expanded from her role as Front Desk Reception Assistant to also serve as our lead student Public Relations Coordinator for our department. Something that stands out about Paige is her spirit and motivation to get involved and take on more. She is truly invested in the work she completes and lives her life in a manner that fully embodies our mission of maximizing ability and opportunity for all at MSU and in the community around her.
Paige is extremely reliable and willing to help her co-workers at the front desk by picking up extra shifts. She is proud to have earned her spot as a lead reception assistant, and recently trained our newest student employees when they joined our team as Freshman in the fall. She is heavily relied on at the front desk because of her knowledge and ability to work independently. She is dedicated to always doing the right thing, and she demonstrates an incredible work ethic by ensuring procedures are followed through to the end of her shift. She takes initiative, and always gives her best effort. Paige is an exemplary student employee who maintains a professional image as our front desk reception assistant.
Something extremely admirable about Paige is her drive for research in finding the right answer. Just this past fall, Paige was able to make observations in her work as a receptionist and was able to make direct contributions to RCPD policies and procedures, helping to not only find better solutions but to ensure that guidance around similar situations would be available to aide future student employees.
Paige has never been one to shy away from complicated or difficult tasks and is always looking for new challenges. She willingly spent her 2022 Spring Break working on a special project for us to bring our backlogged volunteer database current, and she has agreed to help staff extracurricular events for our Building Opportunities for Networking and Discovery (BOND) Program in the evenings. Paige willingly stepped up to the plate to take on the extra responsibilities as our student Public Relations Coordinator in May 2022, all while continuing in her role at the front desk as a Reception Assistant and maintaining her studies as a student. In this role, she has continually gone above and beyond, choosing to attend various campus events that relate to RCPD so she can be immersed in the event and write the best story and content that is shared to the RCPD community.
Since joining the PR team, Paige has enthusiastically jumped into each project she's given with pride, care, and a desire to learn. With a minimal background in graphic design, marketing, or the like, she has been a self-starter and took the initiative to learn all she could of basic design and marketing skills to further her understanding of RCPD's communication vision so she could create each social media graphic with integrity and factual information. She is very aware of the sensitivity that surrounds the disability community and mindfully researches, writes and creates with care and integrity.
She continually adds quality content to the RCPD's public image via our blog and social media accounts. She has truly embraced MSU's Diversity, Equity and Inclusion Strategic Plan objectives, and has helped the Resource Center for Persons with Disabilities be a national leader in disability accommodations in higher education through her creative, educational, and engaging content on our social media accounts, website, and blog. She has helped us reframe our awareness posts related to disability into instead acceptance posts. For example, she took the initiative to do more than just celebrate World Braille Day on January 4th, but to also teach our community that World Braille Day was created in recognition of inventor Louis Braille – as a day to raise awareness of the importance of Braille as a means of communication for the blind and partially sighted community. By taking the time to share the history of Braille – which was invented in 1824 – Paige has been expanding the awareness and acceptance of persons with disabilities. Paige truly cares about what we do and hopes to teach somebody something with her graphics – helping to make MSU a more aware and accepting community of those with differences. It is obvious that the work we do at the RCPD is more than just a job for her.
The life of a college student can be stressful with all the pressure that comes from studying for good grades, going to class, having a job and trying to fit in a social life. Paige does all of this with grace and shows up to work each day with a smile on her face. She is reliable and can prioritize her work responsibilities between her front desk reception assistant and public relations roles effortlessly.
The Resource Center for Persons with Disabilities is fortunate to have Paige as a student employee and she is a wonderful asset to the team!
Written and nominated by Robert Briseño, Rebecca Wetzel and Rachel Giddings