Allison Bertram
The Gilbert family is among the many Spartans going one step further to ensure MSU's lasting legacy. Dan Gilbert—CEO of Quicken Loans—and his wife, Jennifer Gilbert, donated $15 million to MSU in October of 2016.
The donation contributes to the MSU Empower Extraordinary Campaign, which enhances global problem-solving research, endowed faculty positions, enhanced facilities, and student opportunities. This large gift supports three popular and vital programs at MSU: Spartan Athletics, the Detroit Scholars Program, and the Resource Center for Persons with Disabilities.
At the donation announcement ceremony in Detroit, MSU President Lou Anna K. Simon praised the Gilberts because they embody the spirit of land-grant scholars, "who will never be satisfied about what's there today, because there's so much to do for others tomorrow."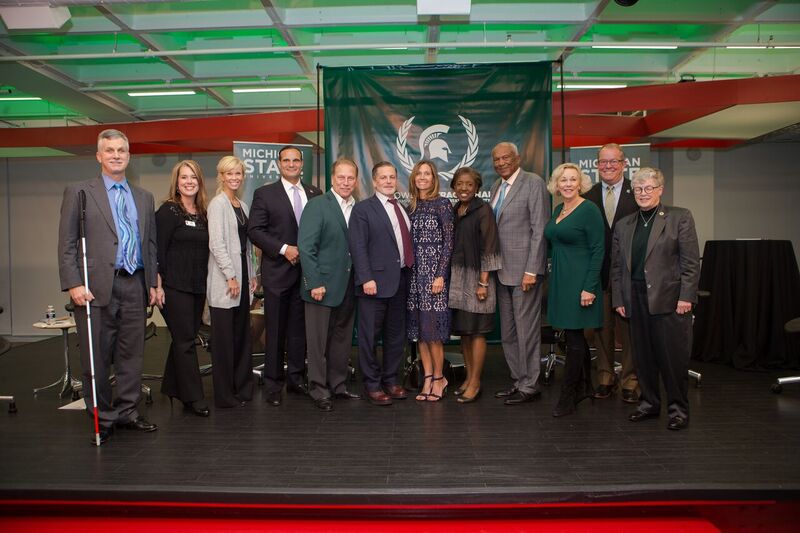 (left to right) Michael Hudson, Angela Sebald, Suzy Merchant, Brian Mosallam, Tom Izzo, Dan Gilbert, Jennifer Gilbert, Diann Woodard, Joel Ferguson, Melanie Foster, Mark Hollis, and President Lou Anna K. Simon at the Gilbert Gift Announcement Ceremony in Detroit, MI.
These new funds for our office bring an opportunity to support the needs of students through three new staff positions. "The Gilbert family's investment in our students, staff, and mission extends ability and is profoundly uplifting," RCPD Director Michael Hudson said. "We will elevate our leadership, meet needs more quickly and create new pathways for student success. This will also amplify our ability to utilize our current funds."
With new staff comes a fresh perspective in our office, and we plan to re-frame our Ability Access Specialist titles into Ability Access Specialists. It also helps improve student-to-staff ratios, which provides more leadership and higher quality innovation for RCPD students.