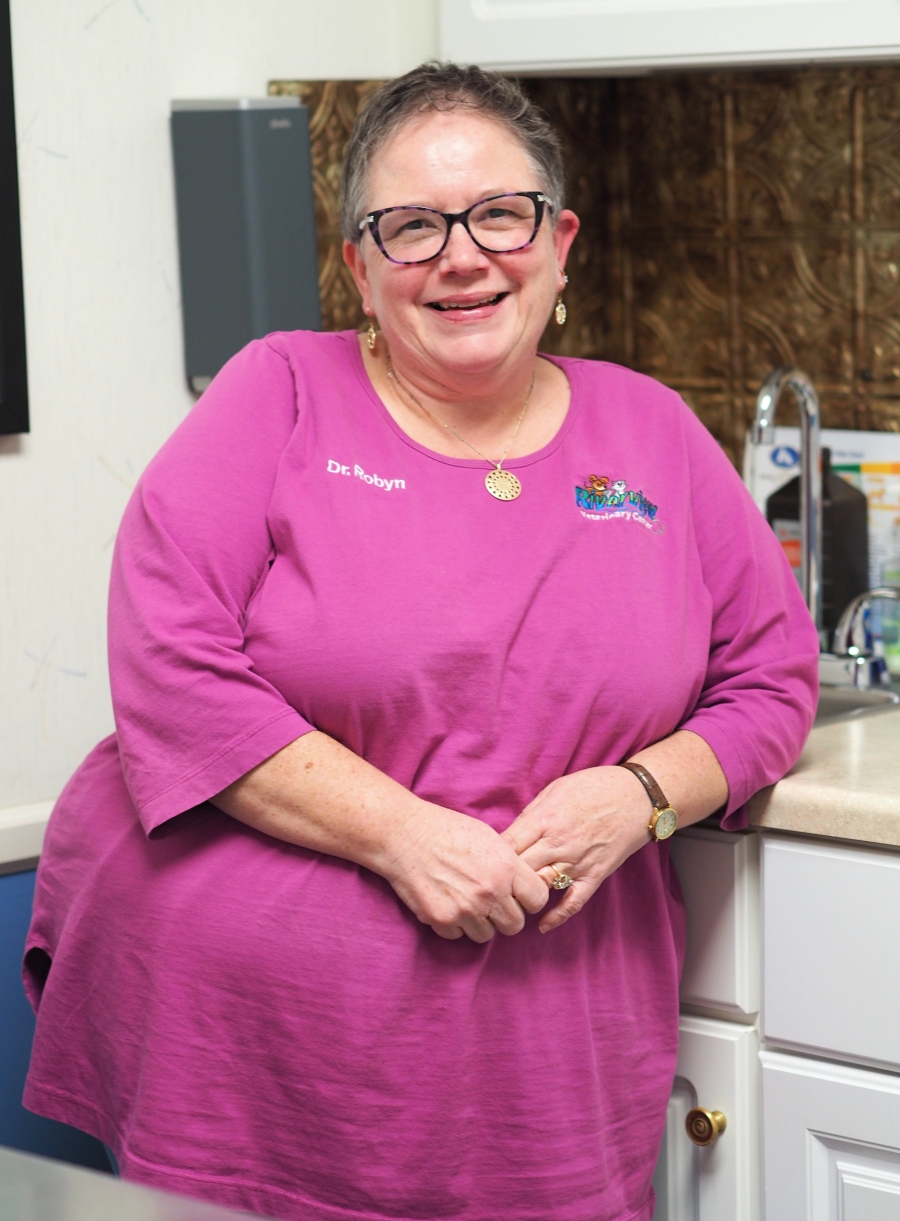 Our bright students have brilliant futures, which is represented by the many Outstanding Alumni who continue after their studies at MSU to make significant contributions in their fields after graduation. Each year, the MSU Resource Center for Persons with Disabilities recognizes the accomplishments, leadership, and dedication of notable alumni. This year, Dr. Robyn Limberg, DMV, was nominated by Virginia Martz, RCPD Lead Ability Access Specialist, to receive the prestigious Outstanding Alumni Award.
Dr. Robyn is a Blue Water Area native, growing up in Port Huron and St. Clair, Michigan, who has been a successful practicing veterinarian for 29 years. Dr. Robyn is highly regarded for her knowledge, drive, dedication to the field of veterinary medicine, and her mentoring of future veterinarians and veterinary technicians. She spent 18 years after college working as an associate veterinarian for a local clinic, but realized that she wanted to offer a higher level of medicine than was being provided, and so in 2012, she took the step towards becoming an independent practitioner and established Riverview Veterinary Center, with the goal of providing "Quality Care in the Heart of St. Clair." Virginia Martz says that, "Robyn's ambition, positive 'can-do' attitude, and creativity serves to empower others to see the ability and opportunity a college education can provide regardless of disability."
In an interview with RCPD, Dr. Robyn shared more about her experiences she had while at MSU and with the RCPD, and her passions for veterinarian medicine. After attending Community College for two years, Robyn transferred to Michigan State University as a pre-vet student.  After one year, she was accepted into vet school, starting the program in 1985. Robyn explained that she struggled a lot personally and academically, and unfortunately flunked out in December of 1986.  Less than a month later, she developed a rare auto-immune disease called Cogan's Syndrome, causing her hearing loss as well as balance deficits.  These challenges did not deter her, and by March of 1987 she was taking steps to learn how to continue her education without being able to hear. Robyn started American Sign Language classes at Lansing Community College and started to take classes at MSU using ASL interpreters. Robyn lamented, "at that time, real-time captions were not yet developed, so I learned to follow ASL by the 'sink or swim' method!" The ASL interpreters and volunteer notetakers for her classes made it possible for her to succeed even while she was learning to navigate life with deafness as part of it.  Robyn did finally complete a BS in biology from MSU in May 1988. 
After being fitted with a cochlear implant and taking some time off from academia to gain some work experience and learn a little more about navigating hearing loss, Robyn re-applied to vet school in spring of 1989. During her time in vet school, the Office of Programs for Handicapper Students was instrumental in educating CVM officials as to what was necessary as far as providing accommodations.  Robyn explained, "there were many situations that were very unique to the vet med program—because we were in settings like gross anatomy lab, dissecting dogs, ponies or sheep, the interpreters had to be able to stomach working in settings that some people might be unable to do, as well as working in some situations that could be dangerous, like doing reproductive exams on bulls or field exams on beef cattle."  Her senior year involved some on-call hours, which meant that the interpreters were also on-call for 24-hour stretches at times.  "Ultimately after four challenging, exciting, and inspiring years, I did complete the graduate program and earned my Doctor of Veterinary Medicine Degree in May 1994."
How has the RCPD impacted you?
RCPD (at that time called OPHS—Office of Programs for Handicapper Students) was an amazing resource given my situation of having been a 'traditional' student for some time, and then having to learn how to travel through academia with a whole new set of challenges and (at the time) limitations that were available.  I remember the initial meeting at OPHS, where we began to learn of the services they provided, such as coordinating interpreters and notetakers, as well as linking students up with State of Michigan Rehabilitation Services that provided carbonless copy paper for notetakers to use. 
Have you always wanted to be a veterinarian? 
When I was in the 7th grade, our family dog was hit by a car and injured badly, and the local veterinarian dropped everything to spend three hours doing emergency surgery and saved Gretta's life.  That experience wowed me, and from that time on, I wanted to be the person who could swoop in and save someone's beloved pet.  I got my first job at age 14 as kennel staff for a local veterinarian, and never looked back!   When I flunked out of vet school on my first try, it was a really scary time because I never really had a backup plan.   I just assumed I'd get into vet school, pass all the classes and graduate!  After I not only flunked out but became deaf, I wasn't sure I could still accomplish that goal.  Donna Leahy, who at the time was an interpreter as well as the coordinator for deaf/HH student services for OPHS, shared with me a magazine article she'd read, about a Deaf veterinarian in California.  I wrote to him (no email yet!) and asked about what challenges he'd faced, and he invited me to spend a week at his clinic.  That was a very cool experience, to see firsthand how he worked with clients and adjusted protocols at his clinic to be accessible. That experience reinforced the belief that my hearing loss shouldn't prevent me from achieving my goals.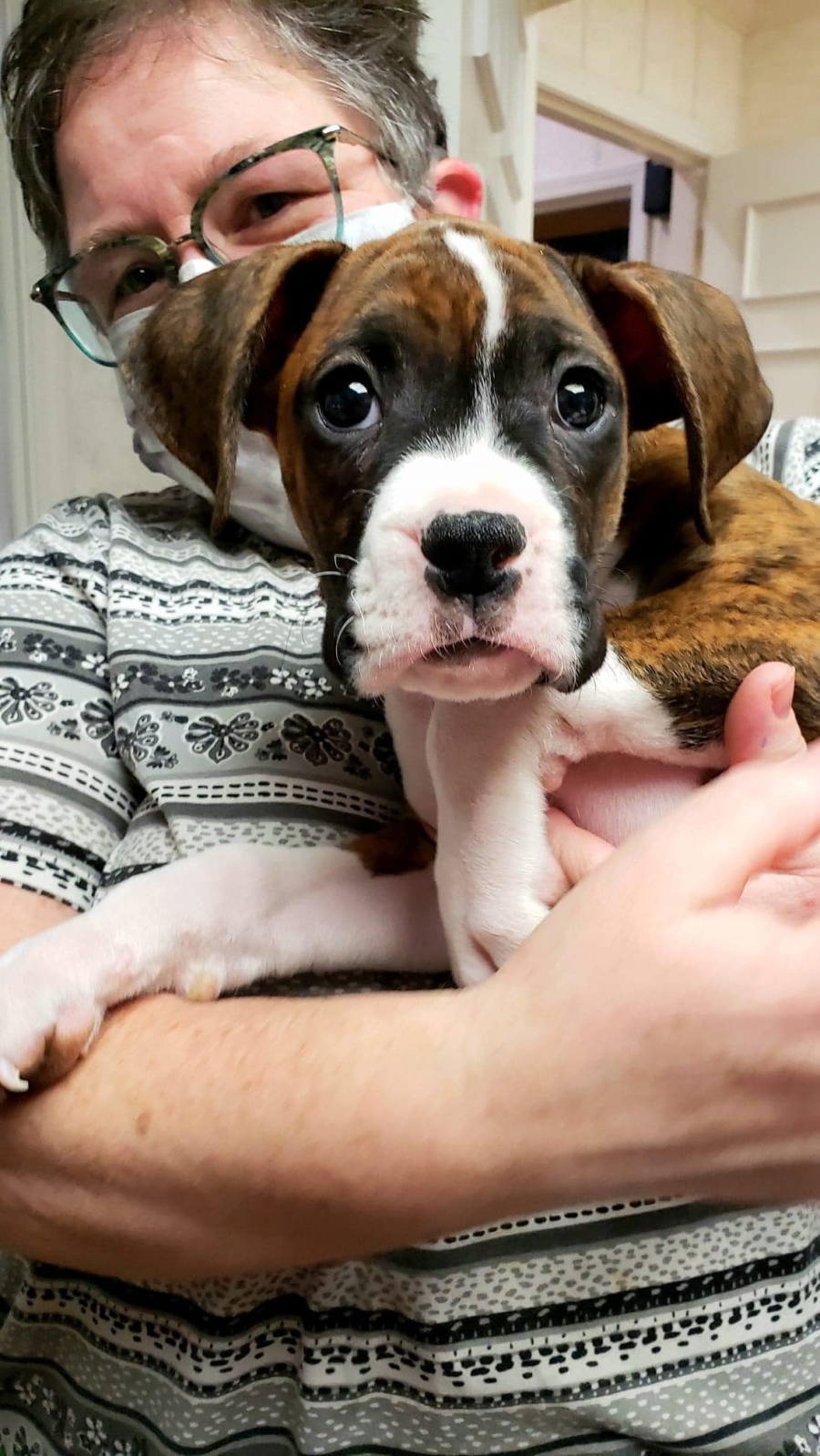 What is your favorite part about owning your own Veterinary Center? 
There are a lot of things about it that I like—having amazing staff; providing educational experiences through our 4H clubs and through other community events that we host; being the doctor that helps save someone's beloved pet like Dr. Konyha saved my Gretta years before; developing lasting relationships with clients; being able to practice the kind of quality medication that I feel is appropriate; and being able to deal with each client and pet as the individuals they are, rather than forcing a cookie cutter approach on each unique situation; and I really enjoy being able to mentor students that have an interest in the field (having had more than a dozen of past 4H club members and/or kennel staff go on to complete either veterinary technician or DVM degrees is a source of pride).  My MOST favorite thing is the sense of accomplishment that my efforts have created something that is seen as a staple of the local community, and that my kids can also be proud of.  (Each of my kids has worked at various times in the clinic and it's really amazing to have my oldest daughter as my associate doctor now.)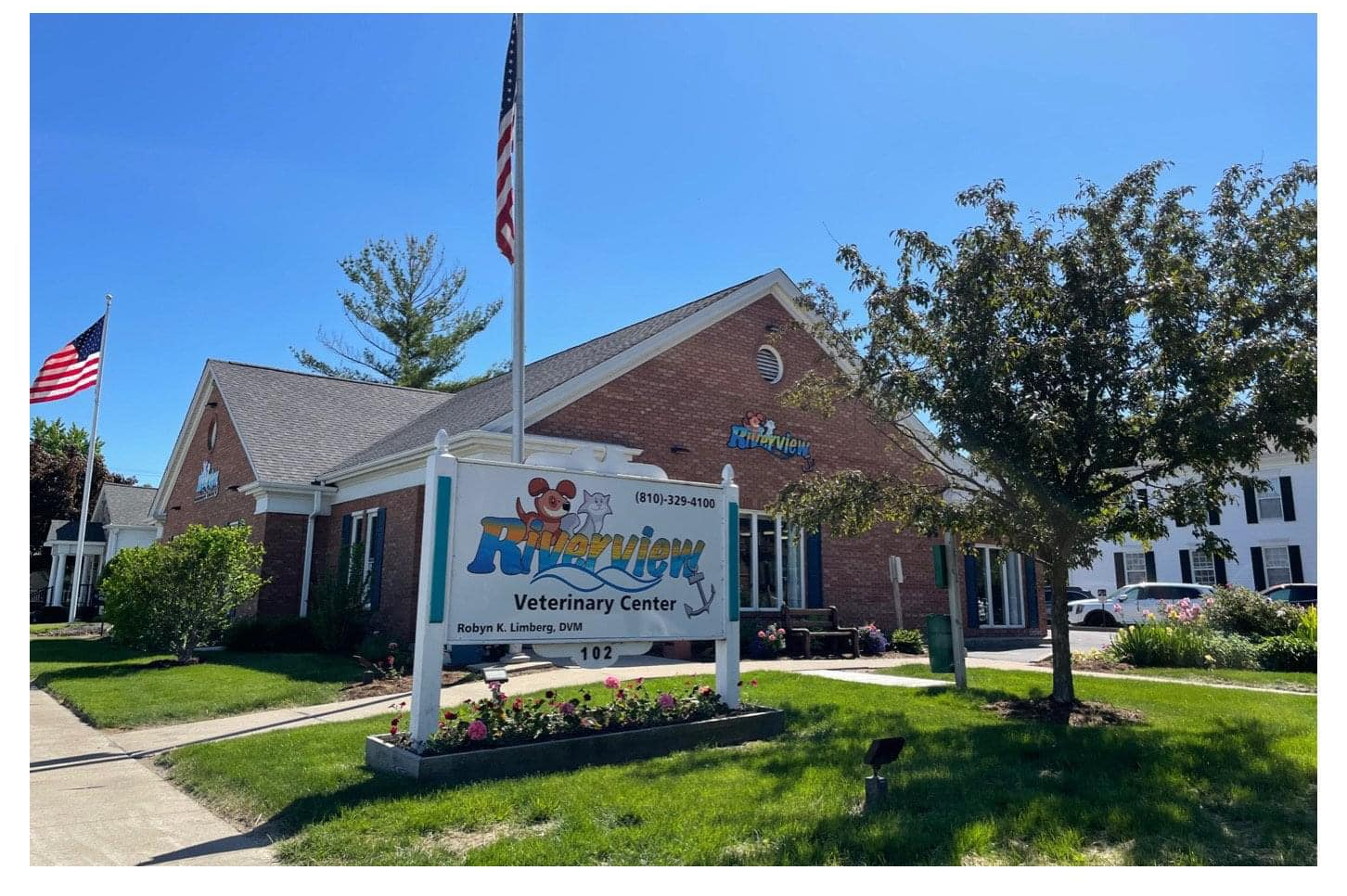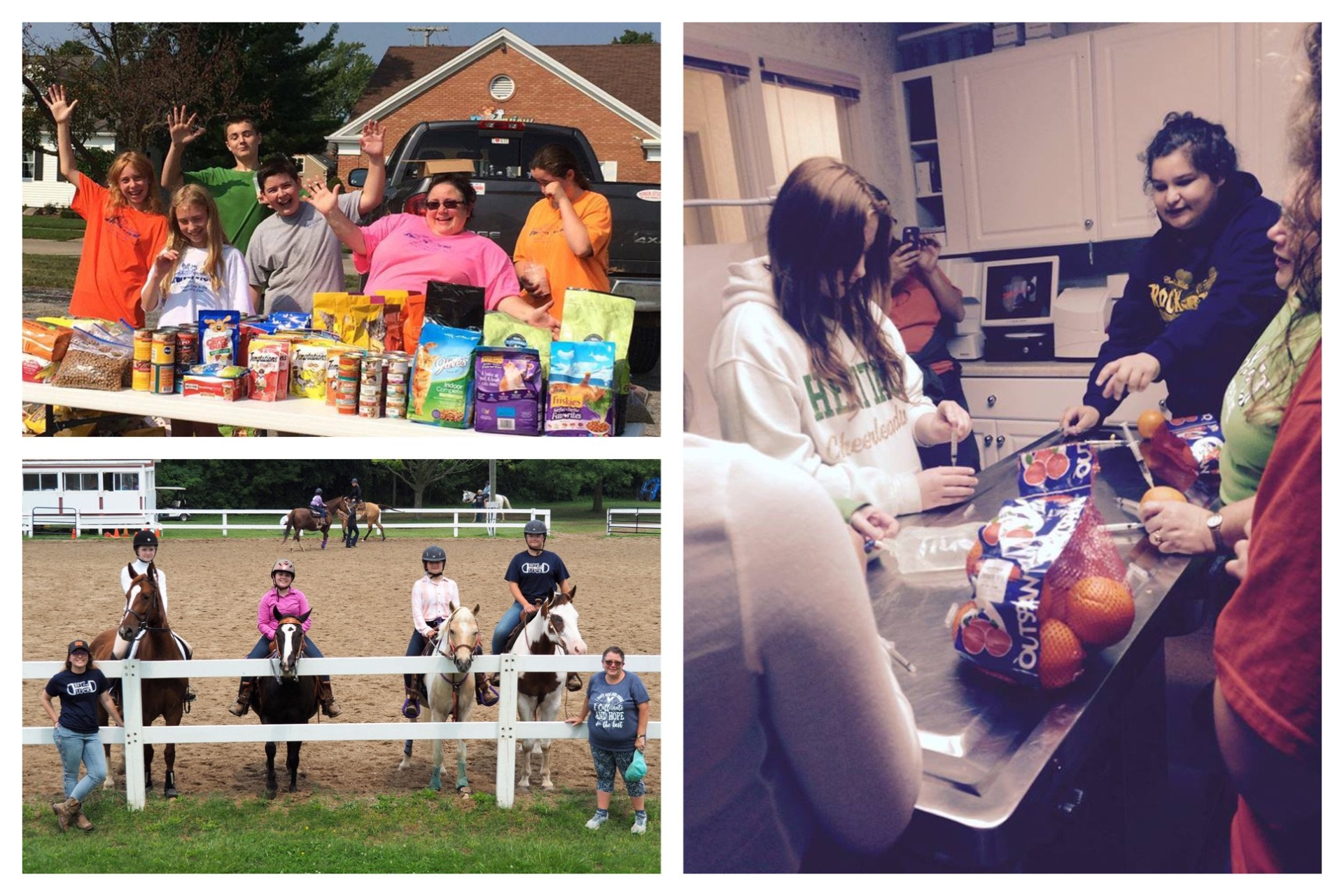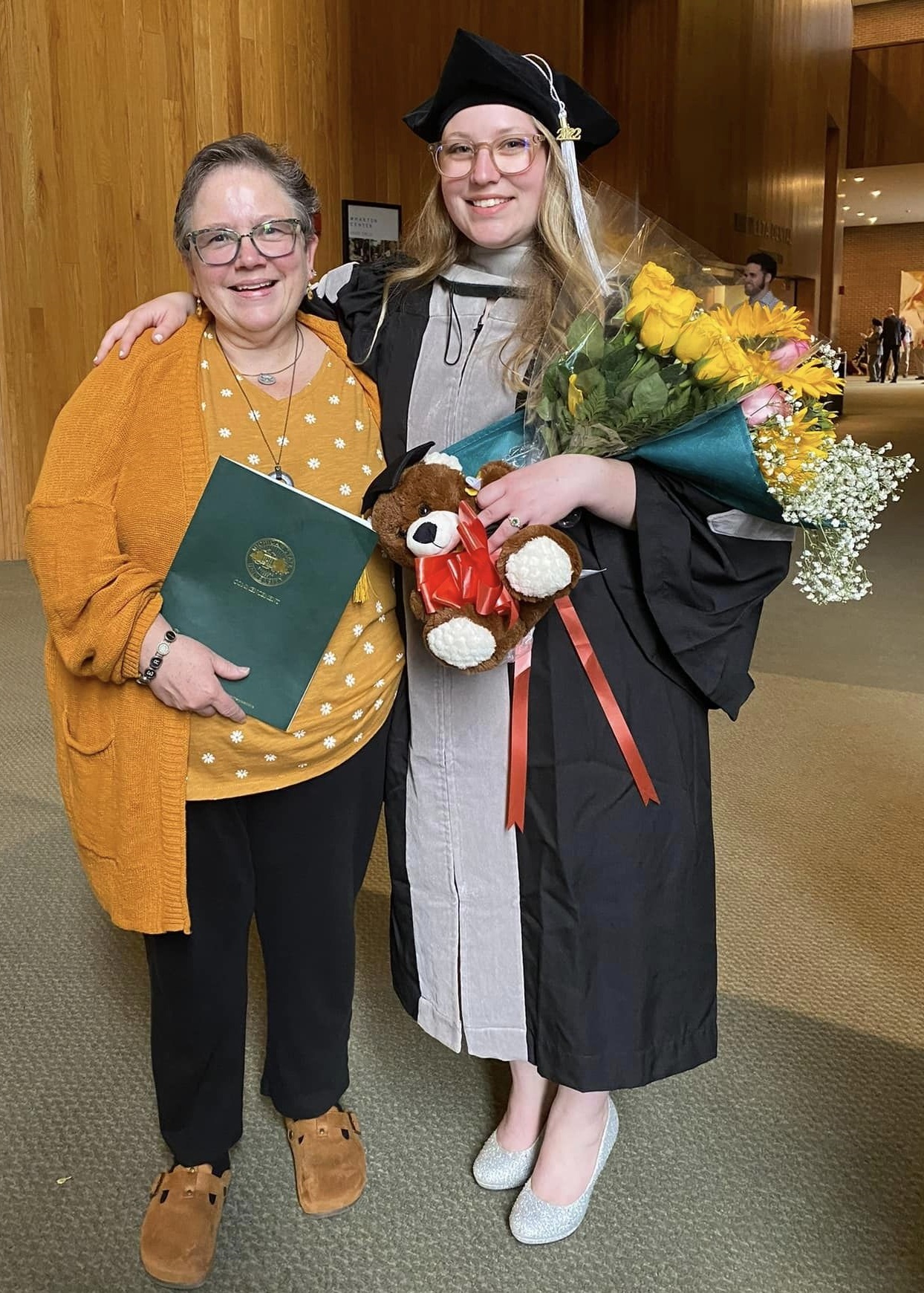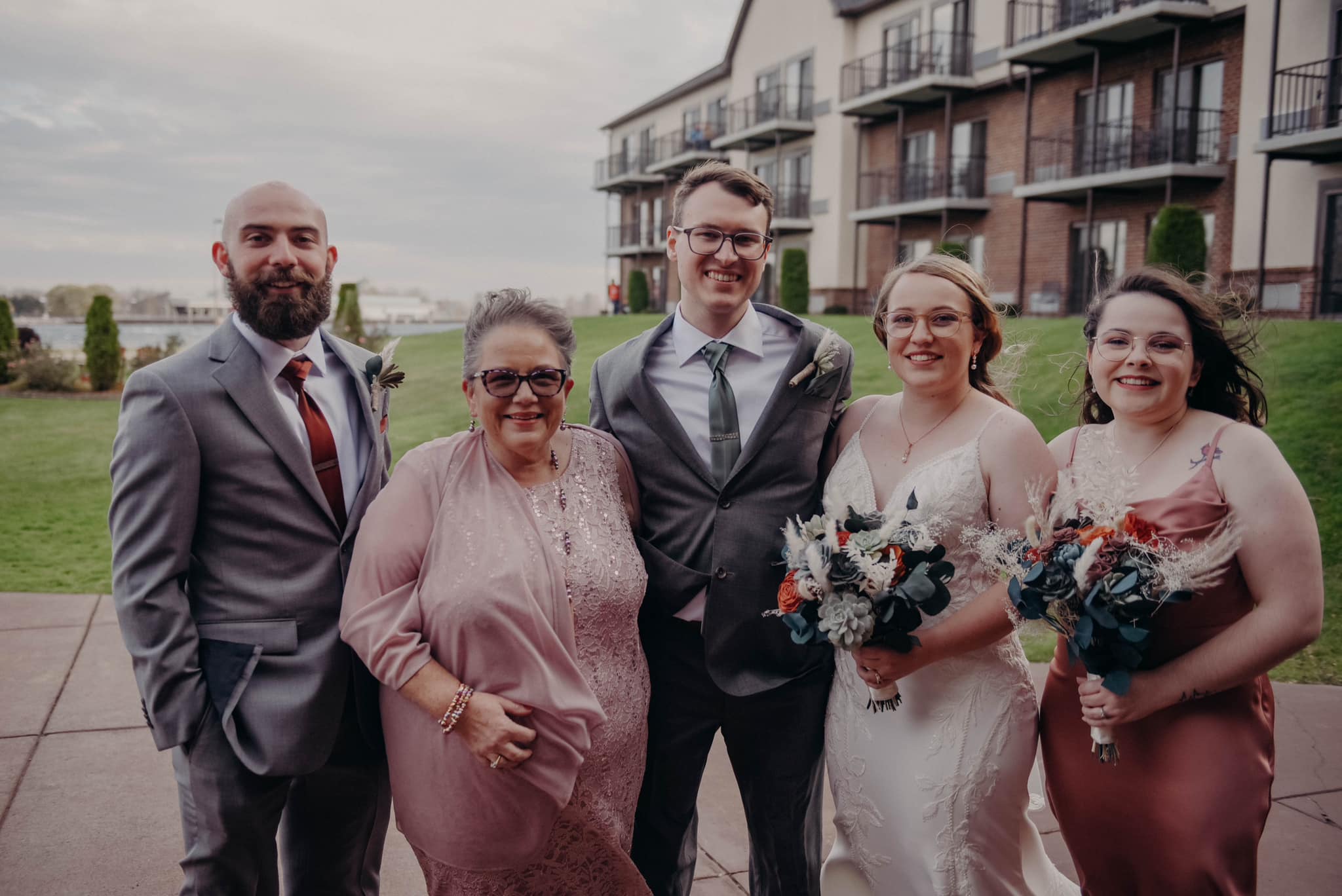 Robyn shared with us that her most note-worthy accomplishment was her three wonderful children, and having the sense of accomplishment that her efforts have created something that is seen as a staple of the local community and that her kids can also be proud of. Each of Robyn's kids have worked at various times in the clinic and her oldest daughter recently graduated from MSU's College of Veterinary Medicine and is now an associate doctor at the Riverview Veterinary Center. Her son is a wind turbine technician for DTE and her youngest daughter is in college, working towards a degree in psychology with a minor in ASL studies. Pictured are Robyn with her oldest daughter at her CVM graduation in May 2022, and her with all three of her kids and her new son-in-law at her daughter's wedding day this past November.