Every year, the MSU Resource Center for Persons with Disabilities recognizes the dedication and leadership of notable alumni who have made significant contributions to their field. The achievements of these alumni represent the importance of education and innovation. This year, Dr. Chad Klochko, M.D., was nominated by Virginia Martz, RCPD Ability Access Specialist, to receive this prestigious award.
Chad is the attending Musculoskeletal (MSK) Radiologist and Imaging Informaticist at Henry Ford Health Systems and has been pioneering some of the newest discoveries in radiology. He has an interest in artificial intelligence, imaging informatics, process improvements, and MSK imaging. Chad is also helping to bring in the next generation of physicians and doctors of radiology through teaching at the MSU College of Human Medicine. He was nominated for the RCPD Outstanding Alumni Award because of his dedication toward the development of future doctors of radiology. In her nomination letter, Virgina Martz reflects on Chad's qualifications by saying, "Chad was a strong leader and advocate at MSU during his undergraduate studies and when he studied medicine in the College of Human Medicine. He advocated for himself and others and challenged perceptions regarding a student doctor with a physical disability. He never doubted his abilities and proceeded to pass his medical training and instruction using creativity, innovation, determination, and his mantra "Failure is not an option."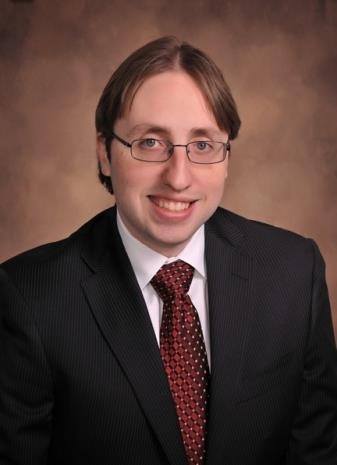 In an interview with RCPD, Chad shares more about his experiences he had while at MSU and with the RCPD.
What is your background with MSU? How has MSU and RCPD impacted you?
"I have an extensive history with orthopedic issues with my first surgery occurring when I was about thirteen months old. From that point forward, most of my summers as a child were spent recovering from a surgical procedure. A majority of my years in high school were spent in a wheelchair. After graduation I underwent a complex series of surgeries involving external fixation to restore the alignment and functionality of my left knee. Nine months of intensive physical therapy to learn how to walk again followed the alignment surgeries which ended in December of 2002. I was on my feet, using crutches, still learning how to maneuver upright, when I started at MSU in January of 2003.
The RCPD was the first department I contacted at MSU for assistance. I had spent the prior year and a half either bedridden during the reconstruction or doing physical therapy. At this point, I was driving and tentatively walking with crutches, but all of this was a new experience. Learning how to get around campus, attending classes, making new friends, this was my life, all while also learning how to navigate my newfound mobility. Ginger Martz, was my contact person at RCPD. She walked me through the resources that were available from early move-in and class registration to campus parking access. I don't know if I would have survived my time at MSU without this guidance and support. It allowed me time to develop confidence and comfort in East Lansing with MSU becoming my second home.
I majored in computer science and engineering as an undergrad. I always had an affinity for computers, born of all the time spent with them while recuperating from surgeries. At the onset of my junior year, I was motivated to take this love for technology into another field – medicine. I added the necessary pre-med classes to my degree, graduating in 2007 with High Honors from the College of Engineering. Then a slight detour took me to UofM in Ann Arbor for a master's degree in biomedical engineering before returning to MSU from 2009-2013 for my MD in the College of Human Medicine.
MSU has changed my life forever. As an undergrad, I was fortunate to make a group of friends who became my MSU family. We remain close to this day; even those who moved out of state stay in contact. Attending MSU-CHM, I experienced meeting amazing teachers and mentors who were an inspiration and helped to shape my path in medicine."
What are your plans for the future?
"I finished my fellowship training and started as a senior staff physician at Henry Ford Health in July of 2019. Immediately I began to work on research projects in the areas of artificial intelligence and natural-language processing. In early 2021 Henry Ford announced a significant partnership with MSU and the College of Human Medicine to further our academic and research goals. Upon hearing the announcement, I reached out to the computer science department and have been actively working on this research multiple investigators at MSU.
I hope to continue my clinical research in optimizing the intersect of machine learning and patient care. I believe artificial intelligence and natural-language processing offer incredible potential to help unlock medical data otherwise unmined in free-text documentation which when provided to clinicians at the right time could substantially improve patient care."
Do you have any quotes that you would like to share with us?
"Success is the ability to go from one failure to another with no loss of enthusiasm." - Winston Churchill
Chad's tireless leadership, innovation, and mentoring has not gone unnoticed. He exemplifies what it means to be outstanding in his field and MSU RCPD is honored to recognize him with the Outstanding Alumni Award.
Learn more about Chad and his past experiences through his Twitter page (https://twitter.com/augmentedacuity) and his LinkedIn page (https://www.linkedin.com/in/chad-klochko-0698398/).