The RCPD is dedicated to assisting MSU students and employees with disabilities through services, programs, and accommodations that grant equal access to opportunities in higher education. The Building Opportunities for Networking and Discovery (BOND) program is one solution for fostering support and establishing social, academic, and independent living skills for students on the autism spectrum. BOND participants work alongside peer mentors such as recent MSU graduates Anna Bowling and Abby Cortis, to make the connections and gain the skills needed to reach their full potential on campus and beyond. Recently, Anna and Abby shared their stories of how they discovered the BOND program and became involved in assisting Spartans with disabilities.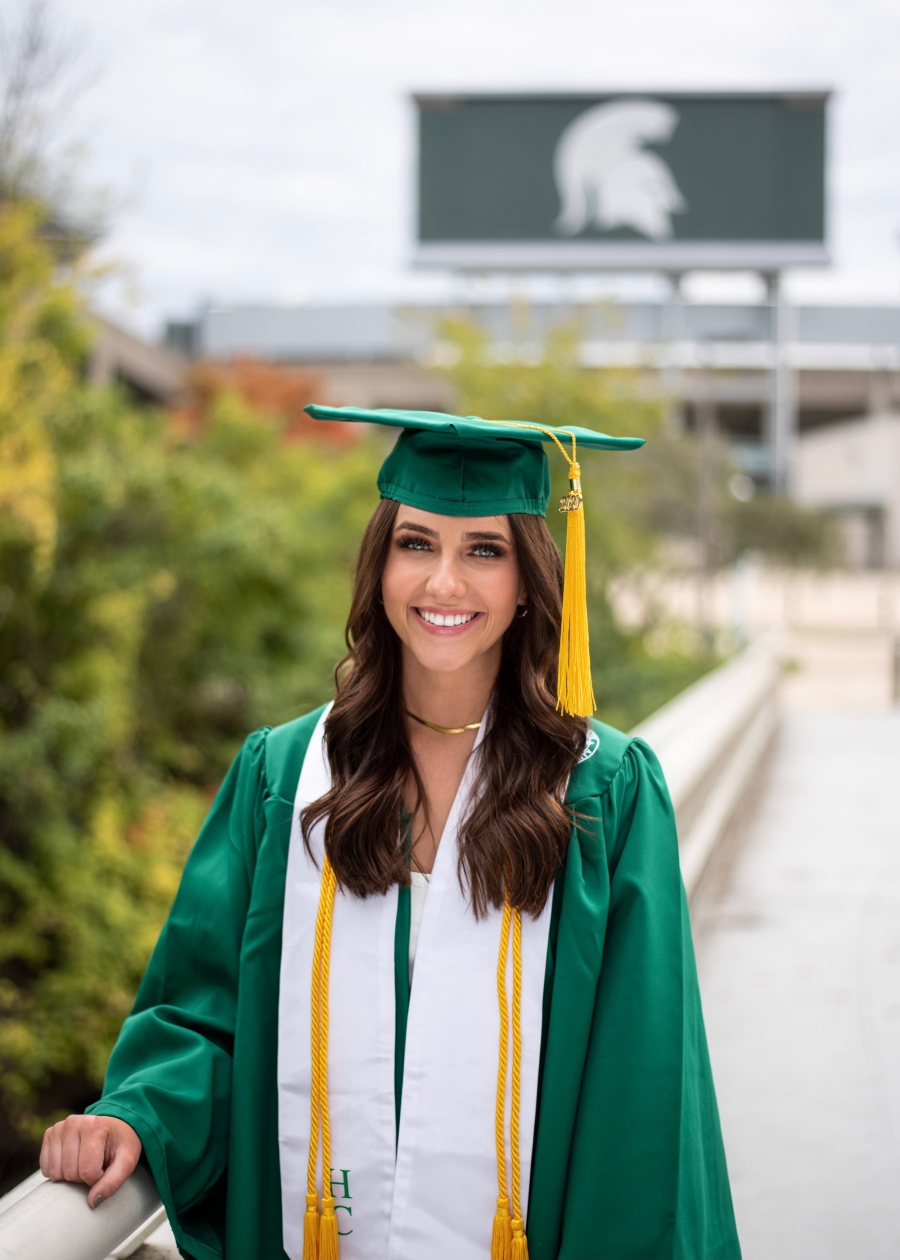 Destined to attend her parents' alma mater, Anna Bowling grew up amid green-and-white football and basketball games. Having built an emotional connection with the MSU campus and community throughout her life, this home-grown Spartan was attracted to the Lyman Briggs College and the challenging experiences it would provide. And it did. During her time at MSU she transformed her love of science, technology, engineering and math (STEM) into a bachelor's degree in Human Biology with a minor in Entrepreneurship and Innovation.
After being inducted into MSU's sophomore honor organization Tower Guard, Anna surveyed the choices available to her for the group's 120-hour volunteer requirement. She knew she wanted to get a greater hands-on experience working directly with students with disabilities, and after meeting with Ability Access Specialist and BOND Coordinator, Lindsay Hill, she realized she had found what she was looking for.
"I can easily say that BOND was one of the most impactful experiences that I had while I was an MSU student. Not only was I able to aid in making Michigan State a more inclusive environment, but I had a ton of fun in the process. My mentees taught me valuable life lessons that I couldn't have been learned in any class at MSU," expresses Anna. "I gained not only a greater appreciation for the obstacles that differently abled students face while trying to earn a college degree, but also how their differences are valuable assets that enrich our school."
Although Anna is currently in the process of applying to medical school and proceeding with a well-deserved gap year, she acknowledges how her involvement in the BOND program has influenced her involvement in her prospective career.
She shares: "In my future career as a physician, I think BOND will have greatly increased my capacity to practice inclusive medicine. In my opinion, empathy and patience are skills, just like suturing or memorizing anatomy, and they contribute just as much, if not more, to the ability of a doctor to successfully help their patients. My mentees showed me that differing perspectives are so valuable and can often contribute to unique solutions for difficult problems. Our society has been continually designed for the "average person", and although we have come a long way in terms of accessibility, I still think we could do better in considering the experiences of those who are different from us. BOND has furthered my passion for putting inclusivity at the forefront of all of my decision-making processes, and I hope to carry that with me for the entirety of my professional career and life."
With the availability of endless opportunities, Abby Cortis found MSU's large campus, Spartan population, and vigorous course catalog to be an outlet to uncover her passions and interests. While discovering lifelong friends and finding supportive and knowledgeable mentors, she was determined to also make sure her college experience would prepare her for a future in medicine. Having recently acquired her bachelor's degree in Human Biology, from the Lyman Briggs College and Honors College, with a minor in Environmental and Sustainability studies, Abby reflected on how much her involvement as a BOND mentor has impacted her MSU career:
"Looking back, being a peer mentor with BOND at MSU was truly once-in-a-lifetime. Getting to know and meeting with my mentees was something I looked forward to each week and I quickly considered them my friends. After a long day of class, it was refreshing to sit and chat with them or grab a bite to eat in a dining hall. I was able to bond with them on a peer-to-peer basis, but also give them some study, life, and relationship tips and tricks that I've learned throughout college."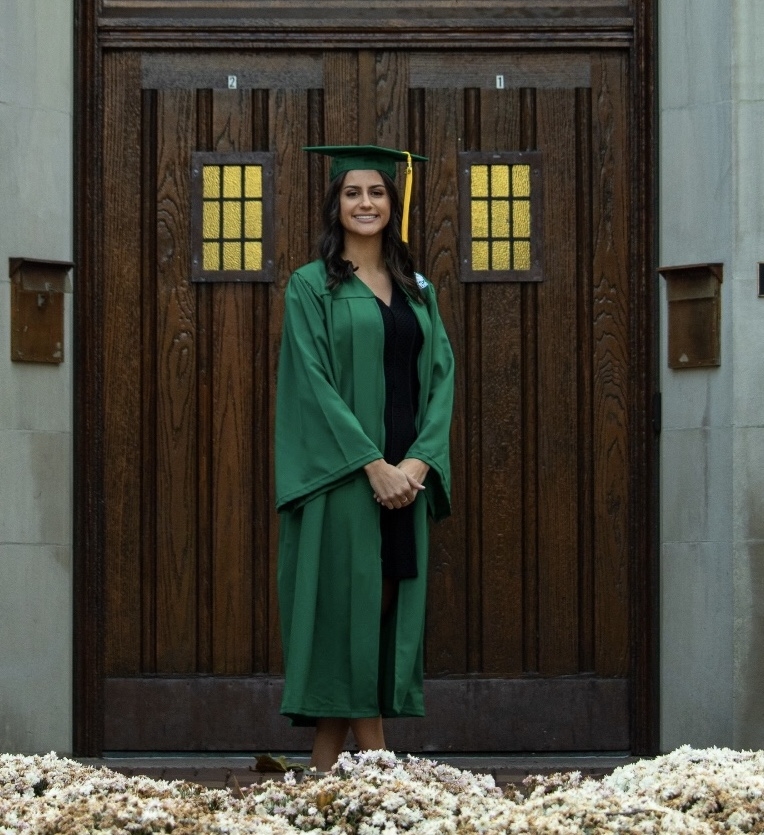 Introduced to the BOND program by Anna, Abby knew this would be a great opportunity to get involved on campus and utilize her previous experience in tutoring and mentoring students with disabilities. She was excited to leave a lasting impact on her Spartan community. Her volunteer year was filled with a wide range of experiences, from brainstorming, group events and trips to taking part in wholesome conversations and fun, Abby states: "In a nutshell, BOND opened the door to new friendships, while helping to shape my character and values, and I'm incredibly grateful for the experience."
Abby is currently in the process of applying to dental schools, with programs and clinics that cater to patients with disabilities. She found that her time spent in the BOND program helped her recognize social boundaries and personal limits. In addition, the BOND program's focus on building effective trust, respect, and communication has helped her to become a better dental school applicant. While she transitions to the next page in her life's story, Abby hopes to generate quality dental care and education, to better serve underserved populations, and to promote "both healthier smiles and lifestyles."
As both young women proceed beyond their MSU years, they share parting words to the RCPD, BOND leadership, and BOND students:
Abby stated: "To everyone at RCPD and with BOND, thank you. Being a part of BOND was invaluable to me. The experience would have not been the same, or even possible, without the help of people dedicated to the mission and goals of the RCPD. To BOND students: Never forget how awesomely unique you are. Try to enjoy (or at least recognize) every moment as it comes because it will eventually pass, too. As we have learned from the current pandemic, it's okay to be uncertain. Whether about a class, a project/exam, your goals, your major, a relationship, etc., uncertainty at this point is normal (and is to be expected). Trust that things will work out. When it feels like the sky is falling, know there are resources available to help you."
Anna shares: "I would say thank you so much for the incredible experiences and memories that BOND has given me over the past three years. I couldn't be more grateful to have been a part of such a special community within Michigan State. I grew so much as a person from being a mentor, and although there were times I was very challenged by my role, it made me a better, more understanding graduate, who is ready to take on the professional world."
Thanks to their MSU experiences, these graduates are prepared for the world ahead, and credit the BOND program with shaping their interest in serving persons with disabilities in their future career paths.