As we reflect on February as Black History Month it is important to include Black Disability History. Throughout the history of the United States there have been many influential Black people with disabilities who shaped our history.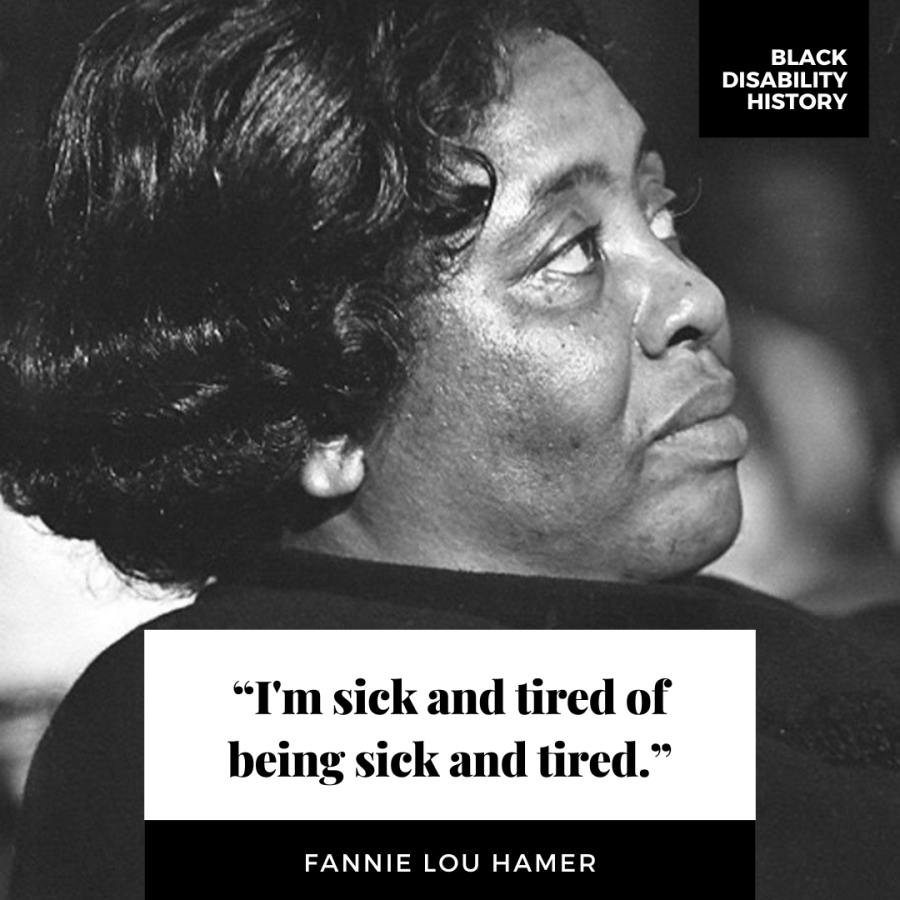 Fannie Lou Hamer was born in Mississippi in 1917. She had polio as a kid and would later get brutally beaten in jail that left her with physical disabilities. As well, due to her disability she was forcibly sterilized as so many other African American women with disabilities were. She did not let this stop her, Fannie Lou Hamer got involved with the Southern Christian Leadership Conference (SCLC), the Student Nonviolent Coordination Committee (SNCC), co-found the Mississippi Freedom Democratic Party (MFDP), helped organize the Freedom Summer of 1964 and 1971, and helped found the National Women's Political Caucus to fight for equality in civil rights.
Johnnie Lacey was born in Huttig, Arkansas in 1937. She contracted polio at 19 while pursuing a nursing degree from San Francisco State University (SFSU) which ultimately left her paralyzed. Lacey returned to SFSU to pursue a degree in speech pathology but was initially denied due to her disability. She was eventually allowed to attend the school and graduated in 1960. After this Lacey became an advocate for the Black Disability community and worked to ensure it was not overlooked in the fight for racial equity. She created the Berkeley Center for Independent Living in California and led the Community Resources for Independent Living. As well, Johnnie Lacey served on the state Attorney General's Commission and Disability and the Mayor's Disability Council for San Francisco.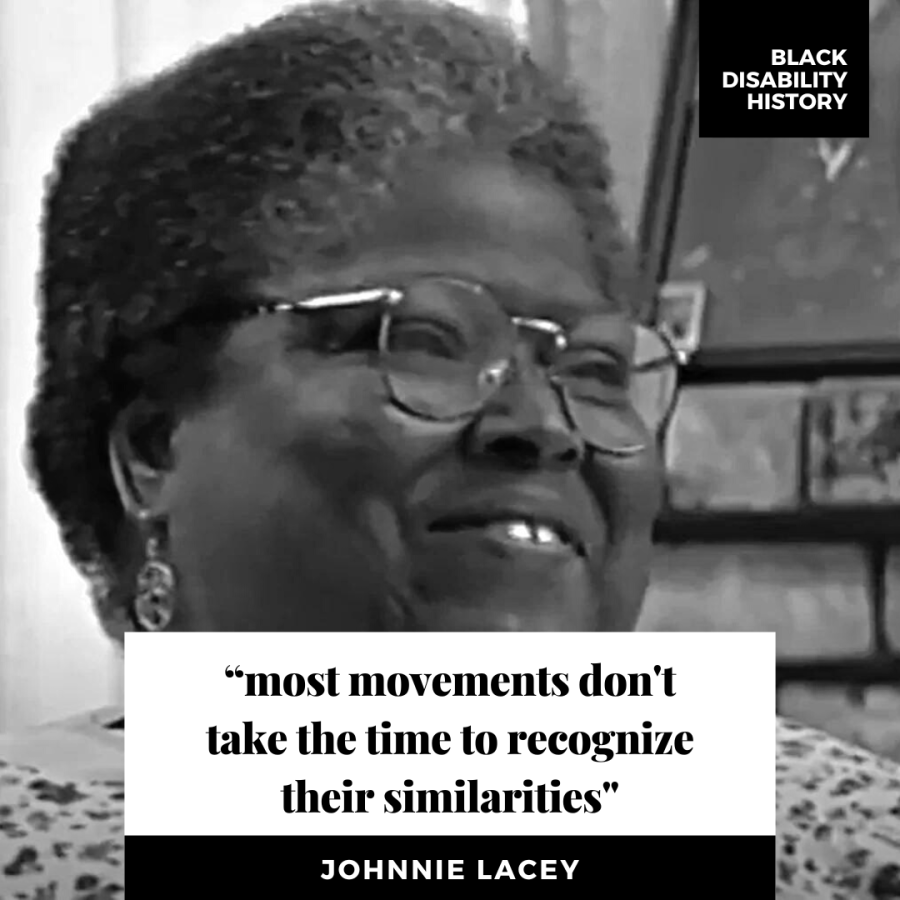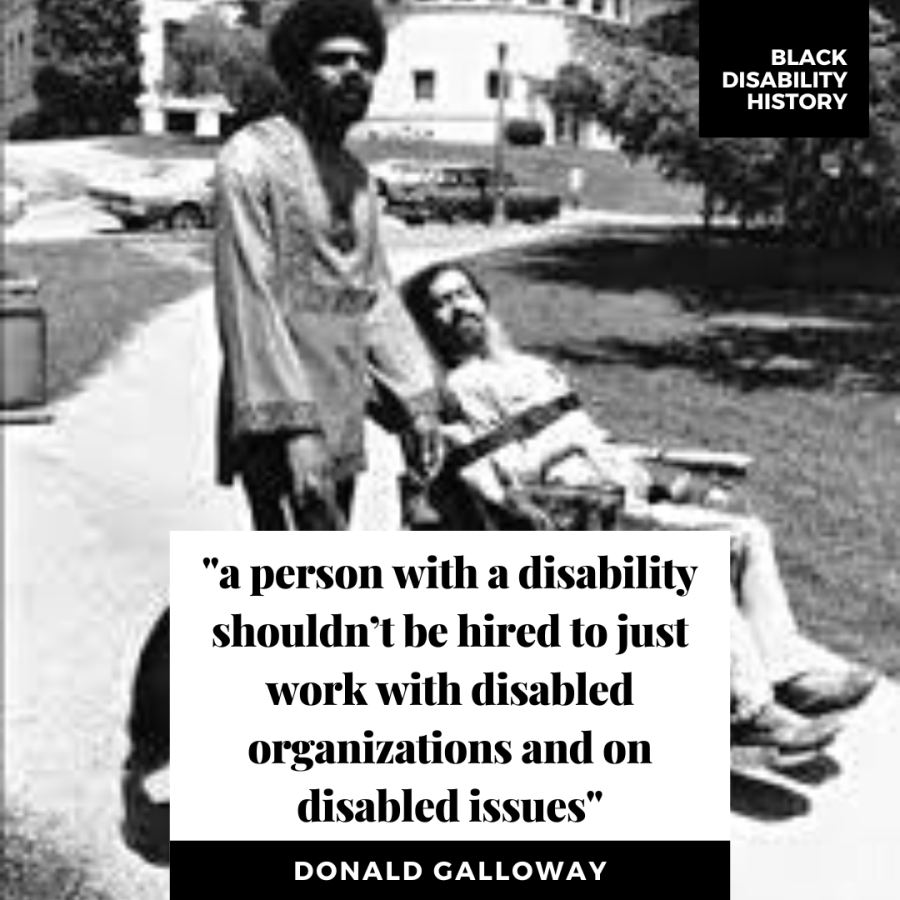 Donald Galloway was born in 1938 in Washington D.C. He was blinded in an accident in his early teens, but he was not resentful of his disability, he was prideful of it. Galloway became a junior member of the NAACP and served as a junior member for the National Federation of the Blind, advocating for Black Disability rights. He earned a masters degree in social work and began working for the Berkeley Center for Independent Living, and eventually worked his way up to a high rank at the DC branch. In addition, Galloway advocated for representation in law proceedings after he was denied jury duty due to his blindness. He filed a lawsuit in 1993 that set precedent for the inclusion of disability in law. David Galloway's efforts in advocacy challenged rigid systems and uplifted the voices of those with disabilities.
Brad Lomax was born in 1950 in Philadelphia, Pennsylvania He was diagnosed with multiple sclerosis during his freshman year of college at Howard University in Washington D.C. and became a wheelchair user. Due to this, Lomax started to realize how inaccessible buildings were on campus and just in general. He then moved to Berkeley, California where he ran into similar issues but also began realizing the issues with public transportation there. So, he decided to get involved with local disability rights organizations, such as he partnered with the Black Panther party to bring resources to Black communities in 1977. Along with the Black Panthers he helped organize and execute a sit-in to express the need for the inclusion of Section 504 of the Rehabilitation Act of 1973. Brad Lomax's efforts provided the fuel to continue the multi-day protest and ensured safe conditions for all those involved. Without him the protest likely would've fallen apart and section 504 may not have been passed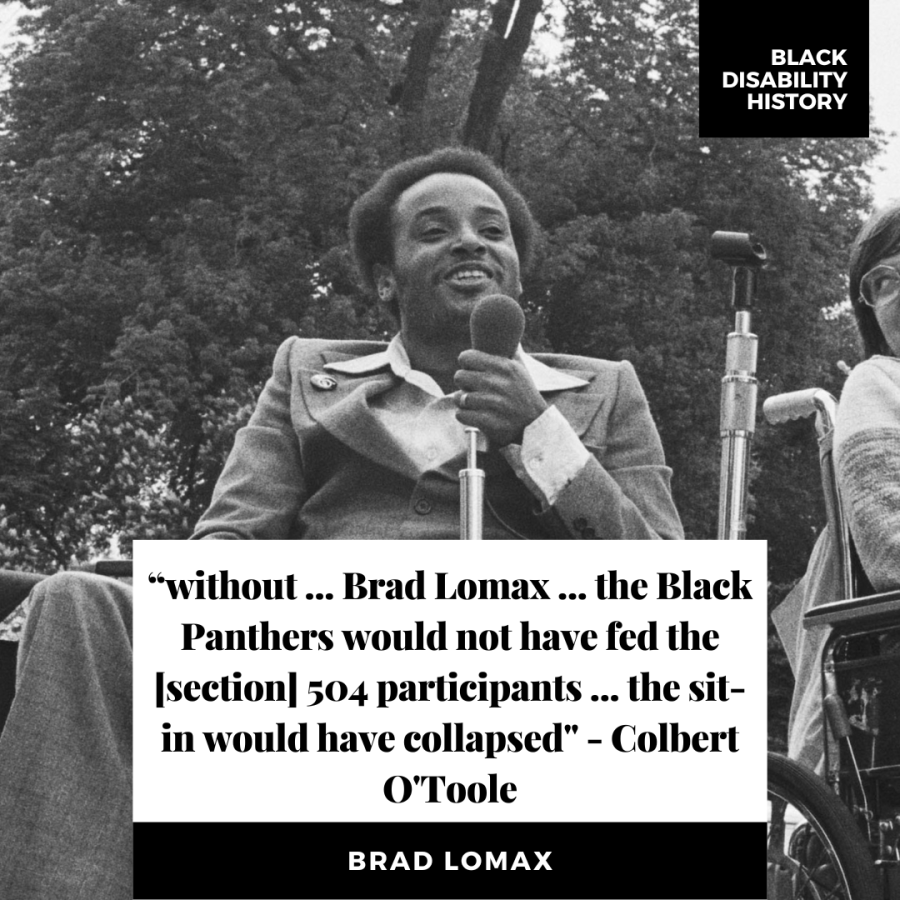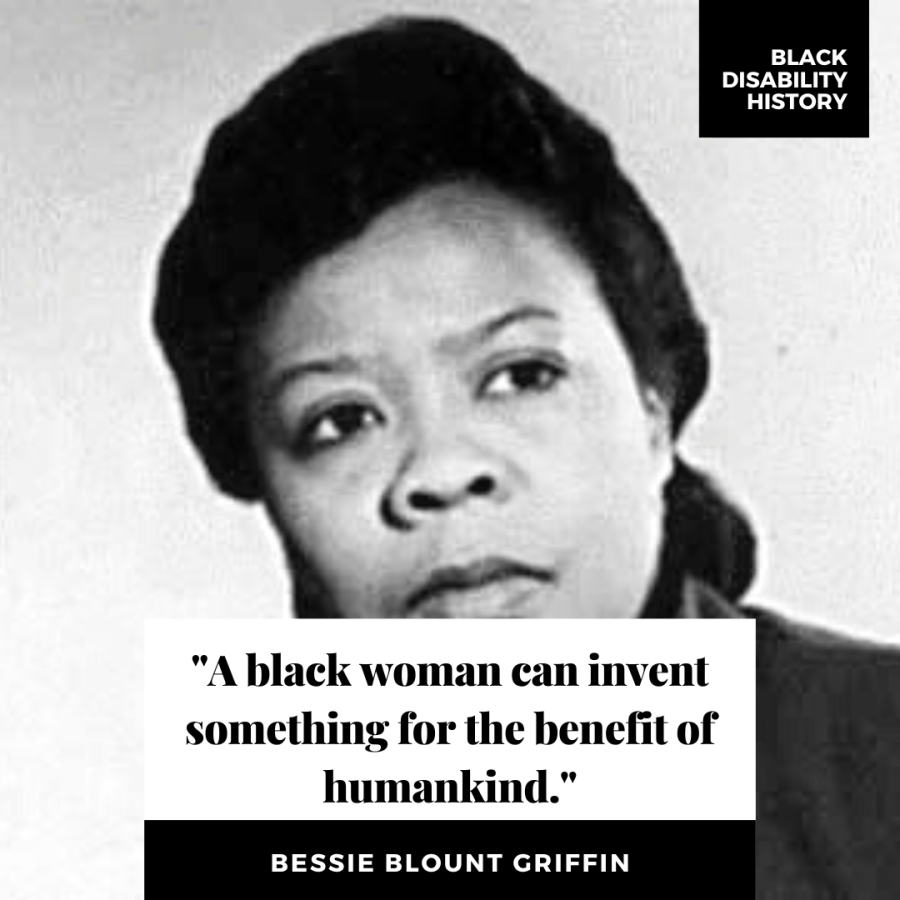 Bessie Blount Griffin was born in 1914 in Hickory, Virginia. She made major breakthroughs for assistive technologies, specifically for WWII veterans who were amputees. Griffin worked with the Gray Ladies, non-medical volunteers, during WWII and after interacting with those paralyzed from war decided to make it her life's work. She believed that people with disabilities deserved to be able to live independent lives.
Barbara Jordan was born in 1936 in Houston, Texas. Barbara Jordan was a woman of firsts. She was the first African-American woman to serve in the Texas Senate in 1967, first African-American woman to serve the Texas State Legislator, the first African-American from the South to serve in the United States Congress in 1971, the first black woman at a Democratic National Convention to give a keynote address. Jordan served on the House Judiciary committee for the Watergate hearings and was a strong public speaker. Her advancements to equality in the US is exemplified by her successful campaign to include Hispanics in the 1975 Voting Rights Acts. She believed everyone deserved protection under the Constitution. All the work she has done throughout her life was deeply influential to the United States. Barbara Jordan was awarded the Presidential Medal of Freedom in 1994 by Bill Clinton. In 1973, she was diagnosed with multiple sclerosis (MS) and was a chair user by the 90s.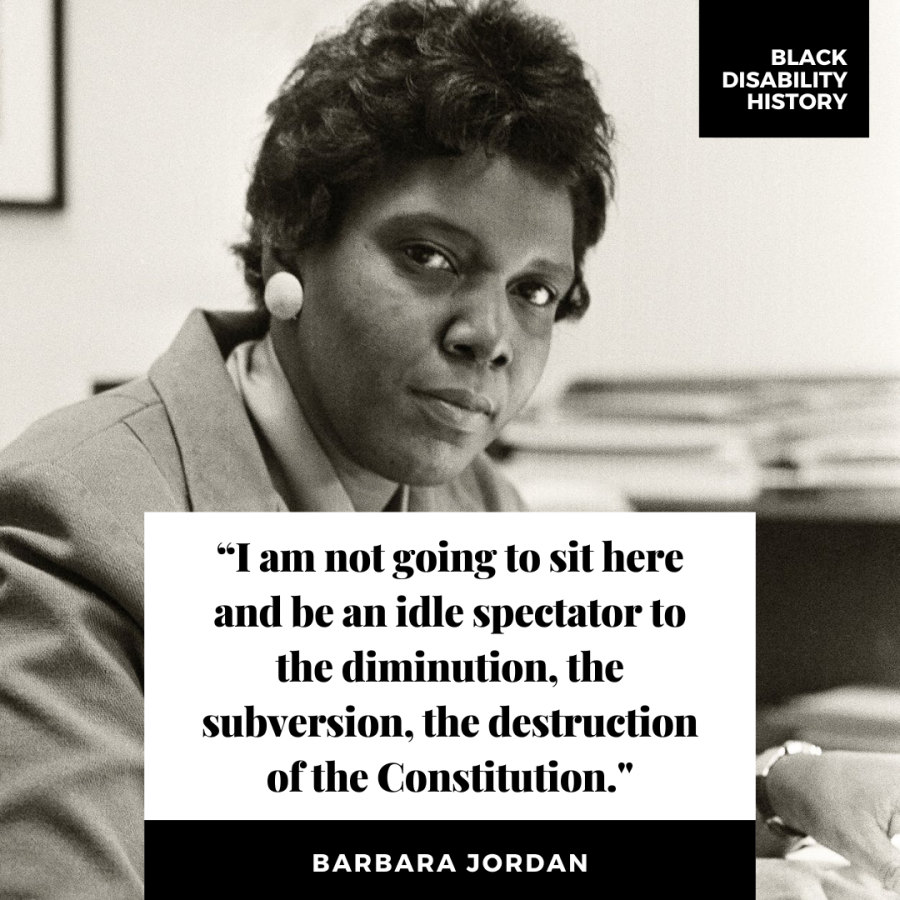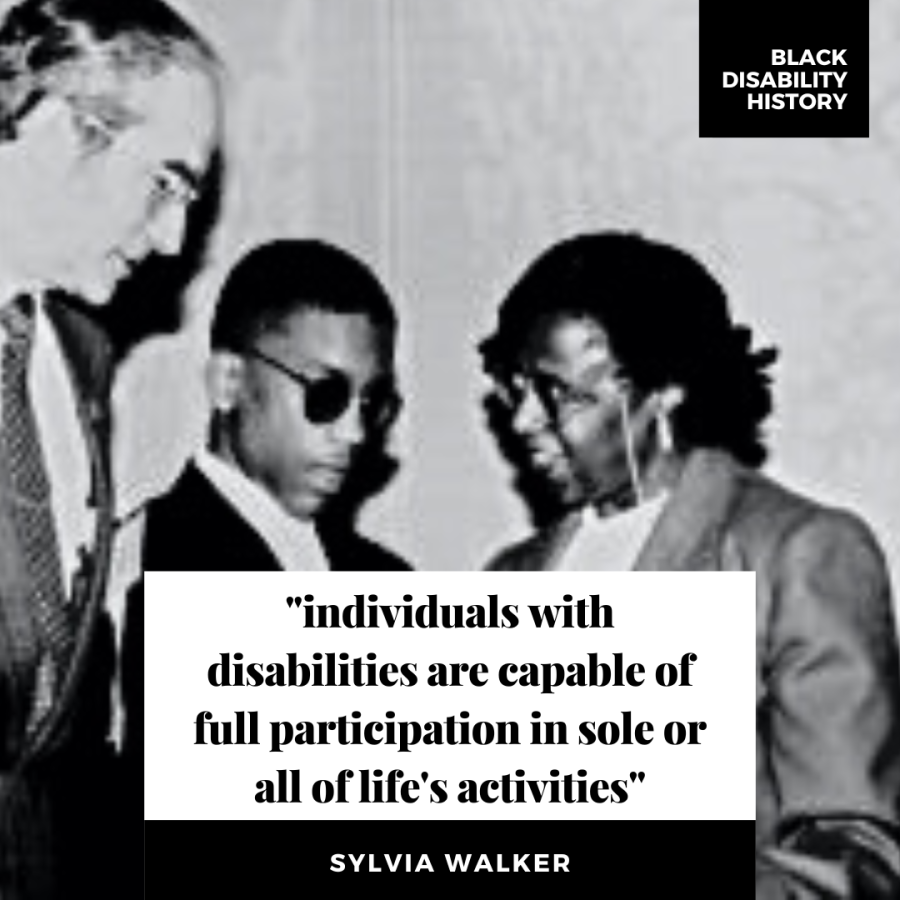 Sylvia Walker was born in 1937 in New York City, NY. She grew up with an eyesight impairment and became fully blind at 14, most people expected little of her. However Sylvia aimed to prove them wrong. She earned her Bachelors in Social Science with a focus on early childhood development, Masters in Education of the Physically Handicapped, and a Doctorate in Education of Disabled and Health-Impaired People in just ten years and became a professor in the School of Education at Howard University in DC. Her research focused on the lack of accessibility for all people with disabilities. As well, Walker Founded the Center for the Study of Handicapped Children and Youth at Howard University in 1975. She has written countless articles about the struggles people with disabilities face and the need for quality education. Her work was important groundwork for the legislation that led to the ADA. Former President Bill Clinton appointed her as the Vice Chair of the President's Committee on Employment of People with Disabilities and helped found the American Association of People with Disabilities (AAPD).
Jazzie Collins was born in 1958 in Memphis, Tennessee and moved to San Francisco in 1988 where she transitioned. Collins was an HIV-positive transgender woman. She was one of the original organizers for Queers for Economic Equality Now (QUEEN) and helped organize several protests against exclusionary laws in Employment Acts. She volunteered and was an organizer for Senior and Disability Action and was the vice chair of the LGBT Senior Disabled Housing Task Force. Jazzie Collins' work with disabilities was groundbreaking because it was some of the first to focus on safety and equality for seniors with disabilities.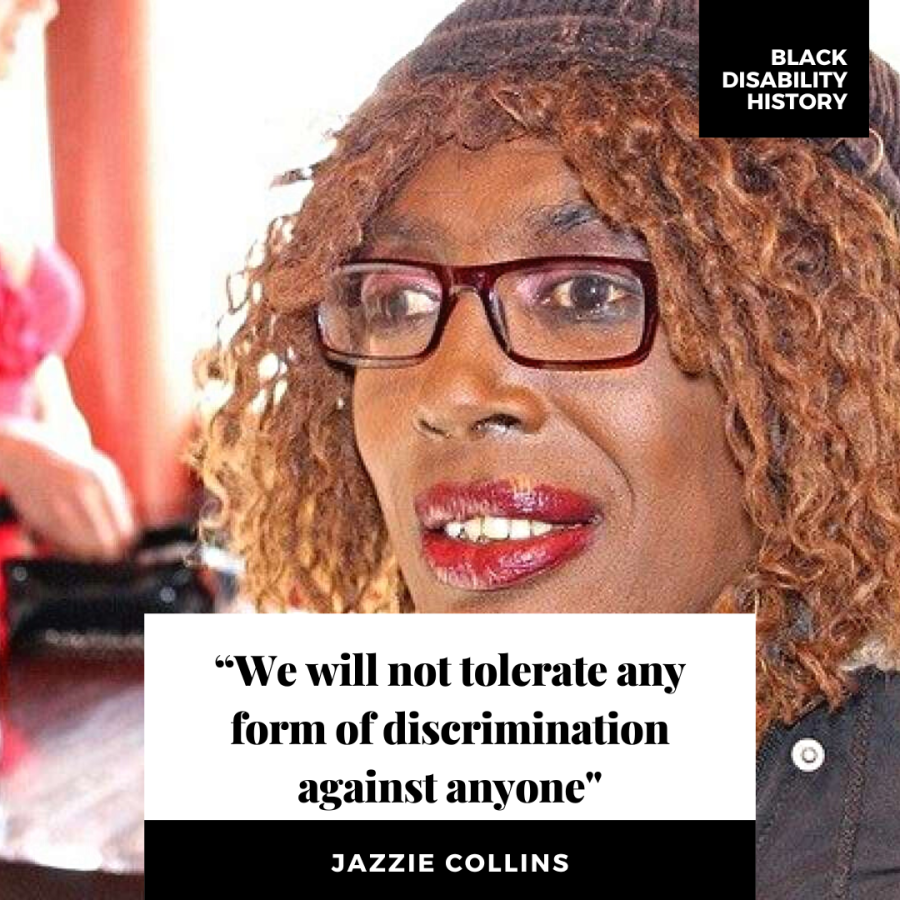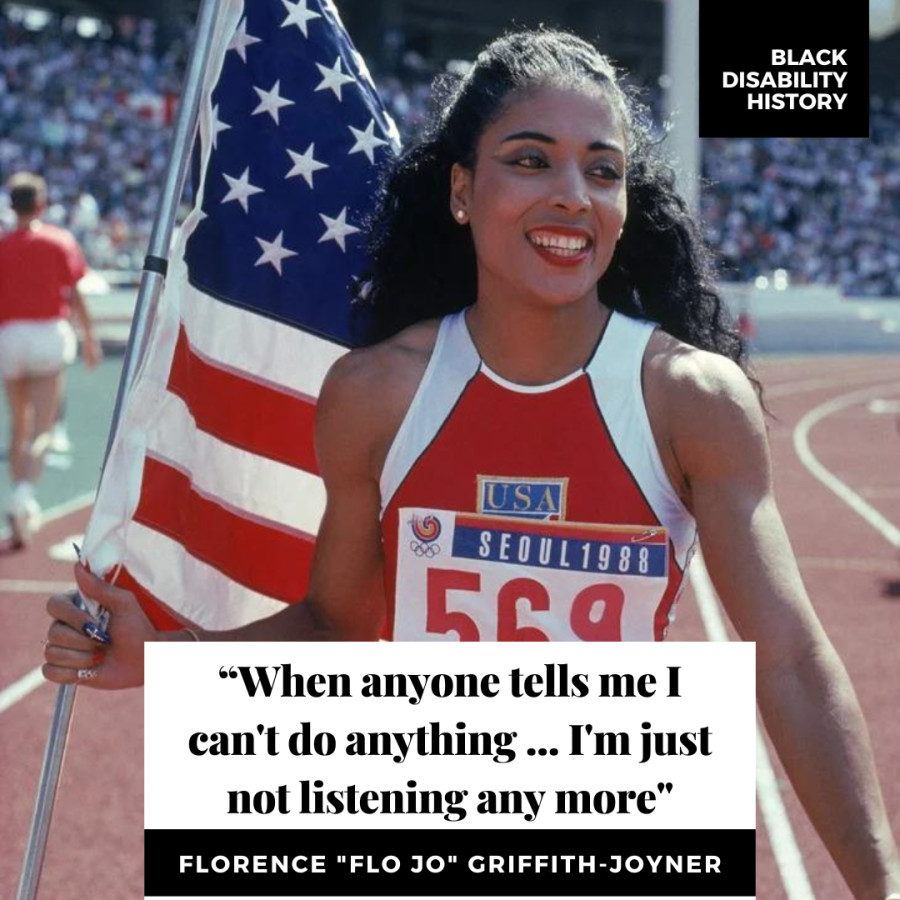 Florence "Flo-Jo" Griffith-Joyner was born in 1959 in Los Angeles, California. She was an Olympic sprinter who set world records that have stood since 1988. While running she stood out to crowds due to her signature aesthetic of vivid color-schemes, long nails, and even jewelry. Griffith-Joyner also had a disability, Epilepsy, but that did not stop her from pursuing her goals.