When Angela Sebald reflects on the TNT: Transitions in Training Program she helped facilitate in 2019, the first thing she thinks of is s'mores. S'mores are one of those pleasant memories of summer that we cling to in the winter months, reminding us of evenings spent around the campfire with family and friends. For Angela and the students of the TNT, s'mores are also a reminder of growth, experience, and developing independence.
The Michigan Bureau of Services for Blind Persons (BSBP) believes in the capacity of achieving employment and independence for people who are blind or visually impaired. Created in 2016, Transitions in Training developed with BSBP to share the benefits of higher education and job opportunities for students who are blind or visually impaired. Many high school students with disabilities don't know if college is possible, and this program allows professionals to share the opportunities available to students after their secondary education concludes. The program also provides these students with an opportunity to socialize through fun activities like s'more-making!
Angela Sebald, RCPD's Ability Access Specialist for Blindness/Visual Impairment and Media Access, continuously strives for increasing opportunities here at Michigan State University and beyond. She notes, "I am ecstatic to help students grow in their ambitions for higher education and a satisfying career. This program allows me to connect students to the innovative MSU community and engage them in the university's traditions of quality, inclusiveness, and connectivity."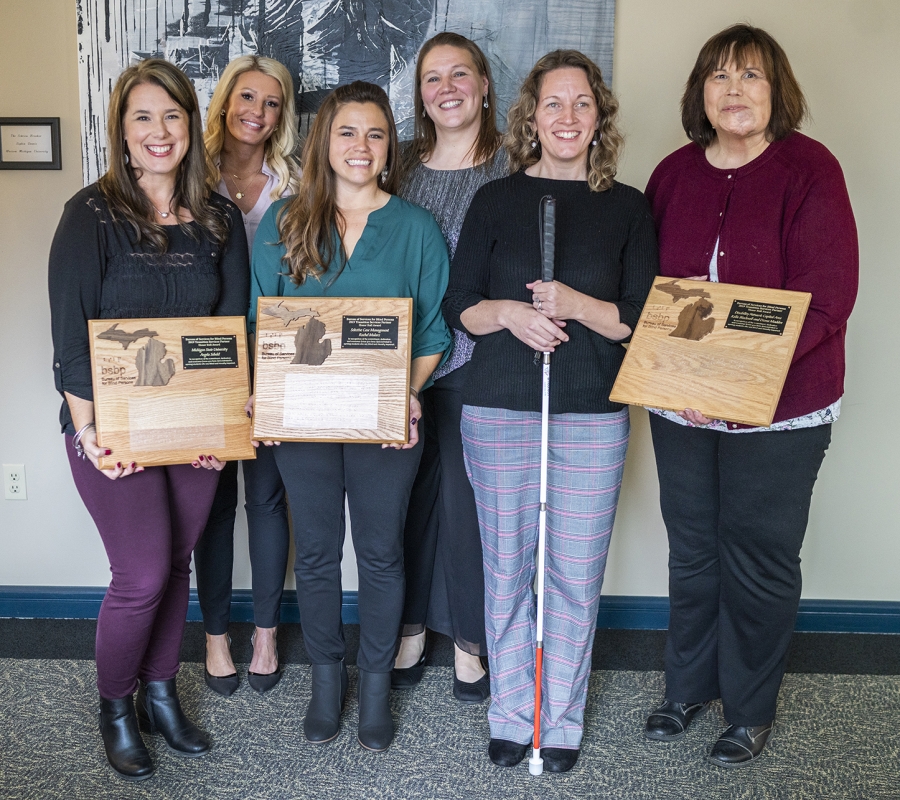 Considering this, when BSBP held their 2019 Achievement Honor Roll Awards, an annual event celebrating advocates within the community, Angela was among those chosen as distinguished recipients. Angela's team was selected because of their collaborative work putting on a successful Transitions in Training program during the summer for students in need of job exploration counseling, work-based learning, post-secondary exploration, workplace readiness training, and self-advocacy.
As an individual of action and professionalism, Angela was recognized for going above and beyond in the goals she set for herself and her team. These types of programs are designed to partner with and provide support to individuals, so that they may achieve greater quality of life and independence. Angela's ability to provide elevation and support is monumental, and we are proud to have her as part of our RCPD Family!