Monika Johnson
Katrina Tagget, a beloved RCPD student who passed away September 20, 2008, leaves behind a legacy of service, persistence, inspiration and success. Her contributions to the RCPD and fellow students are plentiful, resonating in her academic scholarship and service to others.
Valerie Nilson, RCPD Learning Disabilities Specialist, will "miss her immeasurably." Nilson said, "She always came into my office with an agenda of what she needed to get done. On outward appearance it seemed she found academics easy. However, she worked very hard at being organized and fastidious in her studies."
Tagget, a 2008 Samaritan Scholar who was a Senior at MSU majoring in Public Administration and Public Policy, was diagnosed with dyslexia and ADD. She became acquainted with the RCPD as a freshman; moreover, she said that one of the most fulfilling things she did at MSU was mentoring a fellow student.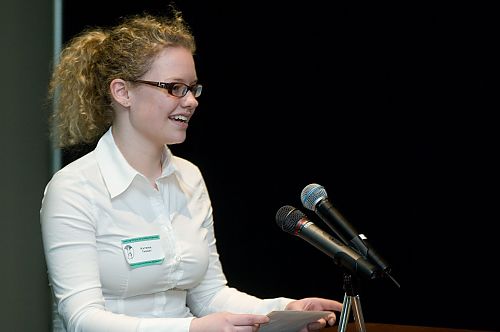 (Tagget delivers thank you remarks after being named a Samaritan Scholar at the Awards and Appreciation Reception.)
"It's not just me mentoring them- we develop a relationship and a friendship. They need my help, but at the same time, I'm helping myself and learning more about my strengths and weaknesses," she said.
Tagget was chosen to mentor through RCPD's STATE peer mentor program. Student mentors are chosen based on their history of academic success. This unique helping relationship is utilized in conjunction with traditional services to help STATE program participants develop awareness, acceptance, thinking skills, habits, and structures necessary to be successful in college.
Nilson said, "Besides being an outstanding example of academic achievement despite disability, Katrina had a heart to help other students. She was a top performing mentor to several other students who also had learning disabilities helping them to achieve their potential. Even after the end of her semester of mentoring, she continued to care about them. Katrina received many awards including Outstanding Mentor Award for two semesters while maintaining a straight 4.0 GPA."
Tagget's commitment to academic success provided her with tools to inspire others. She said, "Being dyslexic has made me stronger and a lot more determined because I've done so much work that if I don't do everything I possibly can, it was all for nothing. My disabilities haven't gone away, and it's tough sometimes because I have to study more than others- it can be frustrating. But I have my goals and ambitions and drive, so I just have to stick with it."
Throughout her educational career at MSU, Tagget spent a semester in Washington, DC, which she said solidified her plans to attend law school for contract law in government and business. She was a member of Phi Alpha Delta pre-law fraternity, Golden Key Honor Society, and valued community service. She said, "Law school is going to be different, but knowing that I'm still going to pursue my dream and from everything I've accomplished, I know that if that's where my heart is, the skills I have will help me do well."
Tagget's appreciation for community service and helping others resonated in her day to day life. As a mentor, she said, "I try to familiarize myself with their needs so I can help the best I can. I help with any aspect of their life, from roommate problems to school and studying. I'm there for them as a resource for MSU."
Mentoring inspired her throughout her career at MSU. She said, "Being involved in the RCPD has opened my mind to the realization that people have all sorts of disabilities. It's enlightening to see how people struggle to overcome them."
Tagget will be deeply missed at the RCPD, but the memory of her commitment to others leaves a legacy. Her dedication to overcoming disability and academic success are exemplary of the achievements all students strive for.
A memorial fund has been created by Tagget's friends and family in her name at the RCPD. Gifts are welcomed and can be sent online or to: Resource Center for Persons with Disabilities, C/O: Katrina Tagget fund, Michigan State University, 120 Bessey Hall, East Lansing, MI 48824-1033. Questions or additional inquiries may be directed to Michael Hudson, Director.
Tagget was interviewed by the author several months before her passing in preparation for a series of articles highlighting RCPD student accomplishments.