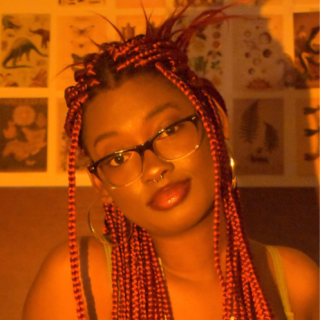 Reception Assistant
Parisse Paige
Parisse is a student from Detroit, Mi. Currently in her second year at Michigan State, Parisse is majoring in Women's and Gender Studies. Parisse has broad career interests ranging from higher education to psychiatry. In her spare time, you can find her listening to music, crocheting, making a home-cooked meal, or drinking tea.

1. What inspires you?
I'm inspired by my family, in their own way, they created success and happiness for themselves and I aspire for the same thing. I want to build my life from the ground up and be able to look back at all that I've accomplished with pride.
2. What are you passionate about?
I'm passionate about k-12 education. I wish that all children received the same resources and education to pave the way for their future dreams.
3. What is your favorite book and why?
My favorite book would have to be Jane Eyre by Charlotte Brontë because it was the first piece of classic literature that I absolutely fell in love with. Since then I've ready many other classics, my favorites include: The Awakening by Kate Chopin; Pride and Prejudice by Jane Austen; and Frankenstein by Mary Shelly.
4. What is the best piece of advice you've ever been given?
The best advice I received came from my mother, when I was really young she would always tell me, "be your own person, never be a follower because you are a leader."
5. What accomplishment are you the most proud of?
An accomplishment that brought me the most pride was winning a national award for my artwork. I've been a fiber and textiles artist for the past 6 years and winning such an award let me know that my craft was being appreciated and recognized.