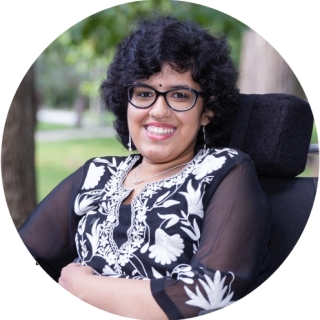 Ability Access Specialist: Temporary Conditions
Mudita Jagota
She/Her
Mudita Jagota is a Second Year Master's student in the Rehabilitation Counseling program at Michigan State University. She is an international student and hails from India. She has a Bachelor's degree in Psychology from Lady Shri Ram College for Women, University of Delhi, India, and a Master's degree in Applied Psychology from Jamia Millia Islamia University, New Delhi, India.
Because of her experiences as a disabled person and a wheelchair user, Mudita advocates for the rights of Persons with Disabilities extensively and has often been invited for panel discussions of renowned organizations in India.
Mudita aspires to become a Rehabilitation Counselor in the future, thus dedicating her career to serving individuals with disabilities.
Fun Facts About Mudita Jagota:
What is your favorite quote?
Once we accept our limits, we go beyond them."
Where is your favorite place in the world?
I love water. Thus, I like visiting different lakes, rivers, and beaches.
What are you passionate about?
I am passionate about Disability Activism and Mental Health Awareness.
What is your favorite music and why?
I absolutely love and enjoy Hindi songs. They give me peace and calm. I am trained in Indian Classical Music, so Hindi songs make me feel at home.
What is the best piece of advice you've ever been given?
"Don't fill your plate with so many good things, that you don't have any space left for great things."
What accomplishment are you the most proud of?
Being accepted at MSU for higher education and traveling thousands of miles to pursue my dreams, while dealing with the challenges of my disability.