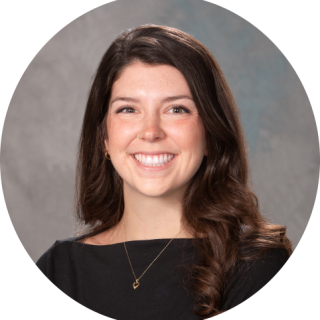 Ability Access Specialist: Neurodivergence (psychiatric/mental health, learning disabilities, & ADHD)
Madison Overbey 's phone number: 517-884-1916
Madison Overbey
Learning Disabilities and Attention Deficit Disorder
She/Her
Madison joined the RCPD team in 2022. Madison earned her Bachelor of Arts from Saginaw Valley State University and her Masters of Science from Nova Southeastern University. She has also completed a certificate in Learning Differences and Neurodiversity with a specialization in Autism on campus and online from Landmark College. She has brought her passion for serving and supporting students to Michigan State University after working in the field of disability services at higher education institutions across the country. Madison works with neurodivergent students and employees to ensure they have the access they need as a Spartan. Outside of the office, you'll probably find Madison at a concert or wandering around in nature.
Fun Facts About Madison Overbey:
What is your favorite quote?




"Compassion is the radicalism of our time" - The Dalai Lama

What inspires you?




The humans around me! I love to talk, share, and collaborate with those in my circles – they are always challenging me and my thinking, ultimately making me a better human being. When I am able to share excitement with a student or client that I work with, I get all the more jazzed.

What is your favorite book and why?




Missoula: Rape and the Justice System in a College Town by John Krakauer. It isn't necessarily a bright story – but it's a powerful narrative that led me to the field that I am in today and ignited my passion for working with and supporting college students. I read it as an undergraduate student for one of my political science classes and have re-read it almost every year since. It has really encouraged me to become the type of human on campus that can be a confidant to students who might need a safe space to vent/breath/be.

What is your favorite music and why?




Lately, my absolute favorite music has come from CAAMP, a folky band from Ohio. While I listen to absolutely any kind of music, I love alternative and indie genres the most. You can anticipate hearing bangers from CAAMP, Beyoncé, Fall Out Boy, Hot Mulligan, etc. softly playing in my office most any day!