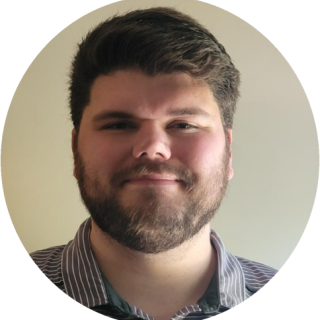 Practicum Student; Student Veteran Liaison
Ken Tribley
Ken is available to meet with you during his office hours!:
Mondays 12pm-4pm & Wednesdays 12pm-5pm in room 193 Bessey Hall. You can contact him to schedule an appointment to meet!
You can email him at tribleyk@msu.edu
Ken Tribley is a student in the Rehabilitation Counseling Master's program here at Michigan State University. He earned his bachelor's degree in general psychology at Central Michigan University in 2020. He will currently be acting as a student liaison between the Student Veteran Resource Center and Resource Center for People with Disabilities for the Fall 2022 semester. After graduation, Ken hopes to work with Veterans in the future as a licensed professional counselor.
Ken is delighted to assist Veteran students find the resources they need to succeed at MSU as there are a plethora of specialists and offices at MSU dedicated to providing assistance or accommodations for students. Ken can also assist in finding resources through our community partners to help support student success. You can contact him by email through the contact button to the left with questions or for assistance.
Learn more about the Student Veterans Resource Center here: https://veterans.msu.edu/
Fun Facts About Ken Tribley:
What is the best piece of advice you've ever been given?




The best advice I've ever been given comes from my Dad who told me to just let it go. Although it is best to work our hardest and try to be the best we can, some things we can't change and when those moments occur, he told me that it is best to accept it and move on.

What is your favorite movie and why?




My favorite movie is Paul (2008). It is my favorite movie because it combines a science fiction nerd's greatest dream, meeting an alien, with the hilarity of a buddy comedy. I have watched it over 50 times easy.

What was your favorite subject in school?




Although Psychology is my absolute favorite and what I ended up getting my degree in, I always had a soft spot for Archaeology during my time in college. Something about culture, history, and excavation combined into one always seemed fascinating.

What are you passionate about?




I've always been passionate about helping others and as I got older, it turned into helping others in a mental health field. Although I want to help Veterans as a primary demographic, I am happy to aid anyone who needs my assistance.

Freebie Space! Feel free to write whatever else you want to share.




I am a Michigan Native and am an avid video game fan. I also enjoy movies and campfires during my favorite season, Autumn.