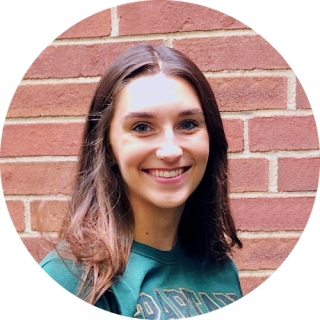 Reception Assistant
Jordan Swigart
Jordan is majoring in Psychology with a minor in Human Behavior and Social Services. She is also pre-med with the goal of going to medical school and becoming a child psychiatrist. Jordan started working with the RCPD in 2017 and in her free time likes to read, watch movies, and spend time with friends! Go Green!
Fun Facts About Jordan:
What inspires you?
Thinking about my future inspires me. I have many aspirations for my lifetime and have been given so many incredible opportunities to help me achieve them. Thinking about these gives me the determination to work my absolute hardest to reach them!
What are you passionate about?
I am passionate about singing. I have been singing for as long as I can remember and it is something that brings me so much joy, whether I am rehearsing for a musical or singing along to the radio. I am confident that I will continue to sing for the rest of my life.
Before working at MSU, what was the most unusual or interesting job you had?
Before working at MSU, I worked at a frozen custard shop in my hometown. You would be surprised at how picky some people can be about their frozen custard (and even more surprised at how many customers we would confuse when telling them we sold frozen custard, not ice cream).
What is your favorite book and why?
My favorite book is My Sister's Keeper by Jodi Picoult. This story has a way of making me feel every emotion all at once and I admire the bravery that 13-year old Anna demonstrates by defying her parents and standing up for herself. It is an intense story, both heartwarming and heartbreaking, and once I picked it up and started reading, I couldn't bring myself to put it down.
What is the best piece of advice you've ever been given?
The best piece of advice I've ever been given is to never apologize for being myself. Self-growth is important and essential, but does not mean that a person should change themselves solely based on the desires or critiques of others. Being yourself and surrounding yourself with those who accept you for who you truly are is the most important form of self-care.
What accomplishment are you the most proud of?
I am most proud of getting into Michigan State University on nearly a full ride. I never would've been able to accomplish what I have and try out these new experiences if I hadn't come to MSU and I am extremely grateful for the opportunity to be here and be able to work towards my career goals at one of the nation's top universities.