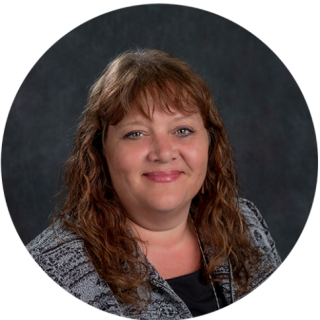 Budget/Personnel, Assistant to the Director
Beverly Stehlik 's phone number: (517) 884-1903
Beverly Stehlik
Hi! I'm Beverly Stehlik and I've been a part of the Resource Center for Persons with Disabilities since January of 2009. My official responsibilities include overseeing the financial, administrative and human resources elements of department operation, and my credentials include a bachelor's degree in Journalism from Central Michigan University (definitely a plus when I'm trying to keep up with a very talented public relations team in the office!).
I love my job because our office consists of a kind, hard-working team of people who understand the importance of accessibility for persons with disabilities, and also because I'm obsessed with organization and making everyone's life easier. What I am most passionate about, however, is working with students, whether they are registered with the RCPD, employed by our office, or members of the Tower Guard sophomore volunteer organization. The incredible students I am uniquely privileged to encounter at MSU inspire and motivate me – they have an undeniable drive to succeed, a commitment to help others and the ability to overcome all types of challenges. They make me want to be and do more.
After the workday is done, I enjoy spending time with my family, volunteering as a Master Gardener, photography, kayaking and reading. I am also a coffee-dependent life form.
Fun Facts About Beverly Stehlik:
What is your favorite quote?
"It's not what you look at that matters, it's what you see." - Henry David Thoreau
What inspires you?
The students that I work with inspire me. They're not only taking classes, but also holding down jobs, volunteering their time to worthy causes, participating in Education Abroad and navigating how to be adults in the world. Their energy and determination astounds me every day.
What is your favorite book and why?
My favorite book of all time is John Steinbeck's East of Eden. The descriptions were vivid, the characters were real and human, and the message at the end was one of hope. What's not to love about that?
What volunteer or passion projects do you do outside of work?
I have a Master Gardener certification from MSU, and enjoy volunteering at community gardens in the Lansing area, especially Cooley Gardens. It's such a quiet, beautiful place tucked away in the middle of the city.
What's the best gift you've ever received?
The best gift that I've ever received was my grandmother passing on her passion for reading.
What was your favorite subject in school?
My favorite subject in school was the yearbook class. The teacher was one of those people who actually listens to and respects the opinions of his students, and I learned the basics of photography and started developing writing skills that I wouldn't have otherwise.