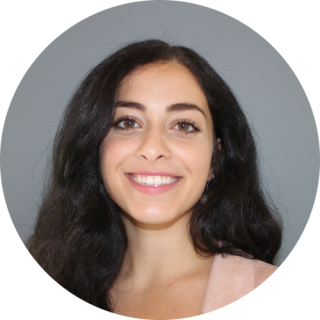 Tactile Graphics Manager
Arezu Forouzandeh
Arezu is on a Pre-medical track majoring in Physiology and minoring in Classical and Ancient Mediterranean Studies, with hopes to go to medical school and pursue a career in medical examination or infectious disease. Throughout this journey, Arezu hopes to find time to travel and bring her medicinal practice with her to better serve the under-represented populations around the world.
Fun Facts About Arezu:
Before working at MSU, what was the most unusual or interesting job you had?
Before working at MSU, I was a waitress at an assisted living home for the elderly back in Grand Rapids. Throughout my time there, I became well acquainted with many World War II and Vietnam veterans and listening to all of their stories was one of the most interesting experiences I've had on the job.

What is your favorite book and why?
In my free time, I love to read because it allows me to take a break from my own reality and step into the shoes of a fictional character from a different world. My favorite book and series is Throne of Glass written by Sarah J. Mass and I would highly recommend it to anyone looking for a good book to read.

What is your favorite movie and why?
The Pirates of the Caribbean is my all time favorite movie series to watch. Despite being able to quote all of the lines, I still find myself just as excited re-watching them as I did the first time.

What volunteer or passion projects do you do outside of work?
My passion project is a 5,000 piece puzzle that I bought a year ago. Puzzles in general are my passion projects but I haven't been able to finish this one since I got it. Hopefully this summer I'll be able to finally put it all together.

What was your favorite subject in school?
Despite being a science major, my favorite subject in high school was math. Solving the problems became like solving puzzles for me and whenever I would finish one and get the right answer, I always felt a huge sense of accomplishment. Super nerdy, I know.