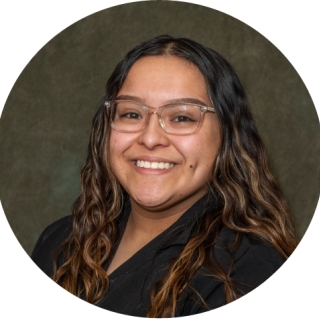 Reception Assistant
Anita Cruz
Anita is a student at Michigan State, who is originally from Immokalee, Florida, majoring in Elementary Education. Anita plans to return back to her home town to teach and make a difference in the community.
Fun Facts about Anita Cruz
What is your favorite quote?
"I wish there was a way to know you're in the good old days before you've actually left them."
What inspires you?
Not a what, but a who: my Parents, definitely. My Parents were Farmworkers since as long as I can remember. Being up before the sun and working these crazy extraneous jobs for close to nothing in pay takes a lot of will.
What are you passionate about?
Traveling. I like to experience cultures and history. It's so intriguing to me. Switzerland is on my bucket list for sure.
Before working at MSU, what was the most unusual or interesting job you had?
When I was little, I would help my Dad sell produce at our Farmer's Market and scream "Tomatoes! Tomatoes! Come get your Tomatoes!" Let's just say he would always make bank when I was there.
What was your favorite subject in school?
Language Arts. I really enjoy dissecting piece of text and digging deeper to understand what the author was thinking. It's so fun to see all the different ways one sentence can be interpreted.